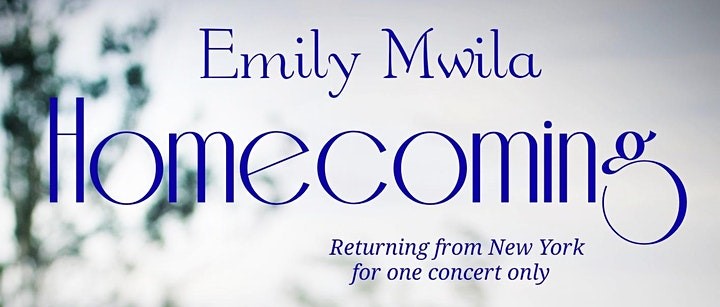 Angela Wybournr
Emily Mwila - Homecoming Concert
Emily Mwila - Homecoming concert

With -
Timothy Burrell
Moira Pascoe

7:30pm
Sat Jan 22
Thomas Brown Gallery
Lake Hayes - Queenstown

An evening of Opera, Artsongs & other musical gems.

Returning from New York for one concert only,
Emily will be joined by Award winning baritone Timothy Burrell & Collaborative pianist Moira Pascoe.

Emily recently completed a Masters in voice at Mannes School of performing arts under renowned American Tenor William Burden.
Since completing her studies she has been performing at the Metropolitan Opera in their production of Porgy & Bess.
Before leaving for New York, Emily played the lead role of Susannah in Eternity Opera's production of Mozart's Marriage of Figaro to rave reviews. A duet from this opera with award winning baritone Timothy Burrell is sure to be a highlight of the evening.

They will be joined by Moira Pascoe, who recently graduated from University of Auckland with a masters in collaborative piano.

Emily's last concert was extremely popular. Please book early as tickets are limited.

Tickets can be purchased online via Eventbrite.



Venue
Thomas Brown Gallery
Physical Address
568 Speargrass Flat Road
Lake Hayes
Queenstown
Queenstown, 9371
Price Info: $70
Min Age: 0
Months of Operation:
January