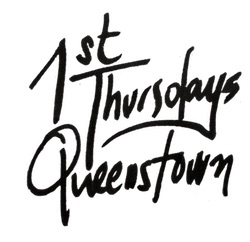 First Thursdays
First Thursdays
First Thursdays is a fun gallery crawl that takes in some of central Queenstown's favourite art galleries on the first Thursday of each quarter.

First Thursdays Queenstown celebrates the diversity of art and creativity in Queenstown. Bringing together Starkwhite, Milford Galleries, Romer Gallery, Artbay, and Lightworx Gallery for a special late night opening this is a great occasion to see new exhibitions and hear artists talk about their work all within a few blocks.

First Thursdays is free and open to all. Grab your friends or bring the kids, this is a fun and family-friendly evening. You set the pace and decide how many galleries or how long to spend at each. Akarua Wines are sponsoring the event so enjoy a complimentary glass while you're catching up on art.

Follow First Thursdays Queenstown on Facebook or Instagram @firstthursdaysqt for up-to-date details and more information.
Gallery Locations
Starkwhite Gallery 1-7 Earl St
Milford Galleries 9 Earl St
Romer Gallery 15 Earl St
Artbay Gallery 13 Marine Parade
Lightworx Gallery 9-11 Marine Parade
Event Date
01 February 2024 to 07 November 2024
From: 05:00 PM to 07:00 PM
Future Events
01 February 2024
02 May 2024
07 November 2024
Physical Address
Queenstown, 9300