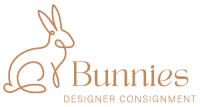 Bunnies Arrowtown
When you're visiting Arrowtown you must pop in to Bunnies' pretty wee store and see why the locals all love Arrowtown's newest fashion store.
Bunnies' owner Jen scours the world for one-off designer labels not often seen in New Zealand to sell alongside quality preloved pieces. 
A treasure trove of clothes, shoes, bags and accessories there is something for everyone and always loads of goodies on the sale rack!
Bunnies is located on sunny Ramshaw Lane and is open 7 days a week. 
 
Contact Us
Company:
Bunnies Arrowtown
Physical Address
21A Ramshaw Lane
Arrowtown
Monday:

10.30 - 4.30

Tuesday:

10.30 - 4.30

Wednesday:

10.30 - 4.30

Thursday:

10.30 - 4.30

Friday:

10.30 - 4.30

Saturday:

10.30 - 4.30

Sunday:

10.30 - 4.30


Group Reservation Email:

bunnies.arrowtown@gmail.com