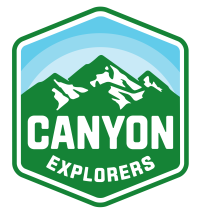 Canyon Explorers
We'll see you in the canyons next season! Contact us for more details.
Canyon Explorers are the most experienced canyoning operator in the Queenstown region, guiding customers through our canyons since 1998 and climbing since 2003.
Let us take you on an adventure through stunning New Zealand landscapes and through wilderness areas which are otherwise inaccessible.
We offer half day or full day canyoning and climbing trips. 
Half Day Canyoning
A great choice if you are short on time - our half day Queenstown canyon has a little bit of everything packed into a half day trip. The Queenstown canyon half day trip is suitable for first-timers to adventure seekers and is a great option for groups and team building. No previous canyoning experience is required but you should be confident in moving water and have a reasonable level of fitness.
Find out more: Half Day Canyoning
Full Day Canyoning
For the more adventurous, our full day canyoning experience includes lunch as well as a super scenic drive along the shores of Lake Wakatipu on the road to Glenorchy. Unleash your adventurous side in this breathtaking canyon in a UNSECO World Heritage Site, enjoying a full day sensory overload! This canyon is suited for people with a high level of fitness and water confidence. The minimum age is 15, and children under the age of 18 must be accompanied by an adult.
Find out more: Full Day Canyoning
Half Day Climbing
Experience the pure adventure, exhilaration and sense of achievement as you climb using our via ferrata system, in one of New Zealand's most dramatic scenic settings – only minutes from downtown Queenstown! While no previous climbing experience is required, you'll need a good head for heights and have moderate fitness – and good footwear is a must.
Find out more: Half Day Climbing
A Little Bit About Canyon Explorers
Exclusive Access - We are the only commercial operators allowed access to our canyons.
Best Canyons & Activities - Our canyoning experiences feature more waterfalls, natural water slides and deep, crystal clear pools than any other canyoning operator in Queenstown. Our half day climbing trip is New Zealand's first and Queenstown's only via ferrata climbing system. Located only minutes from downtown Queenstown, it rewards climbers with spectacular views across the Lake Wakatipu, the town and mountains beyond.
Experience & Safety - We have been certified by Adventure Mark for compliance with the New Zealand Safety Audit Standard for Adventure Activities. We support the New Zealand Outdoor Instructors Association and our guides hold NZOIA qualifications for our activities. We provide both in-house and outsourced training for all our staff and we strive to exceed the standards of best practice for adventure guiding.
Choose Your Challenge - We understand that challenge means different things to everyone and you should be able to choose your challenge. Where our trips have features that some may find a little too challenging - our guides can provide alternatives to ensure that you are comfortable. It is about helping you find your personal comfort zone. Good times and new experiences.
Continual Improvement & Investment - We live in fast changing times and we recognise the need to maximise new technologies, products, materials and ways of doing things that go towards making our activities even better, as well as being a great place to work.
Central Queenstown Base - Conveniently located right in the center of town, we are open 7 days a week from 7.30am. Our friendly team are here to answer all of your questions so pop in, call or email us at any time. We also conduct all of our pre-trip briefings here in our comfortable departure lounge so you'll know exactly what to expect before you head out on your trip.
Contact Us
Company: Canyon Explorers
Physical Address
39 Camp Street
Queenstown, 9300
MinPrice: $129
MaxPrice: $399
Pricing includes transport to & from Queenstown and all the technical gear. Lunch is provided on our full day canyoning trip.


Transport is provided to and from Queenstown.


Open For Business : No
Open From : 11/01/2021


Monday : 8:00 AM - 6:00 PM
Tuesday : 8:00 AM - 6:00 PM
Wednesday : 8:00 AM - 6:00 PM
Thursday : 8:00 AM - 6:00 PM
Friday : 8:00 AM - 6:00 PM
Saturday : 8:00 AM - 6:00 PM
Sunday : 8:00 AM - 6:00 PM


Holiday hours : Closed Christmas Day
Months of Operation : December, November, February, January
Group Info: We cater for different types of groups. Please contact us for more information.


Group Reservation Email: info@canyonexplorers.nz


Group Capacity: 0