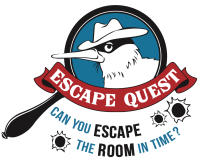 Escape Quest Queenstown
Outdoor Escape Game
Assemble your team and the lost artifact to save Queenstown!
During the 1860s gold rush, the notorious gang of bandits, led by Henry Garrett, kept their loot in a booby trapped safe. The code to the safe was kept in an analogue computer. When Henry Garrett was eventually caught and arrested, he separated the analogue computer into 5 pieces. The pieces were hidden and both the safe and the artifact were eventually lost to time…
Now in present day Queenstown the safe has been unearthed during construction work and the booby trap countdown has been triggered!
Detectives, you have one hour to find the missing pieces and assemble the lost artifact to disarm the booby trap, open the safe and save Queenstown!
Navigate the streets of Queenstown, discover its gold rush history and complete your mission triumphant!
Based on real people from Queenstown's 1860s gold rush. Starring William Rees, Jack Tewa, Kitty Kirk, Gabriel Read and gold rush bandit, Henry Garrett.
Contact Us
Company:
Escape Quest Queenstown
Physical Address
Level 1, Mountaineer Building, 32 Rees St
Queenstown, 9300
MinPrice:

$68

MaxPrice:

$168
Team's of 2-6per Outdoor Escape Kit.


Monday:

10:00AM - 5:30PM

Tuesday:

10:00AM - 5:30PM

Wednesday:

10:00AM - 5:30PM

Thursday:

10:00AM - 5:30PM

Friday:

10:00AM - 5:30PM

Saturday:

10:00AM - 5:30PM

Sunday:

10:00AM - 5:30PM



Months of Operation:

Open year round


Group Info:

Upto 50 players



Group Reservation Email:

queenstown@escapequest.co.nz



Group Capacity:

50