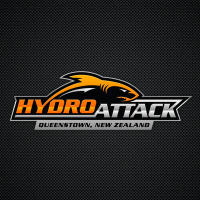 Hydro Attack
Hydro Attack Boat Trip & Shark Ride
THE BOAT TRIP & SHARK RIDE - A GREAT OPTION FOR 6 to 10 PEOPLE
HOW DOES IT WORK?
Minimum of six riders and maximum of 10. 
Head out in the Hydro Attack passenger boat to our operating area on the main part of the lake. Once in position its time to up the adrenaline. Loading and unloading from the side of the launch you can enjoy the same great experience in our semi-submersible shark as a single trip from the wharf then settle back on the boat to watch your friends or family have their turn.
Trips depart at 10am and 2pm on demand. Please check-in 15 minutes before your departure time and allow up to 1 hour and 15 minutes for the trip. Boat trip option departs from our wharf. Minimum number of 6 apply. 
WHAT'S GREAT ABOUT IT?
It's easy to view your friends, family and other passengers in the shark.
It's great for groups and families.
It's the best option for photo opportunities.
It's dry even on wet days.
It's our windy weather option so less chance of a weather cancellation.
Contact Us
Physical Address
Queenstown, 9300
MinPrice:

$954

MaxPrice:

$1,590
Price is for six shark riders. Boat can accommodate up to 10 riders. Add extra people when booking if you would like more than 6 riders.


Monday:

9:30AM - 4:30PM

Tuesday:

9:30AM - 4:30PM

Wednesday:

9:30AM - 4:30PM

Thursday:

9:30AM - 4:30PM

Friday:

9:30AM - 4:30PM

Saturday:

9:30AM - 4:30PM

Sunday:

9:30AM - 4:30PM



Holiday hours:

Closed Christmas Day.



Months of Operation:

Jan - Dec


Group Info:

Hydro Attack shark rides are available for groups and charters using our 10 passenger launch. The trip includes 12 minutes in the shark per person. Allow up to one hour and 15 mins for the whole experience. Hydro Attack can also work with other local cruise companies to cater to larger groups.



Group Reservation Email:

marketing@hydroattack.co.nz



Group Capacity:

10