iFLY Queenstown
iFLY Indoor Skydiving
Ever dream of flying? Now you can!
Experience the rush of 100% pure human flight at iFLY, New Zealand's only indoor skydiving attraction and Queenstown's most exhilarating new adrenaline experience!
From the Maori legends of New Zealand's ancestral people, to our modern-day aviation innovators, there is nothing more quintessentially Kiwi than the dream of flight. It's in this country's DNA. It's in ours, too.
In 1998 iFLY pioneered the technology that made human flight not just a dream, but a reality. Since then we've flown over 8 million people from all corners of the world. iFLY creates a smooth, wall-to-wall cushion of air on which anyone can safely float - no experience necessary. Simply lean into the airflow and that's it - you're flying! There's no parachute, no jumping, and nothing attaching you to Planet Earth. It's just YOU, indoor skydiving in the heart of New Zealand's adventure capital!
Dare to challenge yourself
With iFLY, you're not a passenger on a thrill ride, but the director of your own interactive adrenaline adventure. From your first experience with us you're dipping your toe into the real sport, and you'll enjoy an authentic taste of what brings even expert skydivers back again and again – the incredible thrill of human flight. Your highly-trained instructor will be led by your natural ability and how far you want to push yourself: the only limit – is you. But be warned – indoor skydiving is highly addictive! At iFLY you are literally flying in the same training tool used by virtually every top skydiver on the planet, and there's almost no limit to the fun you can have and the personal boundaries you can push! Our 360º viewing platform lets you share the magic with friends and family, and iFLY is just as safe for kids as it is thrilling for teens, challenging for adults and realistic for pro-skydivers.
So bring your dream of flight to life and get ready to be blown away by a truly unforgettable Kiwi experience that will leave you grinning from ear to ear and talking about the highlight of your trip for years to come!
Who's it for?
iFLY is suitable for everyone, ages five to 105. Some restrictions apply, but if you have reasonable health and fitness, you can fly. Visit our website or come and see us if you are unsure, and be sure to ask about our packages for families, corporates, groups, parties, functions and return flyers. 
Facilities
iFLY is located at 27 Brecon Street, a stone's throw from the Skyline Gondola. After we open in 2018 we'll be flying people every day of the year, come rain or shine. On-site facilities include viewing area, bar and café, outdoor seating, toilets, retail shop and lockers.
What to bring
We provide everything you need to fly. Just show up in comfortable clothes and leave the rest to us!
Contact Us
Company: iFLY Queenstown
Physical Address
27 Brecon Street
Queenstown, 9300
Air Conditioning
Bar/Lounge
Coffee/Tea Facilities
Internet Access
On-site Parking
Outdoor seating
Pets Allowed
Wheelchair Accessible
Wifi Internet
MinPrice: $99
MaxPrice: $279
Prices start from $99 for our 2 flight package. Please enquire about our packages for groups, families, parties, functions and return flyers.


Monday : 09:00am - 10:00pm
Tuesday : 09:00am - 10:00pm
Wednesday : 09:00am - 10:00pm
Thursday : 09:00am - 10:00pm
Friday : 09:00am - 10:00pm
Saturday : 09:00am - 10:00pm
Sunday : 09:00am - 10:00pm


Holiday hours : 09:00am
Group Info: iFLY is able to cater to groups of all shapes and sizes, from family days out and kids' birthday parties to stag and hen dos and corporate functions. With an on-site bar and cafe, we are able to offer you a range of options - you can even hire the whole venue! Contact us to find out more.


Group Reservation Email: info.queenstown@iflynz.co.nz


Group Capacity: 200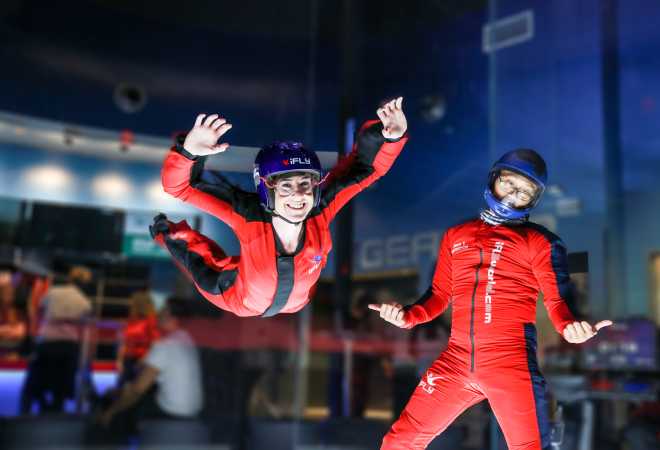 Learn to skydive with iFLY! Step into the tunnel and feel the wind rush past as you float on a cushion of air! The ultimate way to learn to skydive in Queenstown! Our state of the art wind tunnel generates winds speeds of up to 265kms and provides you the best opportunity to master the art of flight! Come along and see what brings even pro skydivers coming back for more! 50% off adult and child pricing, excludes the super saver deal. Kickstart includes 2 flights Airborne includes 4 flights To redeem, enter the code: ADVENTURE at checkout on our website.