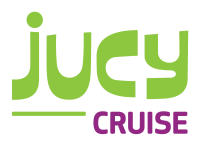 JUCY Cruise
Milford Sound - Day Trips
JUCY Cruise warmly welcomes you on board our modern coaches and scenic flights for a journey of fun and discovery to one of the most amazing places in New Zealand. Hosted by our talented coach drivers and pilots, you will be treated to an interesting and informative commentary during your trip into Fiordland National Park and Milford Sound. Stunning photo stops and nature walks are made along the way to enjoy one of the most spectacular places in the world. By taking a flight you'll witness the breathtaking beauty of mountains, lakes, glaciers and the vastness of Fiordland National Park from above while winging your way to Milford Sound. Once at Milford you will board either our Classic or Premium cruise vessel for the scenic cruise of a lifetime! Sail beneath sheer cliffs rising from the depths beneath, enjoy vistas of glaciated peaks and rain forests, see seals from metres away, and we'll give you the opportunity to take a shower under the purest of waters as we nose the bow of the boat under a waterfall.
Coach & Cruise Day Trips departing Queenstown
All Queenstown coach departures include a pickup and drop off service from various central Queenstown locations and along Frankton Road and are equipped with with glass roofs, twin LED coach cinema screens and a forward viewing cams. Duration - 12 hours.
 Classic Coach & Cruise Tours:
JUCY Sunriser (Summer Only) - departs at 6am. An ideal option for those that like to rise early and return early in time for happy hour. 
JUCY Vista (including lunch) - departs at 7:15am (summer)/7:35am (winter).
JUCY Cruiser - departs at 9:45am (summer)/7:35am (winter). An ideal option for those that like to sleep in and start the day a little later.
Premium Coach & Cruise Day Tours:
JUCY Gem (Glass Roof Coach including lunch in Te Anau). Departs 7:45am (Summer). The pick of the bunch! Double your viewing pleasure with a glass roof coach and glass roof cruise. Picnic lunch included.
Coach & Cruise Day Trip departing Te Anau 
Premium Coach and Cruise Tour:
This is a nature focused tour using smaller style coaches that can stop at locations along the the Milford Road where larger coaches cannot. Pickup and drop off service is provided from central Te Anau accommodations. Duration - 7-8hrs.
JUCY Zest (includes picnic lunch) - departs Te Anau at 8:00am (summer /winter).
Fly - Cruise - Fly
Ideal for those short on time and who want to experience the ultimate in Milford Sightseeing.  Four departures daily during summer and two daily departures in winter.  Includes Central Queenstown pickup and drop off service. Duration approx 4 hours.
Contact Us
Company: JUCY Cruise
Physical Address
26b Shotover Street
Queenstown, 9300
MinPrice: $149
MaxPrice: $559
A Milford Sound to Queenstown Fly back can be added to any Queenstown departing coach & cruise trip for $399 adult / child


Monday : 7:00 AM - 8:30 PM
Tuesday : 7:00 AM - 8:30 PM
Wednesday : 7:00 AM - 8:30 PM
Thursday : 7:00 AM - 8:30 PM
Friday : 7:00 AM - 8:30 PM
Saturday : 7:00 AM - 8:30 PM
Sunday : 7:00 AM - 8:30 PM


Holiday hours : Open year round, with slightly restricted services on Christmas Day
Group Info: Please email info@jucycruise.co.nz for group booking information.


Group Reservation Email: info@jucycruise.co.nz


Group Capacity: 0