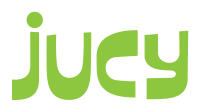 JUCY Rentals
At JUCY, we stand for fun, adventure and the spirit of travelling. We pride ourselves on offering unique and exciting travel experiences!
JUCY was started in 2001 in Auckland, New Zealand with a fleet of just 35 rental cars. Today we've got more than 3500 cars, campers and motorhomes across Australia, New Zealand and the United States. You could say we're on a mission to paint the world green and purple.
With a range of fun JUCY cars, campervans, and motorhomes, we have vehicles to suit any budget-conscious, adventurous traveller. Between our 6 New Zealand branches, where you can pick up and drop off vehicles, we've got you covered for around town trips, cross country tours or anything in between. We aim to give travellers the green light to have the time of their lives!
In Queenstown, the JUCY Customer Centre is conveniently located in the Arrivals Hall at Queenstown Airport. Cars, Campervans and Motorhomes are available to hire from Queenstown. 

When picking up, head to the brightly coloured JUCY desk in the Arrivals Hall and our amazing JUCY Crew will give you your keys and send you onto the pickup up area. Out there, you'll get into your vehicle, and on the road, to explore Queenstown, the Southern Lakes region and beyond. 

When dropping off, return your vehicle to our yard, located in the Airport loop.
Contact Us
Company: JUCY Rentals
Physical Address
Queenstown Airport, Sir Henry Wrigley Drive
Frankton
Queenstown, 9300
MinPrice: $19
MaxPrice: $400
Monday : 8:00 AM - 5:30 PM
Tuesday : 8:00 AM - 5:30 PM
Wednesday : 8:00 AM - 5:30 PM
Thursday : 8:00 AM - 5:30 PM
Friday : 8:00 AM - 5:30 PM
Saturday : 8:00 AM - 5:30 PM
Sunday : 8:00 AM - 5:30 PM