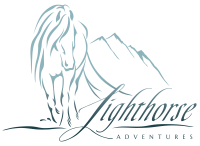 Light-horse Adventures
Graze and Glory
Enjoy a unique introduction session to the Art or Horsemanship before heading out on your 3 hour adventure. This ride is suitable for more confident/able beginners as well as experienced riders. You will walk and trot your way though two different river systems, with the possibility of cantering for more able riders. Stop by the river side and enjoy a quality made, picnic lunch. While your new horse friend grazes. 
Be awestruck by the incredible scenery this special part of the world has to offer. This ride covers Lighthorse Adventures exclusive riding areas, with deep river crossings and private fields. 
As you ride, our skilled guides will be getting the best photos of you, so no need to bring the selfie stick! 
Once back at base, enjoy a complementary hot drink and relax by the campfire or take a browse through our Outback store. 
Contact Us
Company:
Light-horse Adventures
Physical Address
2 Swamp Road
Glenorchy, 9372