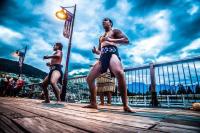 Maori welcome
Mihiwhakatau is a customary welcome speech and traditional performance, performed in the Māori language, by local Māori.
Why is it important for visitors
When you visit any place in New Zealand you are entering the sacred places of the original Native Māori inhabitants. The Māori people have a strong connection to the land, which they hold very sacred. They believe the future is the past so the past is the future and therefore their ancestors continue to live in the land and the mountains. When visitors arrive, a mihiwhakatau gives you a blessing, so that you are connected to, and welcomed by their ancestors and the land they reside in. You are therefore offered protection and safety, to make you feel welcome during your stay.
Are you expected to participate?
No, you are honoured guests. It is important that you offer respect and silence, whilst the performers are performing the blessing
What does the presentation entail?
Mihiwhakatau - Māori welcome Speech in the Māori language, performed by local Māori
Waiata (Māori song)
Wahine Poi (Māori string with ball performance, female performers backed up by male performers)
Haka (Māori action performance)
Haere rā (end of performance and goodbye, then introduction of guest speaker or head dignitary)
Estimated time of performance is 10 to 15 minutes
Performers come dressed in traditional Māori costume
* Our latest Testimonial Dec 2019
I was lucky enough to stay an additional week in Queenstown and my family flew over and joined me, a truly beautiful part of the world and one of our all time favourite holidays!!
The show was so amazing and the perfect start to our conference I was reluctant at first at the price but it was worth every cent, THANK YOU
Kind regards
Katie Roberson
Executive Officer  ASCEPT
The Australasian Society of Clinical and Experimental Pharmacologists and Toxicologists (ASCEPT)
Contact Us
Company: Maori welcome
Physical Address
Queenstown, 9300
Price: $1,695
The price is for 5 performers. We can tailor to any event, just request your requirements.




Months of Operation: Jan - Dec


Hours: 24 hours, 7 days a week