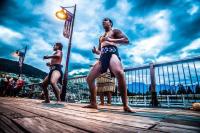 Maori welcome
Maori Culture Cruise on lake or personal tour
Option 1: Maori Culture Cruise takes you on a lake  cruise
Option 2: Maori  Culture land tour takes you on a personal guided tour
Option1 and 2 last for about an hour and tells the story of where Maori came from, how they adapted to the frigid south, then why they rapidly disappeared.
We will talk about Haki te Kura, the famous  Maori princess, who left a lifetime legacy through a special event and then how she tragically died.
We talk about how Maori lived here and their customs
Finally, hear the myths of the creation of the South Island and Aoraki Mount Cook and Matau whose burnt body is the origin of Lake Whakatipu.
Contact Us
Company: Maori welcome
Physical Address
Queenstown, 9300
MinPrice: $375
MaxPrice: $650
Price is for 1 to 1.5 hour presentation on local Maori history on Lake Whakatipu.


Group Info: Boat hire is $750 for 50 people seated inside. (1.5 hours)


Group Reservation Email: warren.skerrett@lifetime.co.nz