Nomad Safaris
Lord Of The Rings 4WD Tour - Queenstown
Queenstown Lord Of The Rings - Safari of the Scenes Wakatipu Basin - An adventure safari packed with breathtaking scenery, thrilling 4WD action whilst discovering LOTR filming locations. Visit the filming locations of Minas Tirith, Misty Mountains, the Pillars of the Kings (Argonath), Gladden Fields, the Ford of Bruinen and more. Travel the historic gold mining roads, Macetown Road and Skippers Canyon Roads, exciting 4WDing and river crossings, stop for refreshments and the opportunity to try your hand at Gold Panning. Take in the spectacular panoramic views over the Wakatipu Basin. 
Price: $223.75 per adult; $111.25 per child (4-14 years old)
Departs: 8.15am and 1.30pm. Allow 4 hours.
Includes: Gold panning and refreshments. Pick up from town centre or Queenstown central hotels. 
What to bring: Water, a camera and a sense of adventure!
Contact Us
Company: Nomad Safaris
Physical Address
37 Shotover St
Queenstown, 9300
MinPrice: $111.25
MaxPrice: $223.75
$223.75 per adult, $111.25 per child (4-14 years old). Infant FOC (0-3 years old). Price valid till 30.04.2021


Pick up from town centre and Queenstown central hotels . Surrounding suburbs by arrangement, contact us to find out more.


Open For Business : Yes


Monday : 7:00 AM - 9:00 PM
Tuesday : 7:00 AM - 9:00 PM
Wednesday : 7:00 AM - 9:00 PM
Thursday : 7:00 AM - 9:00 PM
Friday : 7:00 AM - 9:00 PM
Saturday : 7:00 AM - 9:00 PM
Sunday : 7:00 AM - 9:00 PM


Holiday hours : 07:00 - 21:00
Months of Operation : Jan - Dec
Group Info: A fleet of twenty-two matching 4WD vehicles will transport your clients to magical lands made famous by movie maker and gold seekers. Private tour with personalised adventure. With access to gold heritage areas, farmland and Lord of the Rings locations we can make your big idea a reality!


Group Reservation Email: sales@nomadsafaris.co.nz


Group Capacity: 120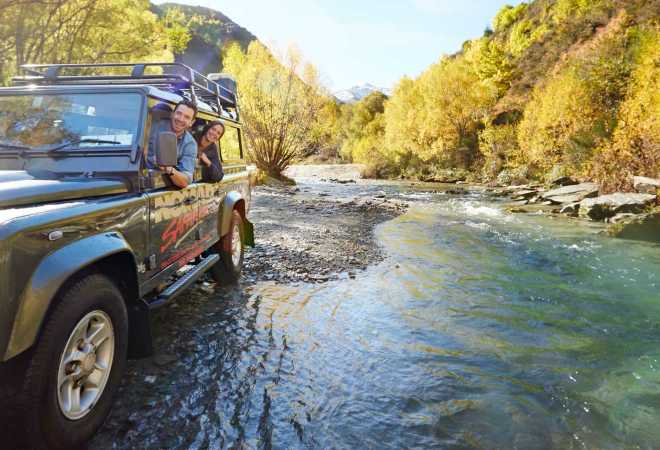 Come and join us on a 4WD Tour of a lifetime. Embrace the spirit of early European Gold miners and pan for gold in the crystal blue rivers. Gold can always be found by the eager as this was once the gold capital of the world. Therefore, you can end the day richer in life and in the pocket. Call us now to organise the ultimate off-road adventure.
Valid until 15 December, 2020