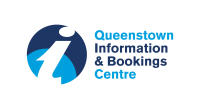 Queenstown Information Centre
Queenstown Information Centre is the central hub for information and bookings for all the amazing things there are to do in Queenstown and the surrounding areas.
Are you an adrenaline junkie and looking for the highest, craziest thing to jump/swing off!? Or looking to take in the beautiful scenery on a guided tour into one our local national parks?! The Queenstown Information Centre team will help tailor your trip, no matter what your preferences to make it an experience of a lifetime. 
You will also find the central check in points for Dart River Adventures/Challenge Rafting and Guided Walks (Year Round) and NZ Snowshoeing (Winter Only) inside.
We do not charge any booking fees or credit card fees.
Contact Us
Company: Queenstown Information Centre
Physical Address
Chester Building, Corner of Camp and Shotover Street
Queenstown, 9300
Open For Business : No


Monday : 08:00am - 08:00pm
Tuesday : 08:00am - 08:00pm
Wednesday : 08:00am - 08:00pm
Thursday : 08:00am - 08:00pm
Friday : 08:00am - 08:00pm
Saturday : 08:00am - 08:00pm
Sunday : 08:00am - 08:00pm


Holiday hours : Closed Christmas Day, New Years Eve 8:00am-7:00pm