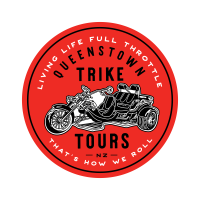 Queenstown Trike Tours NZ Ltd
Queenstown Trike Tours
Enjoy the thrill and exhilaration of open-air cruising, experiencing Queenstown like never before on Queenstown Trike Tours superior German engineered trike.
All while enjoying uninterrupted views exploring the majestic splendour of the beautiful Wakatipu region while encased in cosy comfort with plenty of photo opportunities along the way.
Choose from the one and a half hour Remarkable Run that will take you to the quaint and historic Arrowtown, or The Gibbston Valley tour, a two and a half hour tour taking in the award-winning Gibbston Valley Winery.
You may prefer The Glenorchy Jewel tour, a three-hour lakeside ride out to the stunning Glenorchy, or even The Cardrona Tour, a three and a half-hour ride over the highest road in New Zealand, the alpine Crown Range, to the famous historic Cardrona Hotel. 
If you're looking for that adrenalin fix, then we have the tour for you.  The three and a half hour Fast & Furious tour, to the world-class Highlands Motorpark, for a fast lap in a Ferrari and you drive Go Karts. This tour is sure to have you wanting more.
Our popular one and a half-hour summertime Coronet Peak Lookout tour will take you to one of the most incredible views in the region, with world-class 360-degree panoramic vistas 1649 meters above sea level.
On any one of our tours, you'll feel safe and free with the breeze in your hair.
Queenstown Trike Tours owners Gary and Trudy-Lee Good are excited to share this spectacular region with you, so hop on board and live life full throttle.
Contact Us
Company: Queenstown Trike Tours NZ Ltd
Physical Address
Queenstown