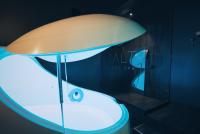 SALT Float Spa
One Hour Float Tank Session
Leave the stresses of every day life behind and treat yourself to a full hour of relaxation and rejuvenation with Salt Float Spa. Sensory deprivation is the ultimate way to reset your body's equilibrium, removing the sensory overload and stresses of daily life - giving your body the perfect environment to relax, heal and detoxify.
Floating is proven to have a myriad of benefits including: Reduction in Stress, Anxiety & Depression, Back, neck and joint pain reduction, beneficial for those suffering exhaustion, insomnia or sleep troubles (1 hour in the float tank is the equivalent to 4 hours deep sleep), aids in the reduction of chronic pain conditions and injuries,  improves blood circulation and aids the detoxification process and much, much more!
Our state of the art floatation tanks hold 450 kg's of Epsom-salts added to 600l of water and create the perfect buoyant, zero gravity environment – allowing the body to decompress, relax and heal. Floating weightlessly in our float pods removes all sensation of temperature, touch, sight and sounds allowing your body to reach ultra-deep relaxation which resets the body's hormonal and metabolic balance, accelerating recovery from the effects of stress, illness, injury or strenuous exercise.
Promotes total mental and physical calmness. Improves blood circulation and the distribution of oxygen and nutrients. Reduces blood pressure and heart rate, giving the body a natural way to release stress.  This is also beneficial to people with very sore muscles.
Contact Us
Company: SALT Float Spa
Physical Address
53 Gorge Road
Queenstown, 9300


Months of Operation: Jan - Dec


Group Info: Our spa has 6 treatment rooms, 4 of which are home to our Dreampods and 2 are dedicated to massage therapy.