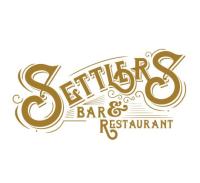 Settlers Bar and Restaurant
Evoking the unique history of Arrowtown, Settlers Bar and Restaurant offers European and Asian fusion dishes.
European and Asian settlers moved to Arrowtown during the 1860's gold rush, bringing with them their unique recipes and food know-how from around the world. Inspired by these pioneers, Settlers serves up breakfast, lunch and dinner with a unique Central Otago twist.

Tuck into New Zealand classics like herb crusted lamb shank and seared salmon, or try Settler's own twist on lamb, venison and pork dishes. There's a range of delicious, filling salads and if you're feeling extra-hungry, make sure you order a side of country cut wedges and home made focaccia.

Leave room for Settlers' fabulous desserts – settlers banana split, original matcha and coconut cheesecake and an irresistible gluten free chocolate brownie are there to tempt your taste buds.
Contact Us
Company: Settlers Bar and Restaurant
Physical Address
21 Ramshaw Lane
Arrowtown, 9302
Kids menu
Outdoor seating
MinPrice: $10
MaxPrice: $35
Open For Business : No


Monday : 9:00 AM - 9:00 PM
Tuesday : 9:00 AM - 9:00 PM
Wednesday : 9:00 AM - 9:00 PM
Thursday : 9:00 AM - 9:00 PM
Friday : 9:00 AM - 9:00 PM
Saturday : 9:00 AM - 9:00 PM
Sunday : 9:00 AM - 9:00 PM


Months of Operation : Jan - Dec
Group Info: 1 day pre booking required


Group Reservation Email: settlersarrowtown@gmail.com