Shotover Canyon Swing
Canyon Swing
If someone told you to go jump off a cliff… would you do it?  How about if we did? And how about if it was the world's highest cliff jump? Trust us, you won't regret it. For freefall without equal this'll be a heart-pounding highlight of your time in Queenstown.
We take our reputation as the 'adventure capital of the world' seriously. When it comes to adrenalin-filled, balls-to-the-wall adventure activities in Queenstown we don't do things by halves. With 60 metres of freefall (or 3 seconds) the Canyon Swing is the world's highest cliff jump. It's a rush like no other. It's a leap with no equal. We want your experience with the world's biggest cliff jump to blow your mind and possibly your undies!
You do get to decide how you leave the platform. Our Swing team are here to heighten the experience and safely manage your fear factor. Yes, these masters are slightly unhinged but, they are never less than 100% professional in their dedication to Canyon Swing safety and your personal journey. They'll push you (with words) to go that small step beyond what you thought was possible. Forwards, backwards, seated, flips, hang upside down, go off on a chair, a bike, off a slide or in a bin - you choose how ridiculous at Queenstown's best swing!
Contact Us
Company: Shotover Canyon Swing
Physical Address
34 Shotover Street
Queenstown, 9300
MinPrice: $159
Save $70 per person on solo and tandem Canyon Swings


15 minutes from town centre.


Open For Business : Yes


Monday : 9:00 AM - 5:00 PM
Tuesday : 9:00 AM - 5:00 PM
Wednesday : 9:00 AM - 5:00 PM
Thursday : 9:00 AM - 5:00 PM
Friday : 9:00 AM - 5:00 PM
Saturday : 9:00 AM - 5:00 AM
Sunday : 9:00 AM - 5:00 AM


Months of Operation : Jan - Dec
Group Info: Suitable for small groups, please contact us for details


Group Reservation Email: bookings@canyonswing.co.nz


Group Capacity: 0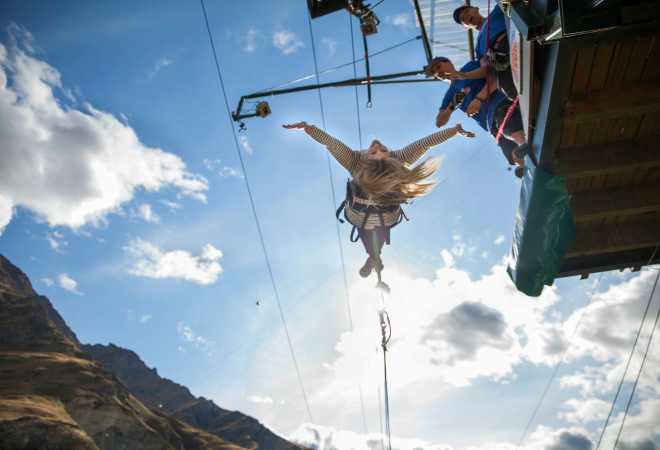 Come and test your bravery (and underwear) with the pioneers of Swinging. Get released or take the leap yourself jumping forwards, backwards, do flips, go off a slide, in a chair, why not a trike or maybe get pushed off?! Anything is possible at Canyon Swing! Solo - $179pp. Tandem - $159pp.
Valid until 31 March, 2021