Shotover Canyon Swing
The Fox - Extreme Zipline
What the Fox?
We could tell you about the stunning scenery or the chequered history of the Shotover Canyons.  We could promise you an amazing adventure and an awesome life changing experience but you don't really want to hear about it.
All you really need to know is that this thing is it.  It's the one you've been looking for.  Sketchy as. You're pretty much going to be a guinea pig.
We only built it a year ago.  A contraption aimed at encouraging a stream of the most profoundly unsavoury foul language of any adventure activity in the land.  So far, fingers crossed, it seems to be working OK.  New swear words regularly made up on the spot.
Safety
At the start of building the Canyon Fox some of the technical hoops we had to jump through didn't even exist.  By the time the engineer designed everything to meet numerous NZ Standards we have cables to ride on that are strong enough for a 20 tonne truck to hand off, bolts into rock that you could suspend 266 averagely weighted people from plus an operating system where everything is double or triple checked.  After passing an independent safety audit and engineering tests the Canyon Fox become a WorksafeNZ Registered Amusement Device #1256.
The Drop Shop
It can get lonely out there (you poor wee thing) but our fully trained fox masters are expert at giving you exactly the right amount of encouragement (or abuse) to get you to cut loose and drop.  You can choose from our five tried and tested drop styles depending on how much upheaval you want in your underpants.
If you're looking for a way to prove to your mum that you're all grown up, don't do this.  It's engineered silliness.  Cruel madness on a wire.
Contact Us
Company: Shotover Canyon Swing
Physical Address
34 Shotover Street
Queenstown, 9300
Return transport from town centre Spectators $22


Monday : 8:00 AM - 8:00 PM
Tuesday : 8:00 AM - 8:00 PM
Wednesday : 8:00 AM - 8:00 PM
Thursday : 8:00 AM - 8:00 PM
Friday : 8:00 AM - 8:00 PM
Saturday : 8:00 AM - 8:00 PM
Sunday : 8:00 AM - 8:00 PM


Group Info: Limited group sizes available, please contact us with detials


Group Reservation Email: bookings@canyonswing.co.nz


Group Capacity: 0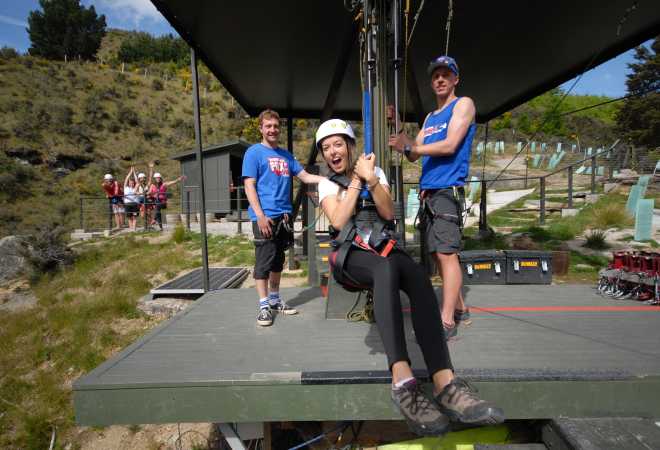 Got a group of 4 or more? Round them up book them on the Canyon Fox and save $19 each. Normally $169 each NOW $150 !!!!