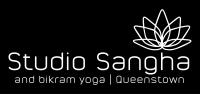 Studio Sangha & Bikram Yoga Queenstown
Studio Sangha is a spacious two room studio offering a variety of both heated and non heated classes. Sangha is the sanskrit word for community, we offer a place where people can come together to connect, nourish and heal themselves, mind, body and spirit.
See our website for more information about the studio and our classes.
Contact Us
Company: Studio Sangha & Bikram Yoga Queenstown
Physical Address
2 Industrial Place
Queenstown, 9300
MinPrice: $10
MaxPrice: $99