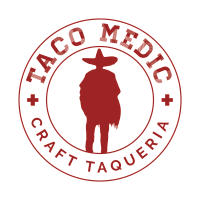 Taco Medic
Queenstown's Famous Taqueria – A Taqueria is a specialised Mexican taco shop. Making ridiculously tasty tacos, that's what we do. Casual and quick, come have a Corona or slushy Margarita and enjoy the full Taco Medic experience at the lake end of Searle Lane. Open 11am -10pm every day.
Gourmet Tacos, handmade, with passion and pride. This is no ordinary taco, we hand make our Tortillas, slow cook our meats and source locally caught fresh fish every day. It's a big job, that's why we're the best. 
Our Menu is 100% Gluten Free because we craft traditional Mexican Corn Tortillas which are made with internationally sourced Mexican corn masa flour.
Eating tacos is a lifestyle choice, eating should be memorable and exciting that's why you can mix and match any flavors you desire and just so you know we only use free range and top quality ingredients because that's what makes us happy, and hopefully you too.
Contact Us
Company: Taco Medic
Physical Address
Searle Lane
Queenstown, 9300
Kids menu
Outdoor seating
MinPrice: $8
MaxPrice: $21
Monday : 11:00 AM - 10:00 PM
Tuesday : 11:00 AM - 10:00 PM
Wednesday : 11:00 AM - 10:00 PM
Thursday : 11:00 AM - 10:00 PM
Friday : 11:00 AM - 10:00 PM
Saturday : 11:00 AM - 10:00 PM
Sunday : 11:00 AM - 10:00 PM


Holiday hours : 11:00 AM - 10:00 PM