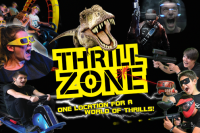 Thrillzone
360° VR
Step into new dimensions and experience worlds without limits! With 360° VR you will live the adventure!
From fighting intergalactic wars on alien planets, to defending your castle from angry troll or skiing down scenic mountains. 360°VR is the fully realised future of entertainment and more.
Our integrated Virtual Reality technology allows you to see, move and feel 360°VR dimensions of imagination in a completely immersive and realistic way.
More than watching a movie or playing a game!
Contact Us
Company: Thrillzone
Physical Address
53 Shotover Street
Queenstown, 9300
MinPrice: $29
MaxPrice: $34
Admission price includes 15min of gaming time Child $29.00 Adult $34.00 Extra game $15.00 per person


Monday : 10:00 AM - 10:00 PM
Tuesday : 10:00 AM - 10:00 PM
Wednesday : 10:00 AM - 10:00 PM
Thursday : 10:00 AM - 10:00 PM
Friday : 10:00 AM - 10:00 PM
Saturday : 10:00 AM - 10:00 PM
Sunday : 10:00 AM - 10:00 PM