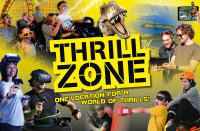 Thrillzone
360° Drift
Never tried drift karting before? Why not put your skills to the test and find out who the true Drift King or Queen is? 
Then drop the Drift bar and see who's the fastest!
Our front-wheel driven karts equipped with unique drifting wheels provide you with an unforgettable experience like no other. 
Feel your adrenaline pumping as you race to find out if you're a pro at controlling the unique drifting rear wheels.
Drive like a go kart racer or lift the drift bar and enter the 360° drift mode. This allows you to drive and drift forwards, backwards, diagonally, sideways and everything in-between.  
It's fast. fun and full of action!
Contact Us
Company: Thrillzone
Physical Address
53 Shotover Street
Queenstown, 9300
MinPrice: $35
MaxPrice: $39
Admission price includes 20min of drift $39.00 per person


Open For Business : Yes


Monday : 10:00 AM - 10:00 PM
Tuesday : 10:00 AM - 10:00 PM
Wednesday : 10:00 AM - 10:00 PM
Thursday : 10:00 AM - 10:00 PM
Friday : 10:00 AM - 10:00 PM
Saturday : 10:00 AM - 10:00 PM
Sunday : 10:00 AM - 10:00 PM


Months of Operation : Jan - Dec
Get 25 % OFF this winter at Thrillzone, Queenstown destination for awesome thrills - indoor and outdoor! Conditions apply - online bookings only - use promo code: 25%OFF - for bookings between 1 July and 30 September - not valid with any other offers - no cash-back
Valid until 30 September, 2020
Get 30 % OFF this winter at Thrillzone, Queenstown destination for awesome thrills - indoor and outdoor! Conditions apply - online bookings only - 10 Person Minumum- use promo code: 30%OFF - for weekday bookings between 21 August and 15 December - not valid with any other offers - no cash-back
Valid until 15 December, 2020