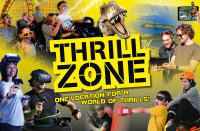 Thrillzone
Lasertag & Heroblast
Welcome to Queenstown's ONLY 360° Battleground for TACTICAL Laser Tag and Heroblast.
Discover strategic combat when playing different gaming scenarios like sniper, team deathmatch, free for all and more... All with your very own referee and game modes individually tailored to your group size and needs!
Forget everything you knew about wired headbands, vests, plastic guns and sci-fi sounds. Our state-of-the-art gear transports you right in the action!
 Our Tippmann guns are also used in the army for military training and give you the real feel! Our light-weight Heroblast gloves are the perfect weapon of choice for youngsters, so even the smallest family member can join the thrill!
Contact Us
Company: Thrillzone
Physical Address
53 Shotover Street
Queenstown, 9300
MinPrice: $35
MaxPrice: $54
Admission price includes 1/2 Hour Lasertag & Heroblast $39.00 Per Person 1 Hour Lasertag & Heroblast $54.00 Per Person Extra 30 mins $15 pp




Months of Operation: Jan - Dec