Stunning views, great food and good vibes. Queenstown is a great destination for a long weekend; relaxing with friends, taking in the sights and enjoying the best food Queenstown has to offer.
There's more than first meets the eye to Queenstown's dining scene and nightlife.
Perky's Floating Bar. Credit: @the_lazywanderers
Day 1
Breakfast: Start your day at Bespoke Kitchen (9 Isle Street, Queenstown). Located near the Skyline Gondola, Bespoke won NZ Café of the Year in 2015 and it's easy to see why: natural aesthetic, beautifully presented food and a fantastic menu featuring everything from vegan bircher through to classic egg benedict.
Lunch: Head to the waterfront, where you'll find a curious crown-topped building, right on the beach. The Bath House (Marine Parade, Queenstown) was built in 1911 as a 'bathing house' and changing rooms, but it's now the home of mouth-watering cheeseboards, burgers and a pasta of the day that's always en pointe. What hasn't changed is the old-world aesthetic and the best lake views you can get without getting wet.
Afternoon: Grab a sweet afternoon treat from Patagonia (Rees Street, Queenstown). Craving the exquisite chocolates of their Argentinian homeland, Alex Gimenez and Lorena Giallonardo established Patagonia in 2005 to bring artisan sweet treats to Queenstown. Years later, their handcrafted chocolates, award-winning ice creams and locally roasted coffee is a must-eat for any food-lover.  
Evening: It's not a visit to Queenstown without trying the world-famous Fergburger. Join the queue and order to takeaway, because you'll want to eat it at another local legend: Perky's. This permanently-moored boat-come-bar serves up a great range of local beers and wines and welcomes food bought from elsewhere. It's also one of the best spots to take in the jaw-dropping sunsets over the lake and mountains.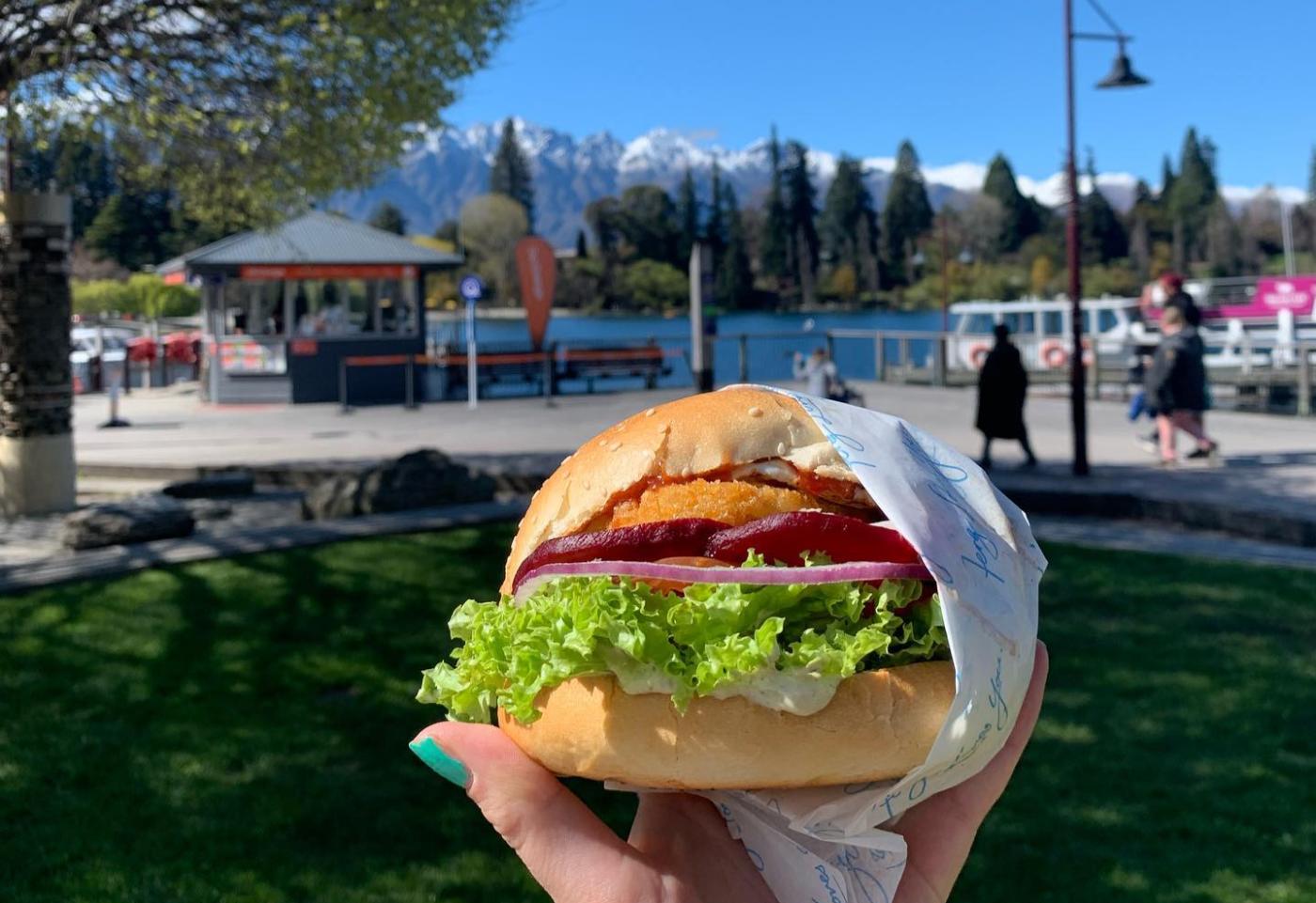 Fergburger
Day 2
Breakfast: Head out to Arrowtown for another local favourite: Provisions of Arrowtown (65 Buckingham Street). Expect fresh, seasonal baking and top-notch Allpress coffee. Located in a restored miner's cottage, the garden is delightful and the perfect place to linger with a book, a coffee and a scone.
Lunch: If you love real New Zealand pies, stop by the wholesome and unpretentious Arrowtown Bakery (14 Buckingham Street, Arrowtown) for a lamb and mint pie – you will not regret it.
Evening: Slow Cuts (46–50 Buckingham Street, Arrowtown) is the home of slow cooked meats, burgers and drool-inducing rotisserie chicken. With locally sourced ingredients and beer brewed by locals Lake & Wood Brew Co, you can't go wrong. After dinner, seek out a little blue door tucked away in an unassuming alley way (Blue Door Bar, 18 Buckingham Street), to curl up by the fire with a glass of the region's finest wine, or sip a whiskey and tap your feet to live music.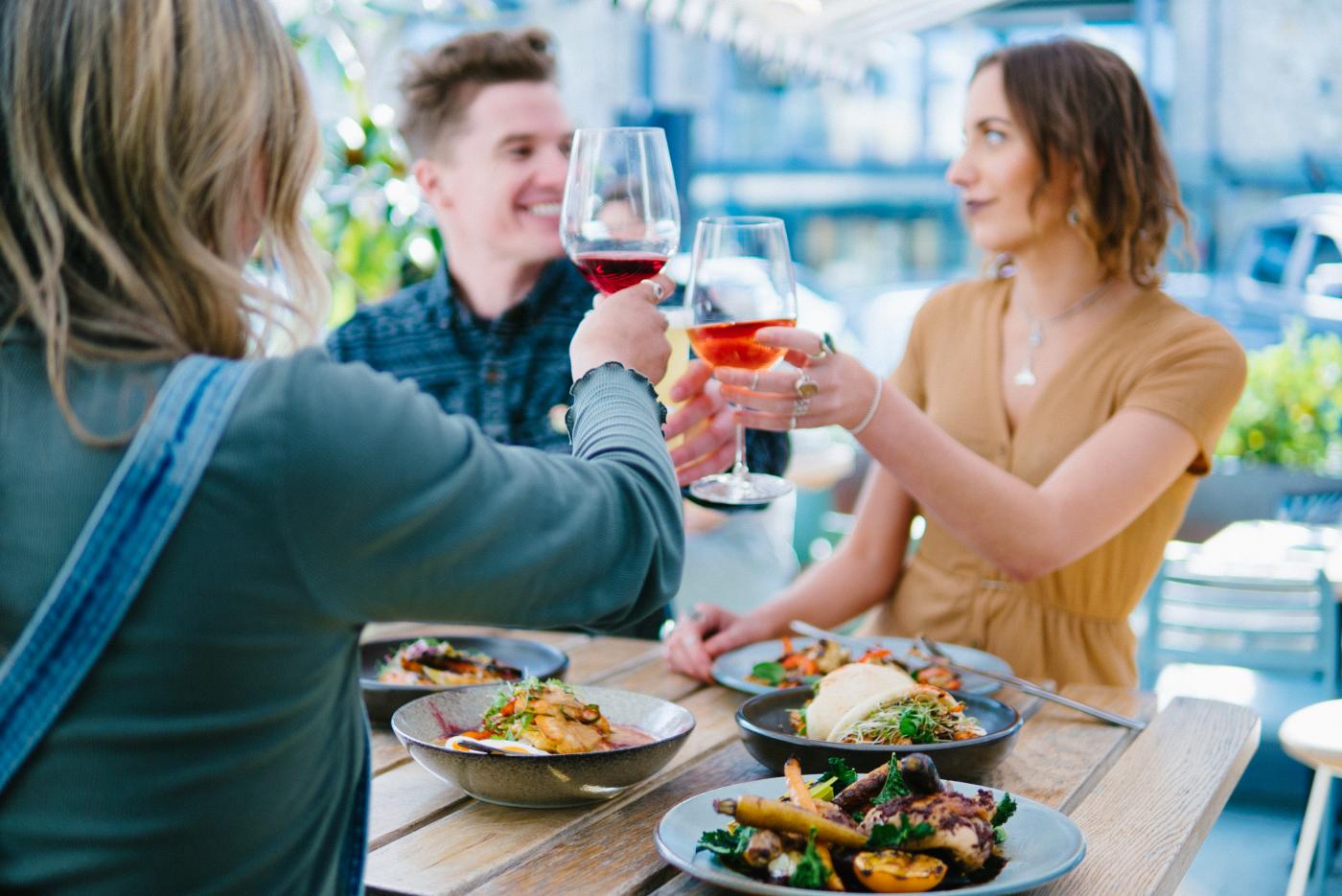 Yonder Cafe
Day 3
Breakfast: Leafy and urban cool Yonder (14 Church Street) is great any time of day – there's live comedy, music events and bao and flatbreads in the evenings but breakfast is a millennial's dream with a creative menu featuring kimcheese on toast, vegan scram and buckwheat pancakes. The café's focus on dietary requirements make it a good option for groups.
Lunch: Wander (or bike) along the lakeside Frankton Track to get to the Boat Shed Cafe & Bistro (847 Frankton Road). The restored New Zealand Railways Shopping Office was relocated here in 1936 and it's a simply stunning spot. Look up at the Remarkables and listen to the lake lapping the marina while you enjoy modern New Zealand cuisine and coffee that packs a punch.
Afternoon: For something a bit different, head to the Asian-fusion restaurant Madam Woo (5 Lower Ballarat Street, Queenstown). The street-lux décor, Vietnamese style drip coffee and Portuguese tarts are the perfect afternoon pick-me-up.  
Evening: For rustic, old-school ambience and a taste of the best of the South, head to The Bunker (14 Cow Lane, Queenstown). Tricky to find, and hard to forget, this tiny restaurant serves an 8-course Taste of the South menu matched with local wines. Executive Chef Ben Norfolk selects the finest local produce to create European and Kiwi flavours. Think: wild boar and parsnips, bio-farmed lamb with croquettes and seared loin of hare with kumara puree.