Queenstown is New Zealand's family winter holiday destination, offering great snow conditions and a choice of four ski fields with terrain for all ages and abilities. The family-friendly ski fields also boast a long season, from late June to October.
Basing your family in Queenstown for a ski holiday means you can access a range of ski fields including Coronet Peak, The Remarkables, Cardrona and Treble Cone. Coronet Peak is just a 20 minute drive from downtown Queenstown meaning you'll escape the inevitable 'are we there yet' question from your little ones.
All the ski fields offer fantastic family orientated facilities and services, from hiring all the gear you need, to ski school, crèche, snow sports academies and kids clubs. Check out the variety of options at the different ski fields.
Tips for a fun family ski trip
Before you set off on your family ski holiday adventure, it's important to set yourselves up correctly for a fun day. The first rule of fun family skiing is ensuring everyone, especially the kids, is dressed warmly enough. Nothing will have the kids whining to go home early more than getting cold. Layers are important and make sure you have merino wool or polypro thermals as a base layer and something to cover their ears and necks. Good waterproof, warm outer layers and gloves are essential.  Helmets are an absolute necessity for all members of the family and if you don't have your own they can be hired, along with other ski gear, either in town or on the mountain.

Shred & Spike, Coronet Peak
Planning ahead is important. Fill the kid's jacket pockets with energy boosting morning and afternoon snacks so you only have to hit the café at lunchtime. Find a spot with an amazing view to take in your morning tea, there's certainly no shortage. But do factor in a decent lunch break. All the mountains offer amazing food and beverage options in warm, well-serviced cafes so make the most of the facilities and recharge the kid's batteries.  For families skiing with under 10 year olds, take an enforced toilet stop when you arrive before you hit the slopes and again after lunchtime – nothing worse than having to stop again and undo all those layers!
Skiing as a family is fun and there is nothing more rewarding than seeing your little ones master their turns and develop their skiing expertise. Do bear in mind that sometimes children learn faster from the professionals and ski school lessons are a great way to ensure they have the right skills and technique. It's also a great way for mums and dads to enjoy some kid-free time and chalk up some vertical miles. The region is renowned for progression learning with purpose built beginner slopes, consisting of a wide variety of terrain with lifts and chairs designed for beginner progression.
If you have young children or a baby then look into the on-mountain crèche facilities. These provide a safe, warm environment for the smallest ski bunnies and some have facilities to give the very youngest their first snow and ski experience.
For more tips and advice on planning ski holidays with the kids, also visit local online family travel guide, KidzGo.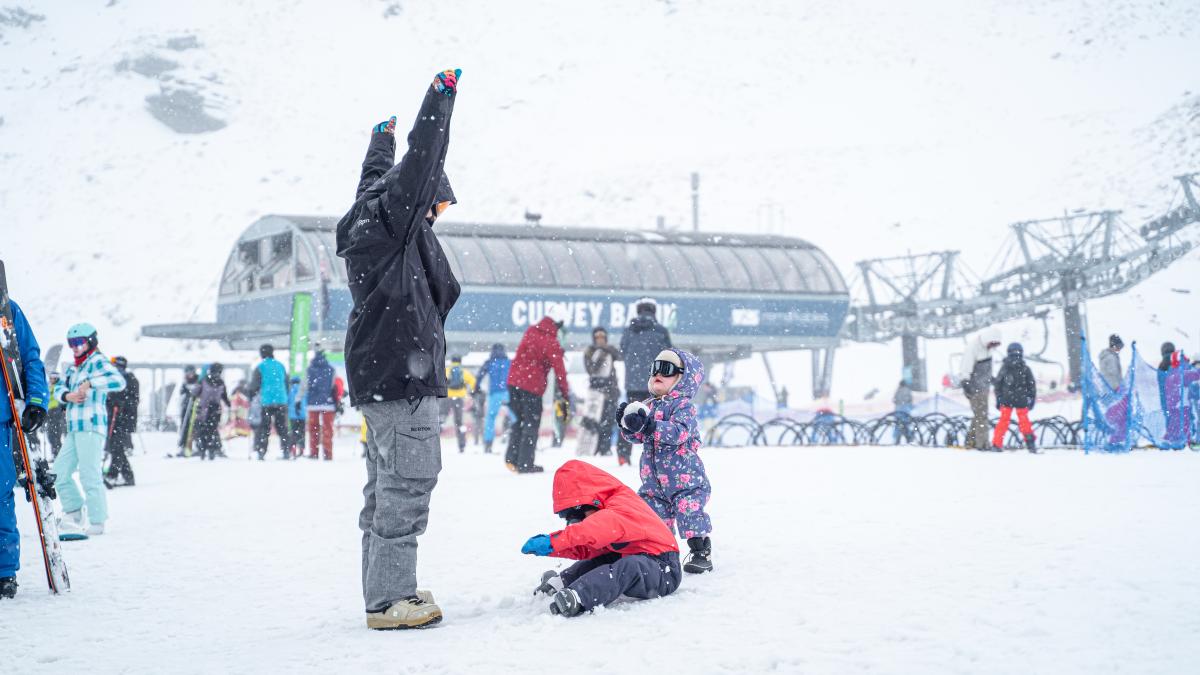 Snow fun at The Remarkables
Whatever the age of your kids you're sure to have an amazing ski holiday in Queenstown. With the diverse range of ski fields and world-class facilities, loads of off-piste activities, a busy après-ski scene and range of accommodation to fit the budget and size of your family, it's the perfect family ski holiday destination.