Christopher Keys: Winemaker at Gibbston Valley Winery
Christopher Keys' first exposure to the wine world was at a part-time job in a bottle shop in Dunedin. Having just graduated from Otago University with an Arts degree, he was scrambling for the next move and found the wine scene invigorating and intriguing.
"Luminaries of the wine world would come in and do tastings and I loved it!" he says. "I'm always interested in narrative and storytelling and in this world you can combine so many different things - artistic, sensory, scientific, evaluative - there are just so many ways into it. That was the appeal for me."
Christopher went on to study postgraduate Viticulture at Lincoln University, which led him to spend the next several years in the Hawke's Bay, USA and France, before landing a job as winemaker at Gibbston Valley Winery in 2006, where he has stayed ever since. "I was naturally drawn to the whole area," he says. "It's such an amazing place with dramatic and romantic landscapes, with wines which make an impact, reflective of the place and people. And Gibbston is not an area where you can make bulk wine easily. The logical counter is to make small volumes of interesting wine. It's that intrigue and interest that keeps me here."
Like many of the wineries in the region, Gibbston Valley Winery is converting to organics. Plans are also in motion to plant a new section of vines on the western side of the valley in the coming spring. Christopher says that their small team is not one to rest on its laurels.
"You have a narrative in mind, you want to create the best conditions within that narrative for everything to thrive. It's thoughtful. Nothing is done without a reason. Our team has been 15 years working together and that lends itself to free and rapid discussion about the product. There is a respect for traditional ways but also a desire to keep on improving."
When he's not working, Christopher likes to get out and walk the trails of Arrowtown with his family and dine at Kappa in Queenstown with friends. He also enjoys a nice relaxed game of golf - with wine, of course.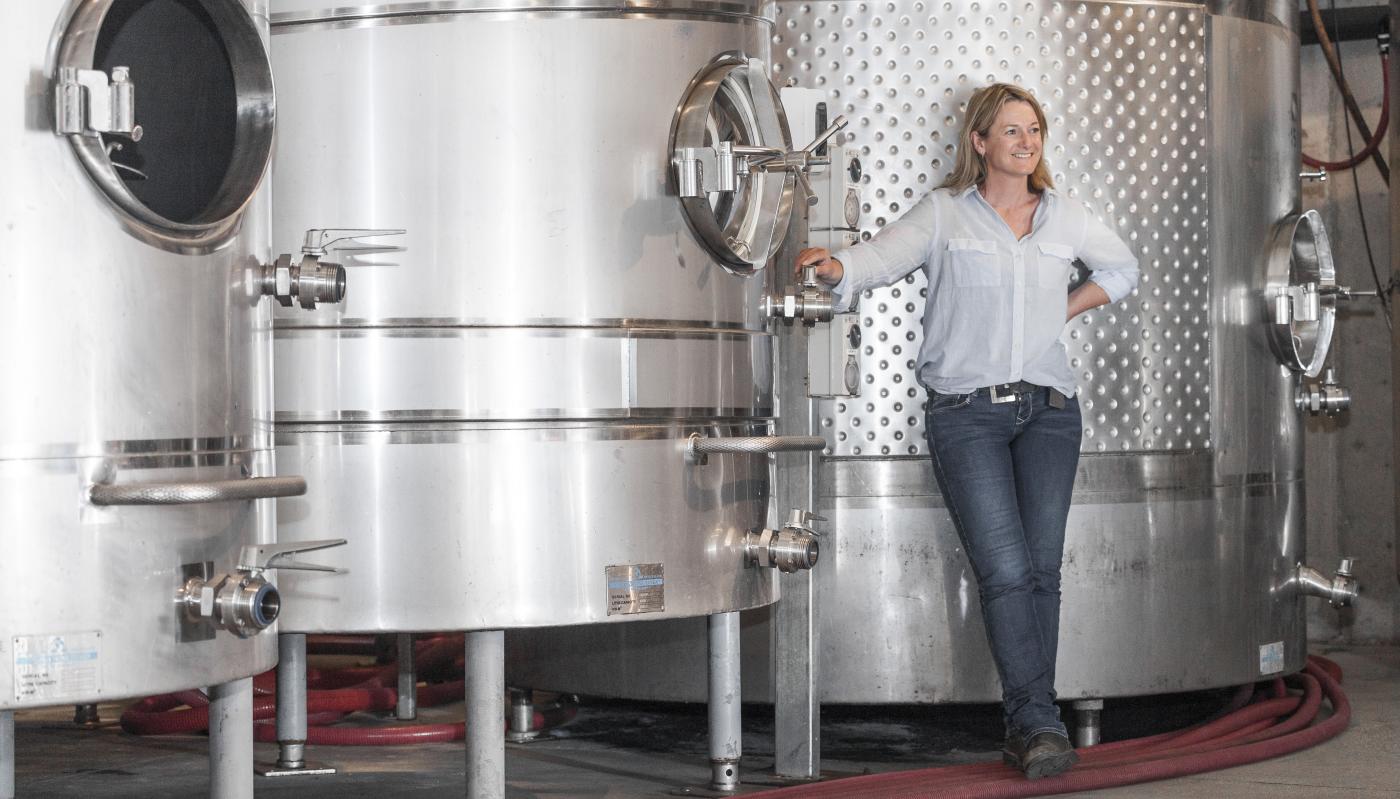 Nadine Cross at Peregrine
Nadine Cross - Winemaker at Peregrine Wines
Growing up on a sheep farm in the Otago Peninsula, Nadine Cross had always been interested in agricultural production. She went into a Viticulture post-graduate course at Lincoln (in the same year as Christopher Keys), thinking she would get into the business side of winemaking, but to her surprise, it was the production side of things that really sparked her interest.
"I had also worked with cooking and tour guiding on the Otago Peninsula so there was that combination of agriculture, tourism, food and wine. It was the whole package really. The people are a big part too - so many interesting people are involved in the whole winemaking industry," she says.
After spending several years overseas and in Marlborough, Nadine got a call from Peregrine Wines asking her to come and work as their winemaker, a move which brought her closer to her family and one that she has never looked back on. "It's the climate and the soil and the people that make Gibbston a special place," she says. "We have a dramatic landscape and it can be challenging. We're living on the edge really and that makes for special wines."
Peregrine has a small number of vines at its headquarters in Gibbston, a larger growing area in Bendigo Estate, and it also uses some long term growers based in Pisa. All of these vineyards are managed organically and have been for the past decade. "In Central Otago, about 25% of vineyards are managed organically so we are leading the country in organic winemaking, which is really exciting," says Nadine.
Over the years, she has seen the area grow as a destination for visitors on day trips. "I think it's exciting the number of wineries we have in Gibbston. There is a great variety of cellar doors to visit - with different wine styles and sizes of wineries and offerings of tastings - and it attracts people to come out for the day in their car or on a tour or biking. The trails connect us all which is great."
Aside from winemaking, Nadine loves cooking, doing yoga, and eating out at local restaurants. Two favourites are Tanoshi in Queenstown and Chop Shop in Arrowtown. She also loves walking the trails, heading into the Sawpit Gully near her home in Arrowtown and around Lake Hayes.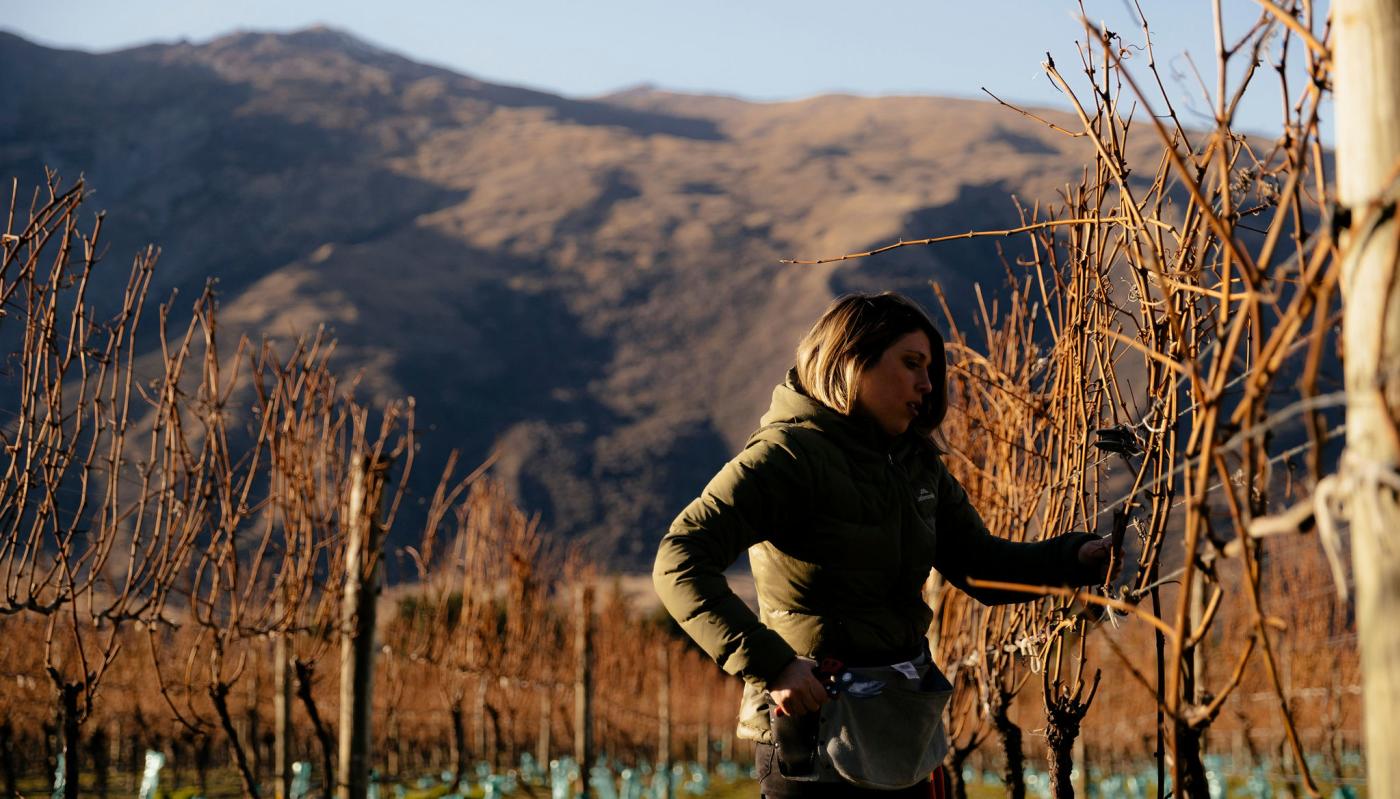 Anika Willner - Pruning in Gibbston
Anika Willner - Winemaker at Coal Pit Wine
It was love that drew Anika Willner to Gibbston. For wine, of course, but also for her partner, who was working as assistant winemaker at Peregrine Wines when Anika spotted a job opening at Coal Pit Wine. It was there she found her third love: Gibbston.
"I've always loved the mountains and this part of the country. It's so spectacular and powerful. And I fell in love with Gibbston because it's a unique sub region - it's the coldest and one of the highest wine region in New Zealand."
Hailing from the United States, Anika was studying biochemistry at Ohio State University when she started a wine club. It was through the success of this club and the people surrounding it that she discovered her passion for wine, which led her to follow the scent of vintages all over the world before eventually settling in New Zealand. For Anika, it is the schist in the soil that gives Gibbston wines their point of difference.
"The vineyard sparkles in the summer when the light hits it and the wine really reflects this minerality. There is a really apparent reflection of the earth in the wines that grow from here, which is really special."
Anika also points to the elevation of the vineyards as a reason for their strength. "Due to extreme diurnal shifts in this subregion (hot days and very cold nights), acid remains a strong component of the fruit and succeeding wines composition. This strong presence of acid gives the wines serious longevity and preservation. To be able to produce wines that can age up to 20 years is particularly important for benchmarking yourself as a region." 
Coal Pit is also converting to organic viticulture, aided by the camaraderie of the Central Otago wine community. "You see so many people converting to organics because we're all willing to help each other out. Everyone is communicating and offering advice, which helps push us forward."
Anika and her partner live in an historic cottage at Coal Pit with their dog. They visit Arrowtown most days for runs up Sawpit Gully, Tobins Track or towards Macetown and love to ski in the winter. "We also love to enjoy the local food and culture. There is so much that Queenstown offers in terms of food and drink, and for people like us, eating out is a passion."
Coal Pit doesn't have a tasting room onsite however their wines are available to taste at Kinross in Gibbston.