The mountain-ringed setting of The Headwaters Lodge at the head of Lake Whakatipu is magical, however what really sets this destination apart is its triple-bottom-line commitment to environmental, financial and community sustainability.
Taking the scenic 40-minute drive north along the lake from Queenstown lets the world fall away. Offering all-inclusive multi-day experiences, staying at The Lodge provides guests with a unique opportunity to holiday in harmony with nature, staying in warm, welcoming chalets and dining on delicious fresh chef-prepared meals fresh from the garden.
The Headwaters Eco Lodge is both New Zealand's and the world's first visitor accommodation built and operating under the framework of the Living Building Challenge (LBC). Recognised globally as the most stringent design principles for creating a healthy future where our planet and humanity are thriving, The Lodge has been certified by the International Living Future Institute for its inspiring and regenerative approach to energy, water, materials and beauty.
The LBC uses the metaphor of a flower to reflect a healthy living entity. An LBC-compliant building is like a flower, rooted in place and generating its own fuel, collecting its own water, supporting its local ecosystem and community (via pollination), and becoming food for the local ecosystem at the end of its life. And like a flower, it should all look beautiful. These vital aspects or 'petals' of the flower are woven throughout the guest experience at The Lodge.
The Headwaters Lodge celebrates its natural and cultural environment through buildings designed to reflect rural building archetypes. It was sustainably built to enhance light, mountain views, and year-round comfort using repurposed and non-toxic construction materials, lush native plantings, and a visual bounty of beautiful original artwork in every space from a wide range of New Zealand artists and craftspeople.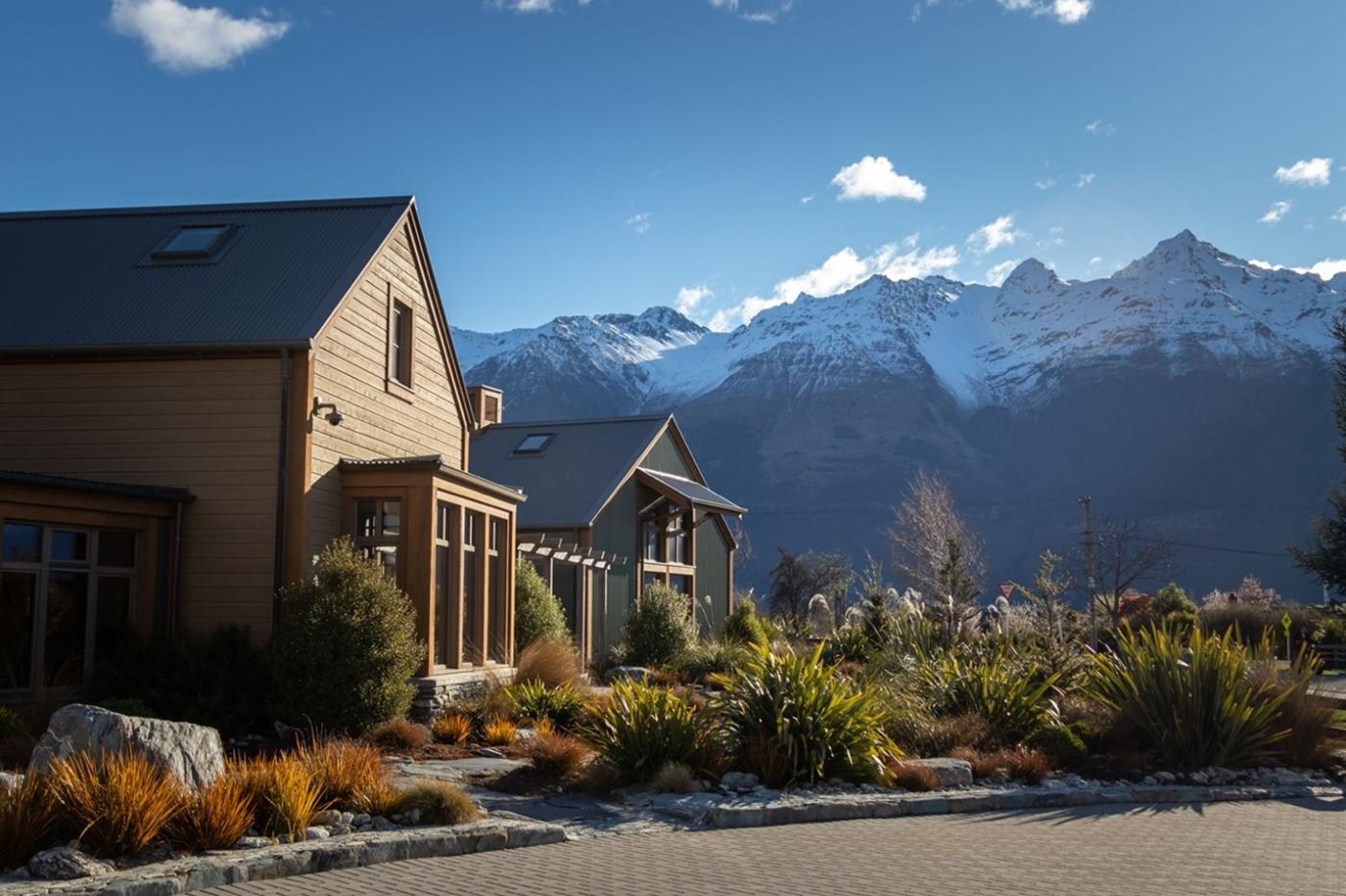 The Headwaters Eco Lodge
The chalets, gathering spaces, dining room, event spaces and covered outdoor fireplace area provide guests with a comfortable, rustic aesthetic experience while using both passive design and state-of-the-art technology to help reduce water and energy use.
The Headwaters Lodge uses 50% less power and 50% less water than similar facilities, while generating its own energy onsite via 432 solar photovoltaic panels, representing one of the South Island's largest solar gardens. Initially aiming for Net-Zero Energy consumption—meaning it produces more power over the course of a year than it uses—in practice, the property actually over-performs, achieving Net Positive Energy generation, allowing it to store excess power in an onsite battery for use during peak periods.
The Headwaters Lodge is part of a new model in hospitality and retail which seeks to serve as an example of resource-efficient tourism. It combines a deep set of values with a gentle, walk-the-talk approach, approaching sustainability as a journey which it hopes visitors will embrace - perhaps taking some ideas back to their own homes and communities.
Guests and visitors to The Headwaters Lodge can learn about the myriad of ways the site is designed to be self-sustaining. For example, on the water conservation front, host-led tours and subtle, informative signage explain how The Lodge collects and treats rainwater to provide for its own water needs, uses odorless composting toilets that help cut water consumption by half of the norm for commercial visitor accommodation, and how its gentle rain-like, resource-efficient showers save water in each of the ensuite chalets.
Paul Brainerd, co-founder and visionary behind the high level of sustainability at The Headwaters Eco Lodge, describes it as a "living laboratory" designed to delight its guests while measuring the performance of a wide range of carefully selected sustainable building systems.
"We will continue sharing our building performance data over the next 3-5 years to learn more what works and what isn't working as expected. This data will allow us to continuously fine tune the buildings to achieve higher performance levels over time," said Paul.
Adds his wife and co-founder Debbi Brainerd, "With the recent build-out of the Dining Room at The Headwaters Lodge, we're also excited about Executive Chef Pete Gawron being able to work with fresh, local produce, herbs and flowers grown in our own Kitchen Garden and solar greenhouse. Our vision for sustainable dining at The Headwaters has at last come to life in delicious, destination-worthy dinners, Sunday brunches, and in beautiful meals that are part of all-inclusive Adventures in Paradise programmes."
On top of it all, visitors can feel good about their stay at The Headwaters Lodge not only because they'll be staying in one of the most sustainable boutique lodges in the world, but also because all profits from operations are donated to the locally administered Glenorchy Community Trust whose mission is to increase the vibrancy and resilience of the community.