State-of-the-art golfing facilities and stunning lake and alpine scenery have made Queenstown a golf lovers' paradise. Visitors will have no trouble complementing their rounds with a range of activities in this stunning place. Not only is a golfing visit to Queenstown a chance to escape, it's a time to energise and rejuvenate.
There are seven golf courses within a 45-minute drive of the town centre which offer everything from family friendly nine-hole courses to fairways with rugged mountain backdrops and immaculately groomed 18-hole championship courses.
A week-long trip can be both technically challenging and fun, and tailored tours and packages can cater for the solo golfer right through to larger groups. With a focus on service and a welcoming attitude at every turn, every style and level of golfer can be catered for.
New Zealand Open
Each autumn both professional and amateur golfers and spectators descend on Queenstown for the New Zealand Open. Held across two spectacular golf courses, Millbrook Resort and The Hills, the Open is a three-day showcase of the sport in the most incredible setting. 
Off the course there's a diverse partners programme with fashion shows, dinners and events around Queenstown. 
Get into the swing
Queenstown's seven golf courses are an inseparable part of the landscape, and a trip will have you wishing they were in your own back yard.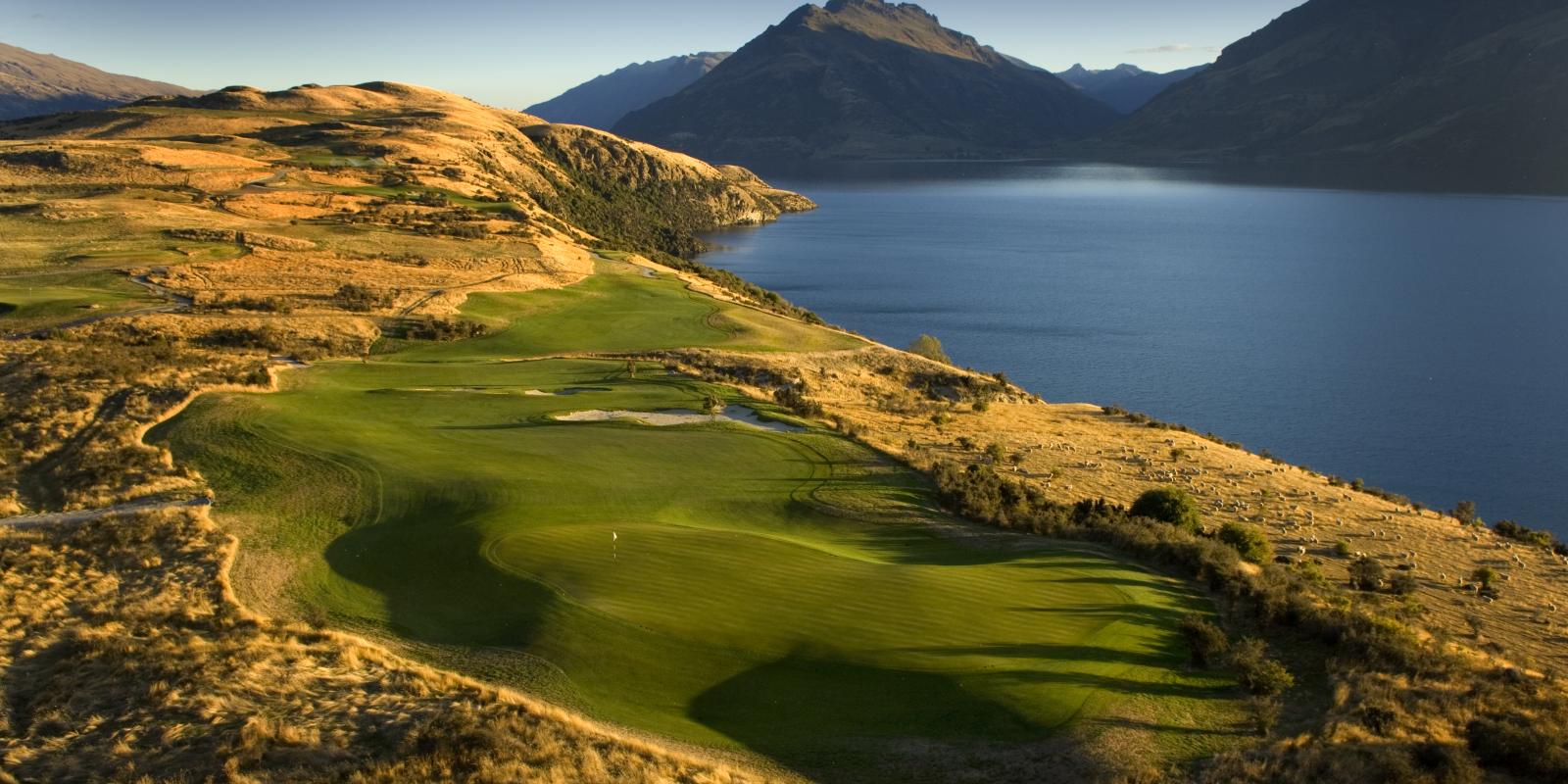 Jack's Point Golf Course
The Jacks Point 18-hole international course has sweeping 360-degree vistas of the razorback Remarkables mountain range and Lake Wakatipu, and it's fast gaining in profile on the international golf stage. Named for Jack Tewa or 'Maori Jack', the first man to find gold in the region, the course winds its way through wetland, tussock grasslands, rocky outcrops, native bush and steep bluffs to the edge of the lake, and as it matures the playing conditions only improve. The Jacks Point lakeside clubhouse houses a restaurant, bar and deli with spectacular views of the looming Remarkables mountain range. It boasts a fresh menu updated seasonally, offering breakfast to a sumptuous lunch and a lighter menu for visitors and golfer alike. The golf shop and golf services operation is adjacent to the clubhouse close to the first tee and driving range.
The Hills
Enjoy the luxury of New Zealand's golf at its very finest.  Located on the outskirts of Arrowtown over 101 hectares, The Hills' world class course has been home to several New Zealand Golf Open tournaments alongside Millbrook Resort, and is again the co-host of the 2017 ISPS Handa New Zealand Open in 2017.  From the signature 17th hole, dubbed the "canyons", to the award-winning Clubhouse, The Hills caters to discerning golfers from all around the world and is quite simply an unforgettable golfing experience.
Surrounded by the dramatic Remarkables mountain range and pristine waters of Lake Wakatipu, the Queenstown Golf Club is picture perfect
Millbrook Resort
Co-host of this year's ISPA Handa New Zealand Open and surrounded by stunning mountain vistas, Millbrook Resort is home to one of the world's finest alpine golf courses. The par-72 championship course, designed by Sir Bob Charles, has now been transformed into 27 interchangeable holes by former golf pro Greg Turner and Scott McPherson and is relatively wide open and perfect for golfers of all handicaps. Part of the resort's five-year plan is to develop another nine holes—creating a total of 36 holes across the resort, two completely separate championship courses. Millbrook's world-class services include a fleet of electric golf carts, a covered driving range with six hitting bays, extensive chip and putt practice greens, launch monitor, SAM Putt analysis, video analysis, quality equipment hire, and NZPGA qualified coaching staff.  The Proshop offers quality golfing apparel and local products.
Queenstown Golf Club
Situated on the end of the Kelvin Heights peninsula surrounded by the dramatic Remarkables mountain range and pristine waters of Lake Wakatipu, the Queenstown Golf Club is picture perfect. The 18-hole par 72 course is accessible by road or water taxi and its sunny location offers excellent golfing conditions year-round. It is staffed by qualified NZPGA Professionals and provides golf schools, lessons for all stages of the game as well as video analysis. Golf equipment is available for hire and the clubhouse offers bar/restaurant facilities and breathtaking views from the balcony.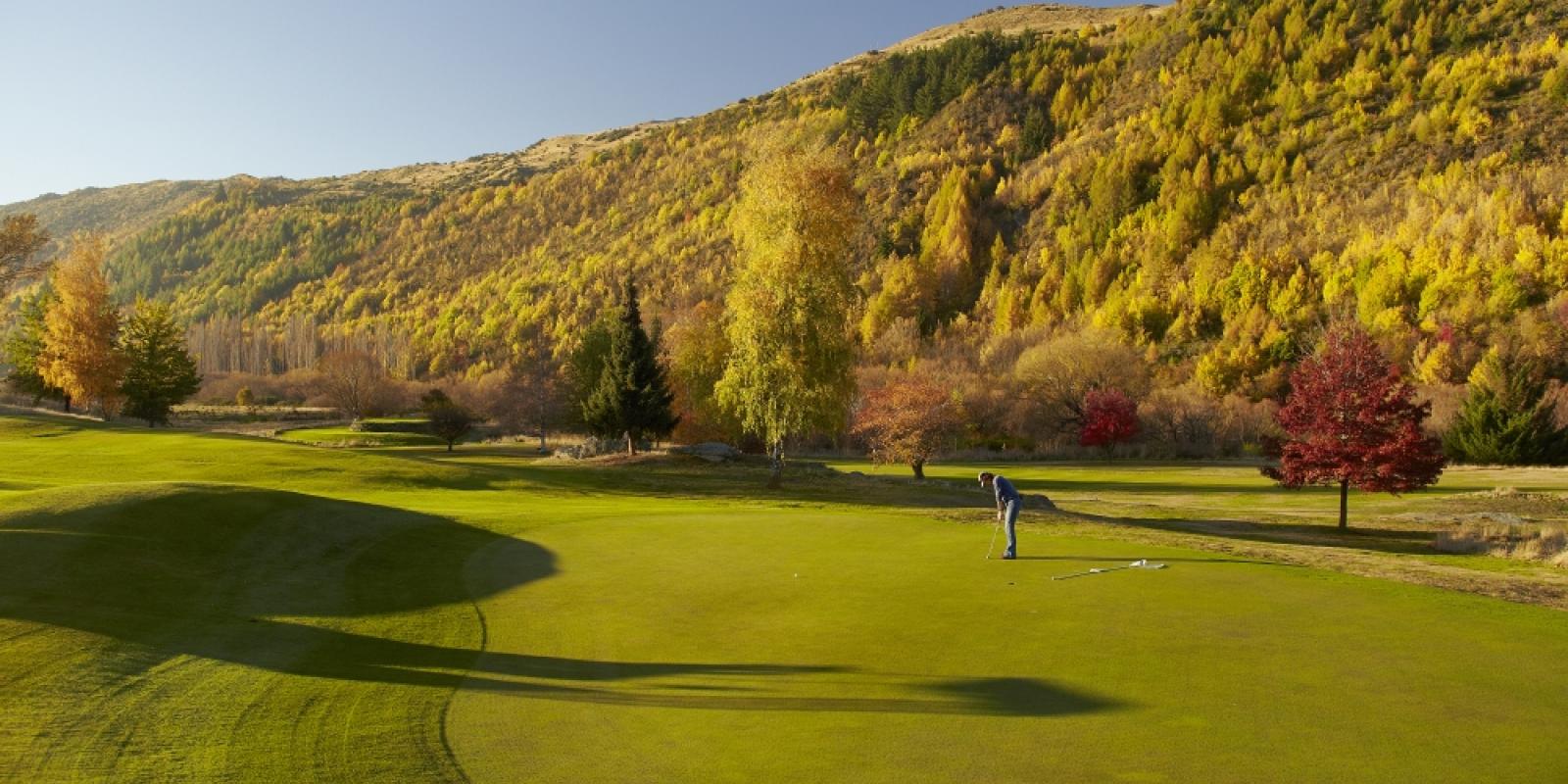 Arrowtown Golf Club
From humble beginnings, the Arrowtown Golf Club has built a unique first class course which is regarded by many as one of the finest country courses in New Zealand.  Set in the stunning and tranquil surroundings of Arrowtown's rolling hills, the challenging course winds through narrow schist rock defiles and immaculate undulating greens.  This is a truly memorable golfing experience, and offers the chance to play alongside seasoned locals, who may just share some of their insider knowledge.
Frankton Golf Centre and Driving Range
Frankton Golf Centre and Driving Range is just seven minutes from downtown Queenstown and offers a nine-hole short course and 10 bay covered driving range.  It's family-friendly and ideal for all abilities, from serious golfers wishing to practice to beginners wanting to learn the game.  Staffed by qualified professionals, the driving range provides lessons for all stages of the game as well as with video analysis.  A well-stocked golf store is located within the clubhouse.  Clubs are also available for hire.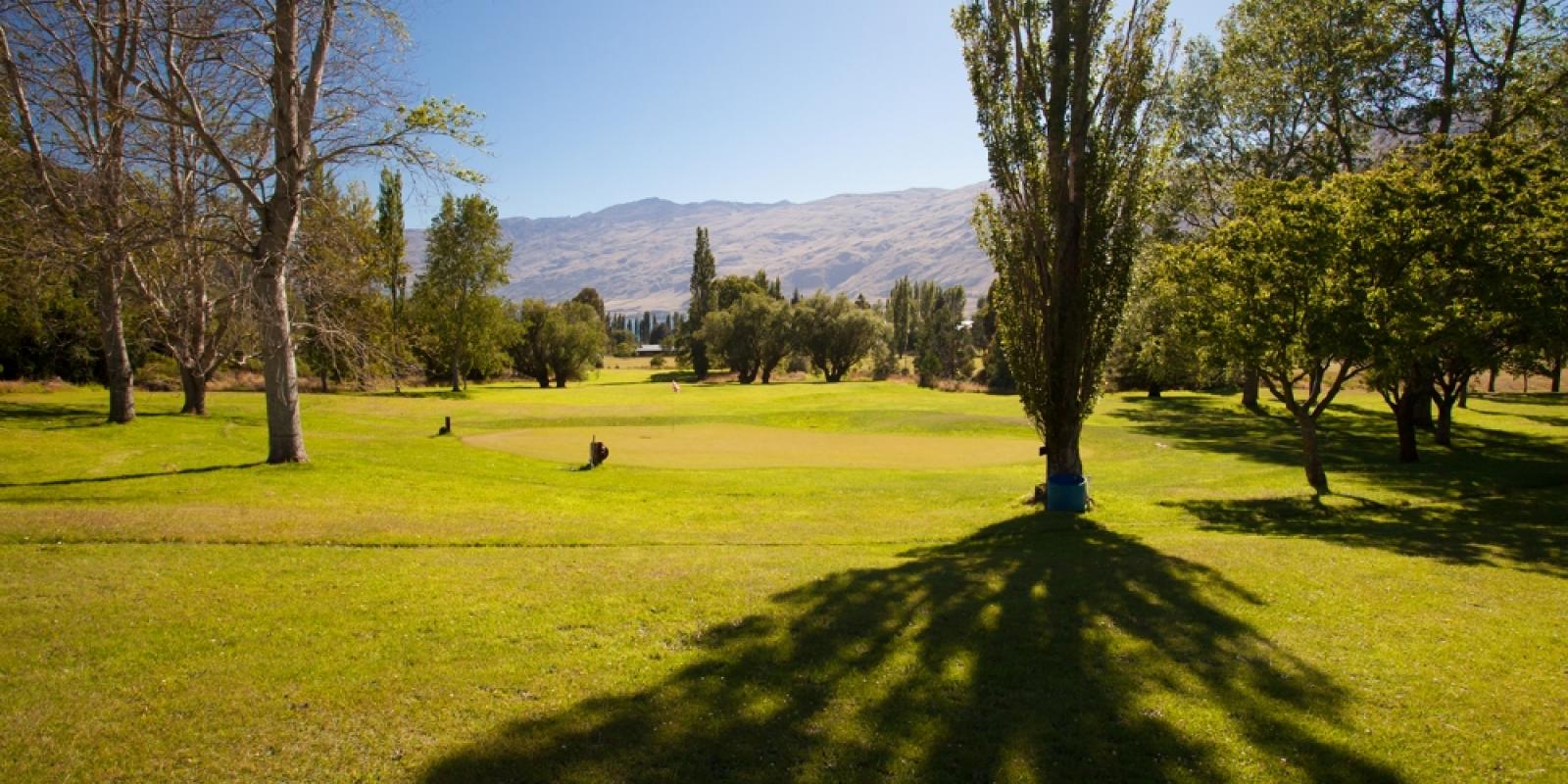 Kingston Golf Club
This nine-hole course is nestled in the southern-most end of Lake Wakatipu in Kingston, the southern gateway to Queenstown, a 40-minute drive away. A popular spot in the warm summer months, Kingston Golf Course features incredible scenery and a number of obstacles for golfers to navigate—including creeks that are close to some greens to disrupt play.
For a truly adventurous '20th Hole', or to mark a special moment, you can also take to the skies on a helicopter to a mountain top tee.
Of course even the most avid golfers can't spend all of their time on the course, or at the 19th hole, so there's plenty of opportunity to explore the region's culinary, adventure and relaxation offering—and for partners and friends accompanying a golfer on holiday, endless opportunities to discover their own Queenstown escape.