The team at Simply Mindful Weddings acknowledged the difficulty the wedding and events industry (amongst other industries) went through in 2020. However, they have also said it hasn't been all bad, 'a big upside to the pandemic related turmoil has been a trend towards smaller (and by nature more sustainable) weddings over big lavish affairs…you know the ones that have sometimes been more about the show, than the couple?' And so, the mantra they've developed at Simply Mindful is 'Less Waste…More Meaning!'.
According to Simply Mindful, the trend has been growing for years however these smaller celebrations have never been so popular. 'Micro weddings are inherently more sustainable, have lower direct environmental impact, are budget friendly, and can be much easier suited to match your personal preferences and are even easier to incorporate meaningful ways to include those closest to you.'
Simply Mindful Weddings' Eco Elopement Packages personify Queenstown, sitting under the themes of Lake, Mountain, Forest, River, Garden and Retreat. The Forest Eco-Elopement package is particularly unique and is delivered by local business Ziptrek Ecotours, who literally whisk you away through their exhilarating treetop ziplines after you say 'I Do'. Simply Mindful deems it their 'most unique ceremony venue, set high amongst the treetops with stunning views perched well above Queenstown'.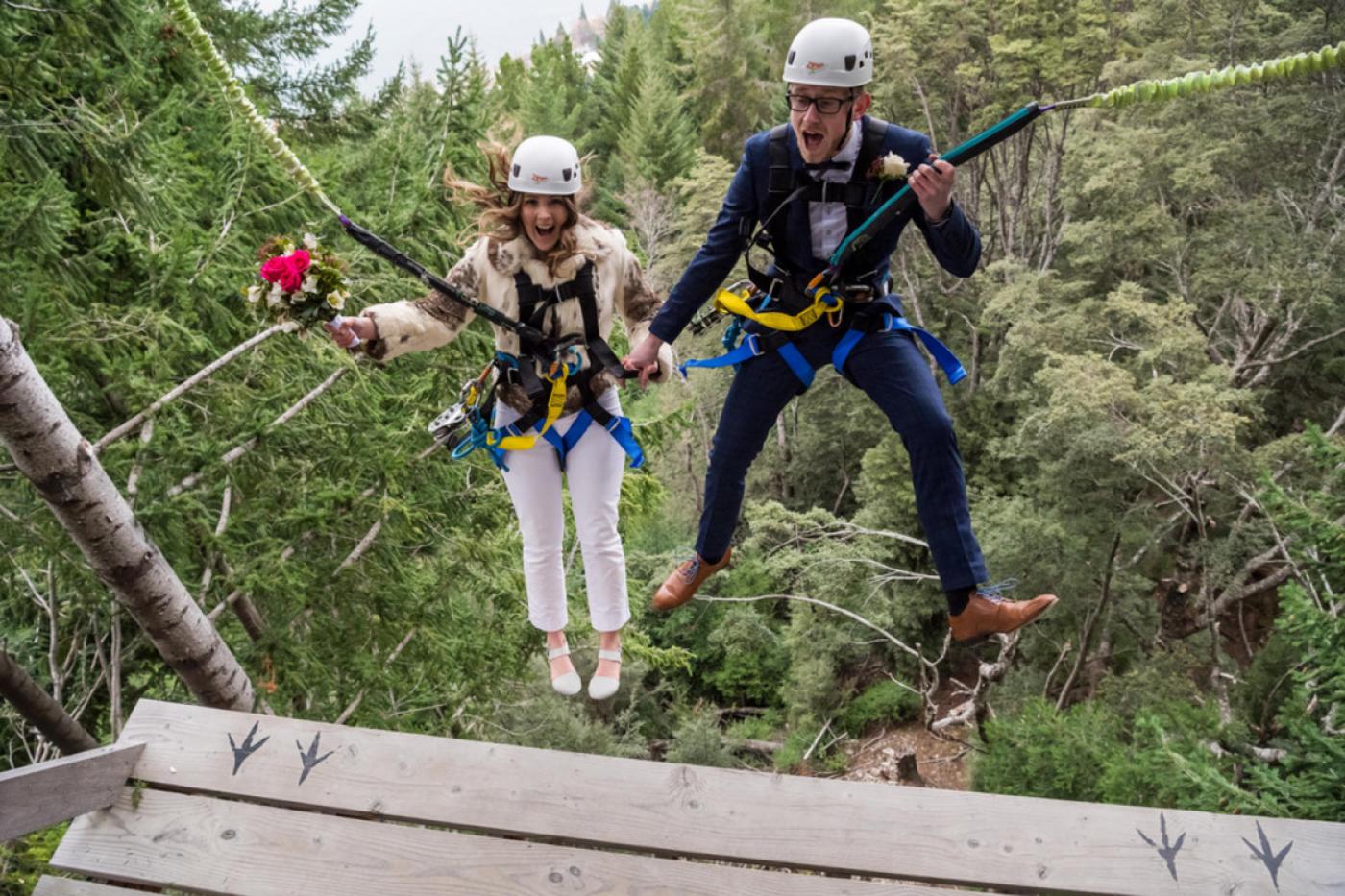 Ziptrek Ecotours Wedding
The Forest Eco-Elopement package includes wedding attire sourced from local wedding specialists NEMO and OMEN, local hair and makeup providers, mindful and sustainable accommodation options from glamping to luxurious eco-retreats, carbon neutral Tesla transport, sustainable décor, It even includes personalised celebratory native trees planted by Trees That Count. And, of course, assistance with offsetting your carbon footprint due to any travel requirements to Queenstown. Aka everything you could ever need to pull off the perfect eco elopement in Queenstown.
Find out more about Eco-Elopements here and make your eco wedding dreams come true in Queenstown.