The Queenstown Trail is made up of 130kms of trails alongside awe-inspiring alpine vistas, crystal clear lakes, stunning river gorges and hidden ruins, running through Queenstown, Arrowtown and Gibbston. The Queenstown Trail now allows public access to unspoilt private land, traversing two mighty suspension bridges, crossing three iconic rivers and circumnavigating two lakes... all set in dramatic Lord of the Rings landscapes.
Accessible all year round and suitable for all abilities with trails ranging from easy to intermediate; the Queenstown Trail can be enjoyed by everyone. Visitors can use the trail for an hour, a day or stay for four – bring your friends and family and discover a whole new side to Queenstown. For more information on the trail map visit our maps page.
The Queenstown Trail also gives visitors and locals alike great access to our region, enabling them to explore by foot or cycle, or commute, with a small environmental footprint. The Queenstown Trails Trust have undertaken substantial environmental work as they have developed this infrastructure in a sustainable way.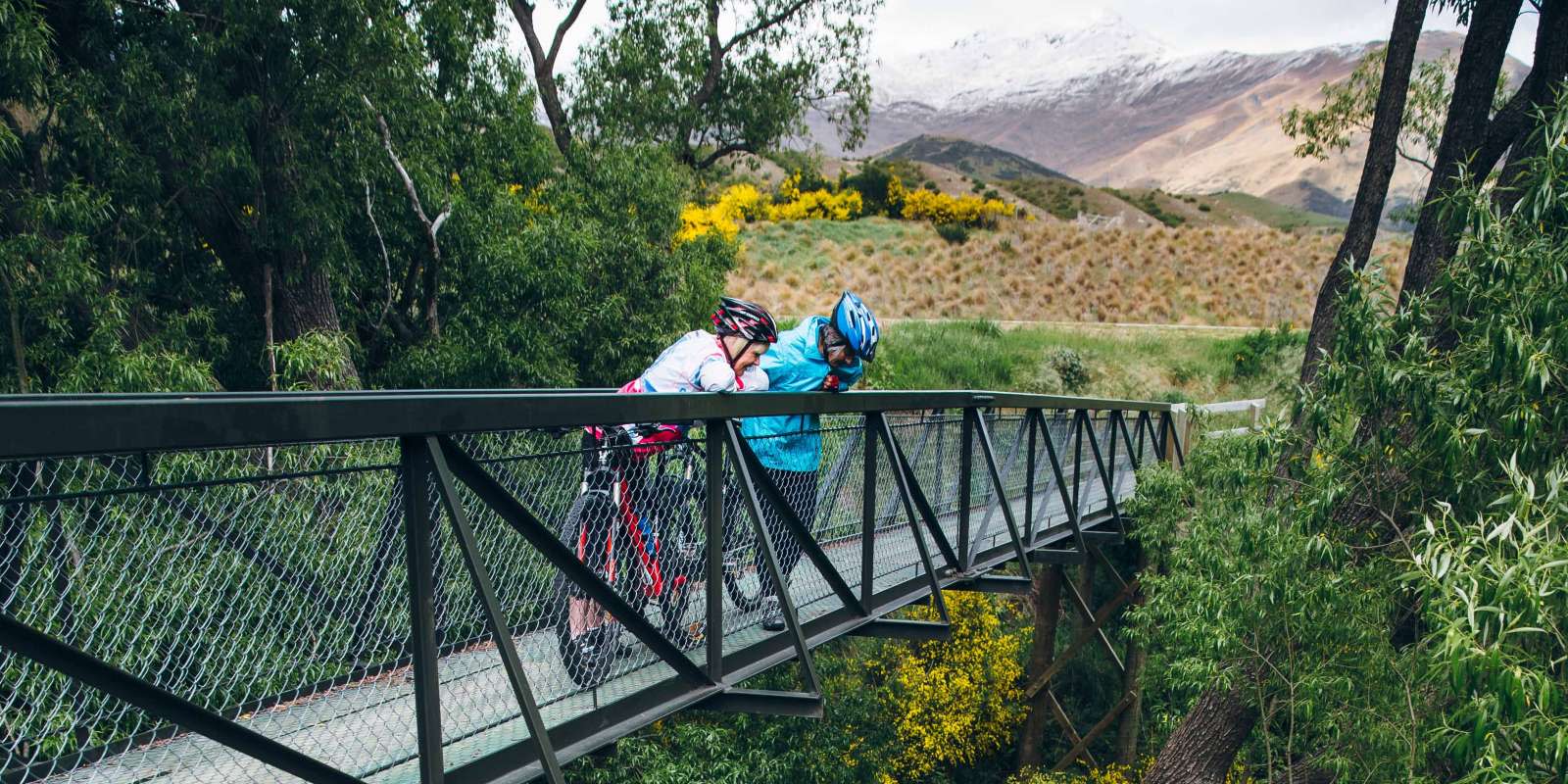 In the development of the Queenstown Trail, over 5000 native plants have been planted alongside the trail to encourage native biodiversity and mitigate the visual effects of trail construction. The Trust has worked closely with the Department of Conservation's Project Gold as well as the Wakatipu Reforestation Trust on this project.
The Queenstown Trail Trust runs a "Friends of the Trust" program that engages support for the long term sustainability of the Trust and those members of the community have helped plant woodlands of Kowhai on the trail reserves.
Local Contractors have been used in the trail construction and ongoing development, encouraging local employment, which was one of the key objectives of the national cycle trail project when it was launched.
A number of the signs produced for the trail are constructed from locally milled wilding conifer trees. These pest trees were harvested from Council reserves, turning a pest problem into a productive use.
So getting out and experiencing the Queenstown Trail is a great way to explore the region and the amazing environment that makes this region renowned worldwide.