The Queenstown Lakes region has a rich and vibrant cultural calendar. There's a huge variety of arts and cultural events every year, and 2023 is no different.
No matter the season, there's plenty for art lovers to see, do and get involved in. With many events hosted over public holiday weekends, it pays to plan ahead, lock in accommodation and get ready for a cultural weekend away in Queenstown.
Here are some of Queenstown's best arts and culture events to mark in your diary.
Year-round events
Queenstown Arts & Crafts Market
Take yourself for a stroll down Marine Parade on Queenstown's lakefront on a Saturday morning and you'll discover a wonderful collection of arts and crafts. Stallholders at this market are (usually) the creators, so it's a rare chance to chat with an artist and find out more about their craft before buying a gift for someone special – or yourself!
Find hand-made handbags, fancy soaps, pounamu, ceramics and art prints here, and so much more.
First Thursdays
On the first Thursday of each quarter, select art venues like galleries and bookshops stay open later (5pm – 7pm). It's a fun 'art gallery crawl' that includes some of Queenstown's best art galleries. Free and open to all, you set the pace and explore at your leisure.
Drop in and discover new art exhibitions or stumble across a talk by a local artist, or a special presentation. Follow the First Thursday Facebook Page for the latest updates.
Te Atamira
Te Atamira is a community arts and culture space in Frankton, Queenstown. As well as hosting regular dance and music classes, there's a vibrant calendar of events from exhibitions to artistic workshops to film showings.
Te Wāhi Toi
Discover even more Queenstown art and cultural events and connect and collaborate with our local creative community over at Te Wāhi Toi, a dedicated online directory for arts, culture and creativity in our district.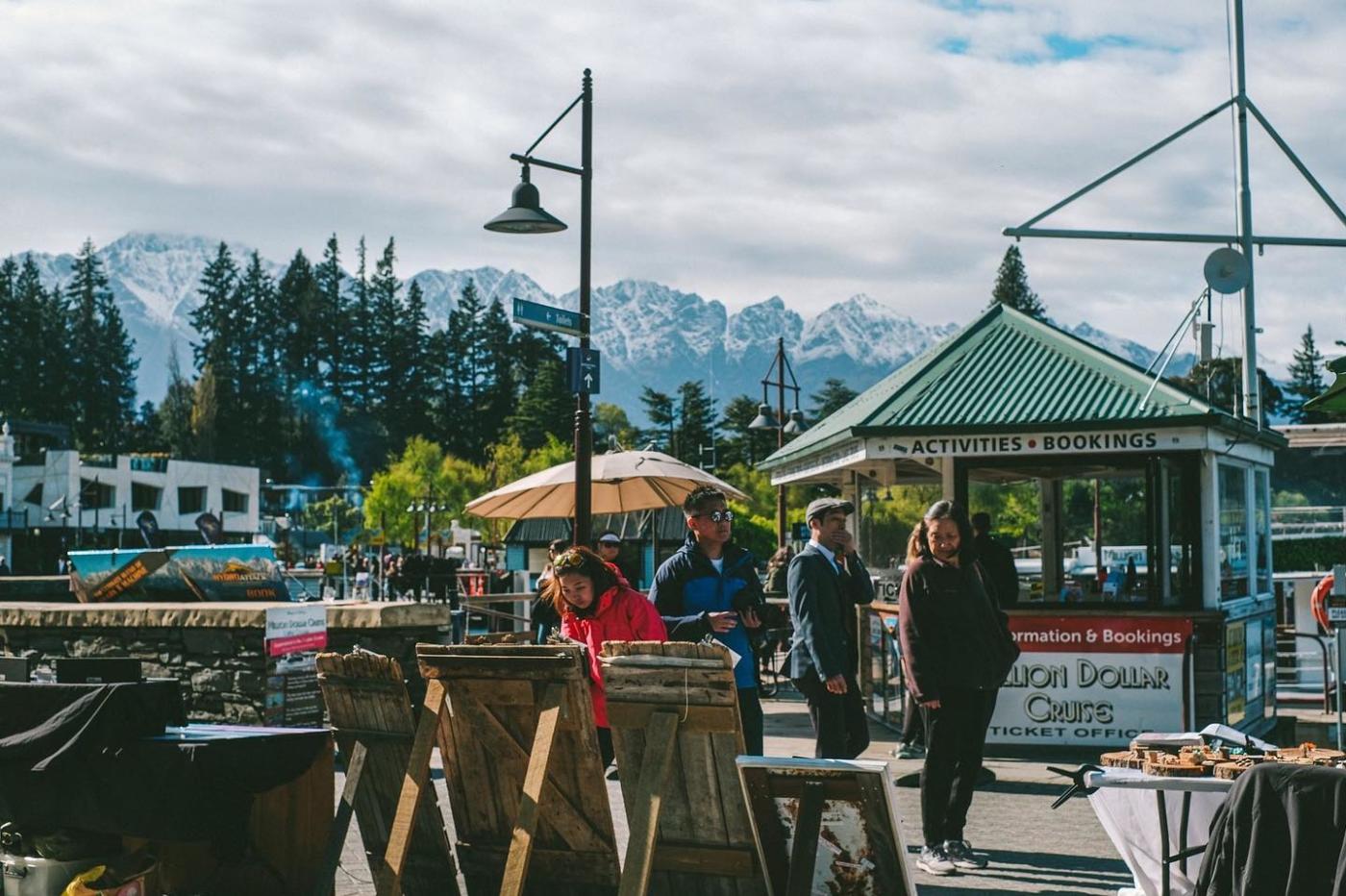 Queenstown Markets. Credit @freethomas007
Spring events
Queenstown Multicultural Festival
Designed to showcase and celebrate Queenstown's cultural diversity, the Queenstown Multicultural Festival will take place on 7 October 2023 from 10am-4pm. Come along to the Queenstown Events Centre to enjoy unique performances, live cultural music and some fantastic diverse food, fun games for kids and craft stalls.
AWE Festival
At The World's Edge is a classical music festival showcasing world-class chamber music in a series of live events across the region from 7 - 20 October 2023. Performances take place in carefully chosen venues in Queenstown, Cromwell and Wanaka. Each venue lends itself perfectly to the intimate sound of chamber music.  
Put together by renowned New Zealand violinists Justine Cormack and Benjamin Baker, the festival features new compositions, emerging artists and international string superstars. Explore this year's programme here. 
Queenstown Writers Festival
The Queenstown Writers Festival is a biannual event, and even though 2023 is an off year, a 'mini-festival' will be held 11 - 12 November 2023. 
Authors, performance poets, playwrights, children's writers and journalists will come together to talk about their work and run writing workshops. Expect a cosy literary weekend with some of New Zealand's (and the world's) best writers at this boutique festival.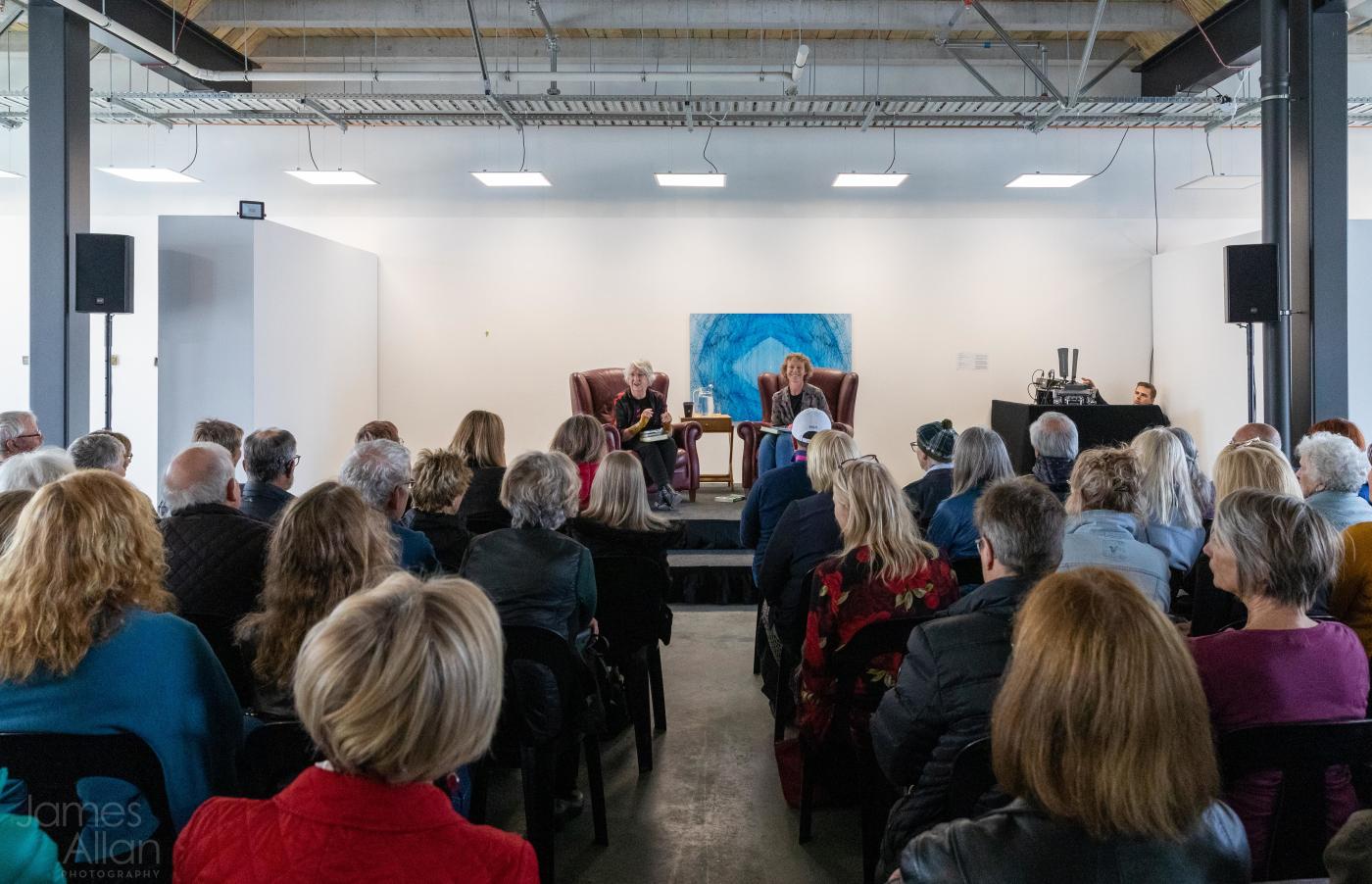 Queenstown Writers Festival
Summer events
Gibbston Valley Winery Summer Concert
This summer concert tour brings top international music acts to some of New Zealand's most stunning locations. Held on 3 February 2024, Queenstown's Gibbston Valley Winery Summer Concert will be the final stop on the tour and always delivers an electric atmosphere. 
This year, Simple Minds, Texas, Collective Soul, and Pseudo Echo will take centre stage at this iconic event set against the stunning backdrop of Gibbston Valley Winery.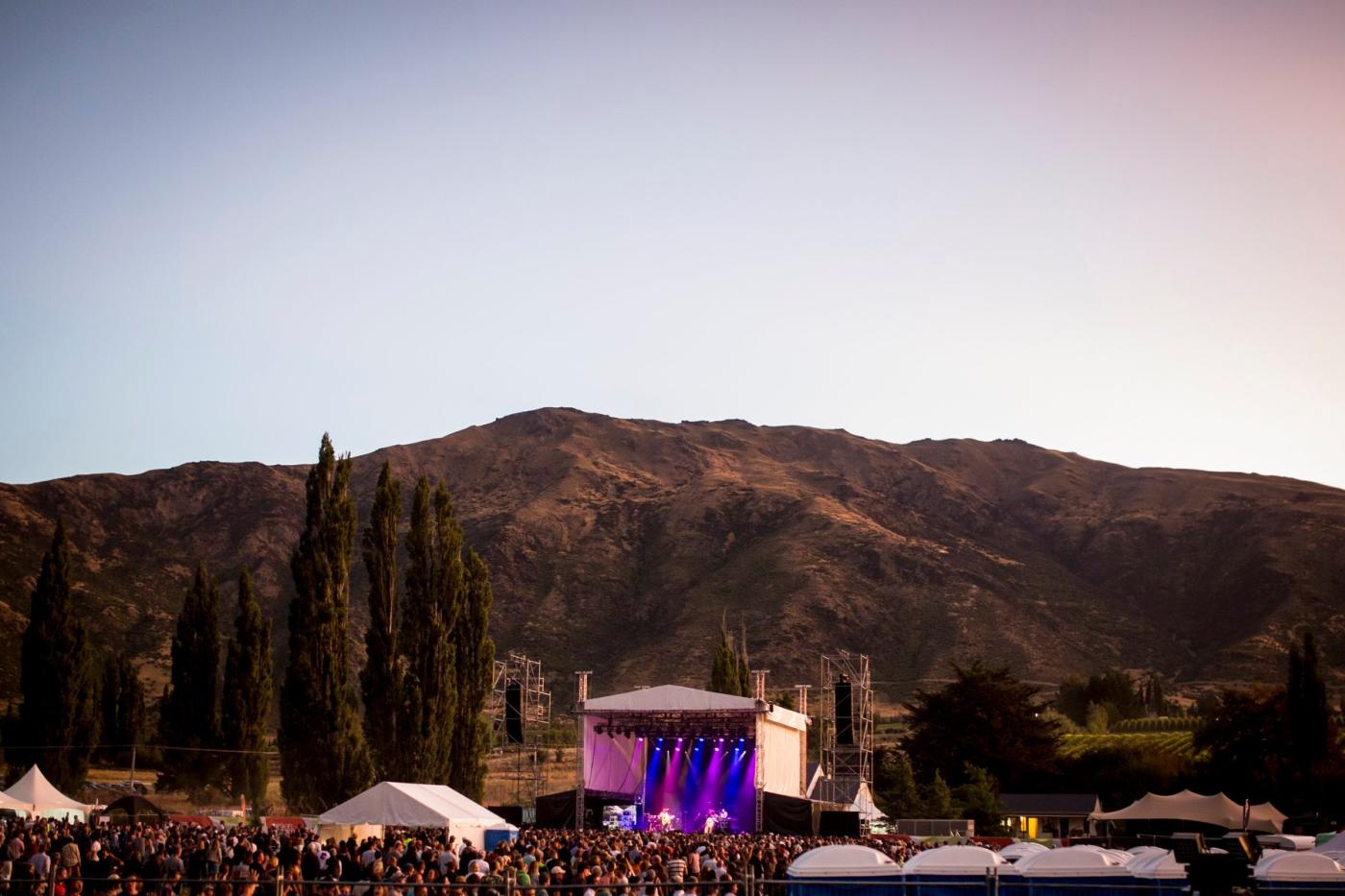 Gibbston Valley Summer Concert
Autumn Events 
Arrowtown Autumn Festival
Enjoy Arrowtown's beautiful autumn colours, sample local cuisine, watch the parade, partake in a workshop or even do some native tree planting. The Arrowtown Autumn Festival 25 - 28 April 2024 will bring a host of great events and workshops to this stunning historic gold mining town.
Queenstown theatre
ShowBiz is Queenstown's only community theatre company dedicated to musical theatre; they've got a rich history of putting on top-notch performances.
In May each year, they put on an epic musical production, and past shows have included Little Shop of Horrors, School of Rock and Legally Blonde. In 2024, ShowBiz is bringing Monty Python's Spamalot to Queenstown's stage. Stay tuned for updates and tickets on their website.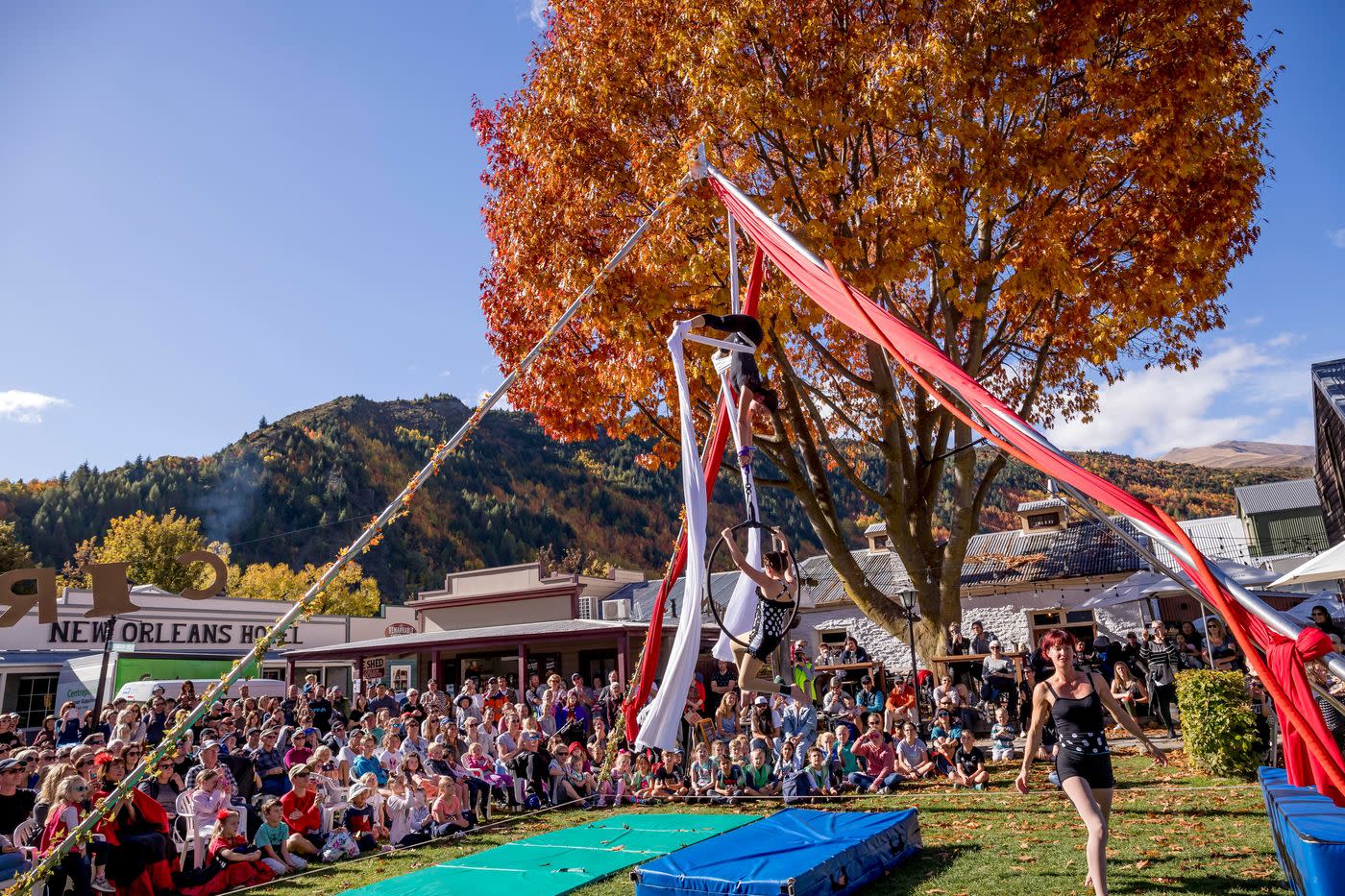 Arrowtown Autumn Festival
Winter events
LUMA Southern Lights Festival
Held annually in early June over Kings Birthday Weekend, LUMA is a light art festival that illuminates the Queenstown Gardens with breathtaking artwork and interactive displays. Expect giant disco balls, light-mapped art, music synced to lights and more. Food and drink stalls set up around the gardens create a magical, family-friendly atmosphere.
Wrap up warm and discover a whole new side of Queenstown after dark at this iconic art and performance event.
Matariki Arrowtown Lights
On the Matariki holiday, Kā-Muriwai Arrowtown celebrates the beginning of the Māori new year with Matariki Arrowtown Lights. Featuring performances, light art and music. Learn about the significance of the Matariki cluster of stars and explore deep space with an astrophysicist.
Buckingham Street will be lit up with installations and projections from the South Island Light Orchestra (the team behind LUMA).
NZ Mountain Film & Book Festival
For more than two decades, the NZ Mountain Film & Book Festival has showcased a range of inspirational films and books about adventurers. From 27 - 28 June 2024 The Queenstown Memorial Centre will become a hub for outdoor sports fans to be inspired. 
From films about climbing to live talks from people who've summited mountains against all odds, there's so much to see.
LUMA Southern Lights Festival