Short bike trips to multi-day journeys - the choice is yours
Whether you're a cycling enthusiast prepared to pack your saddlebags for a multi-day trip, or keen to hit the trails for just an hour or two, Queenstown has you covered.
The alpine town is a gateway to six of the country's best multi-day rides including the Queenstown Trail, Around The Mountains Cycle Trail, Otago Central Rail Trail, Roxburgh Gorge Trail, Clutha Gold Trail and new Lake Dunstan Trail.
The 186km Around the Mountains trail starts at either Kingston or Walter Peak and can be conquered at a relaxed pace in 3-5 days. One of New Zealand's Great Rides, the trail travels into historic Southland villages, alongside rivers and pristine lakes, and through rural farmland complete with curious livestock.
The Queenstown Trail is made up of over 130kms of scenic biking trails throughout the region. This is the country's most popular Great Ride and can be done over multiple days or dipped into at several points around town if you're looking to do a handful of short rides. Take in stunning lake and river views, panoramic mountain vistas, pedal alongside wineries and explore historic sites.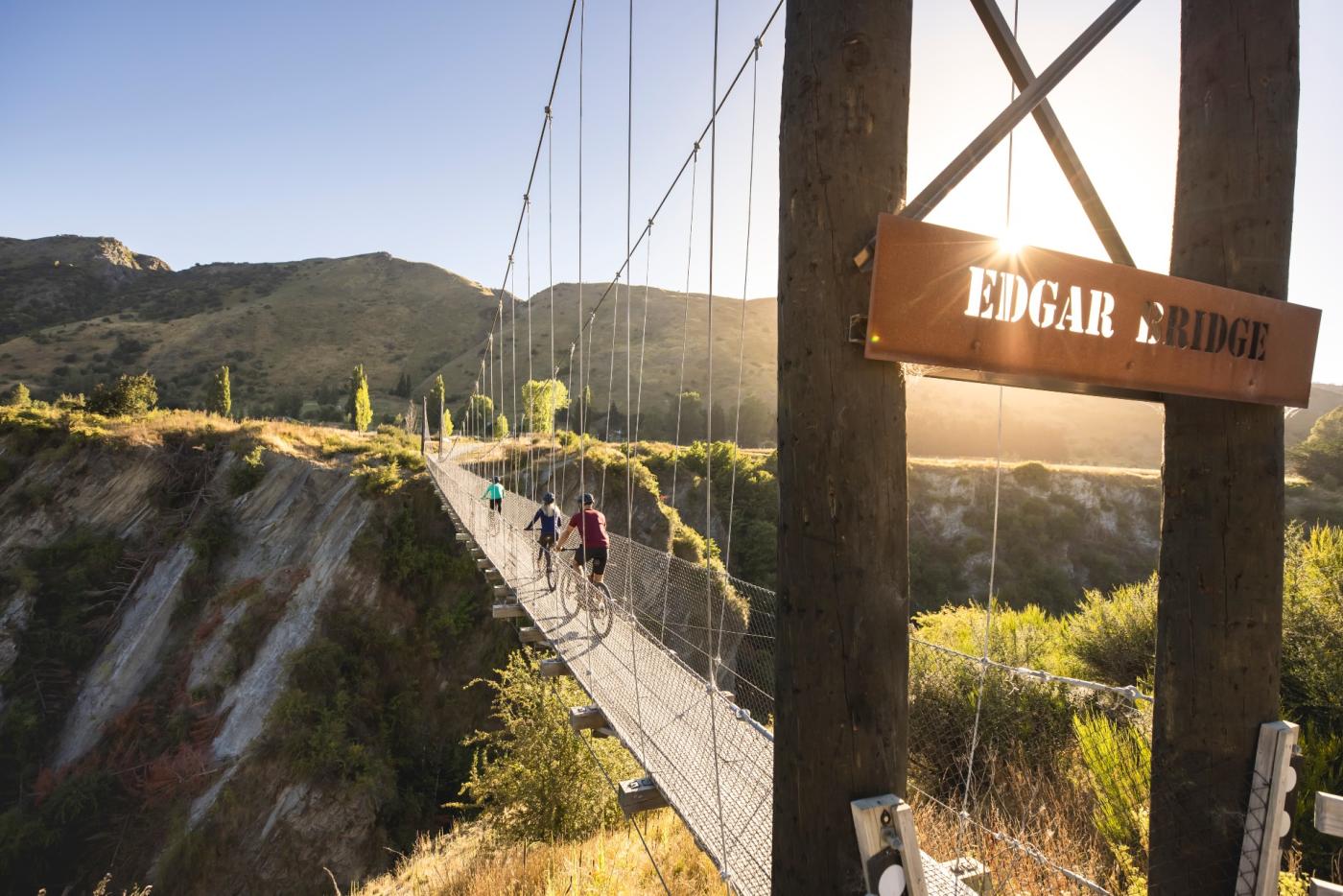 Cycling over the Edgar Bridge on the Arrow River Bridges Trail
Queenstown is a one-stop shop for bike journeys
You can shop for your gear, rent your bike and helmet, arrange transport to the trail if you're embarking on a self-guided journey or find knowledgeable bike tour guides. Plus there is no shortage of amazing accommodation and places to eat, drink and relax!
Many bike rental companies in the Whakatipu basin offer full packages including bikes (with electric bike options available to save those legs!), helmets, track transport, and expert guides, so you can reserve your energy for the ride itself.
Queenstown's trails are easy to access
You don't have to go far to find a bike trail in Queenstown. The vast Queenstown Trail extends from downtown through Arthur's Point to Arrowtown, out to Gibbston, around Lake Hayes and through the suburbs of Lake Hayes Estate, Shotover Country, Kelvin Heights and Jack's Point.
This means that even if your accommodation isn't in the centre of town, you can hop on the trail and see as much of the Whakatipu basin as you wish! Many sections of the trail pass by bike-friendly cafés and pubs for well-earned pit stops, and all of them feature scenery you won't see from the street.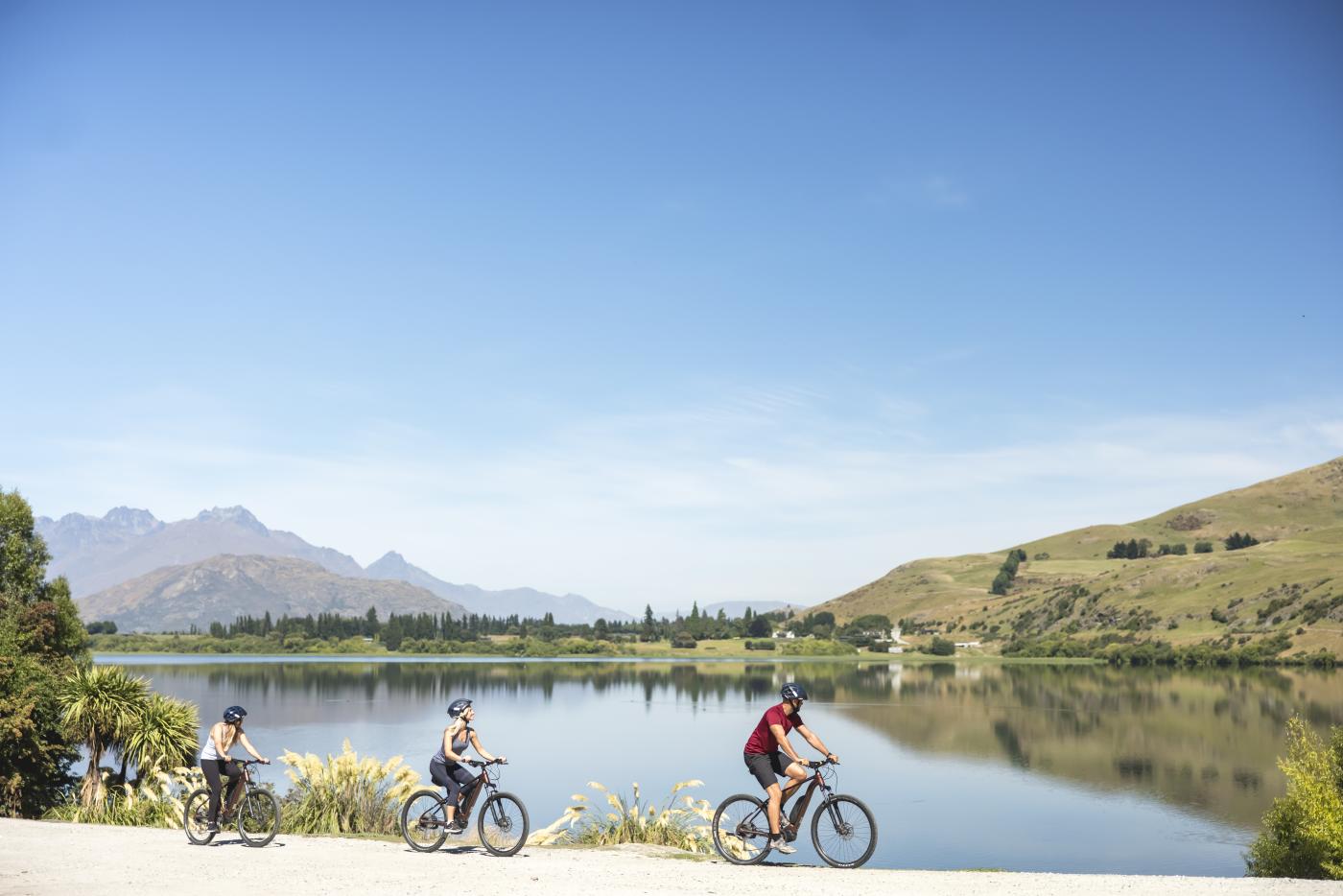 Biking around Lake Hayes
​Make wine your destination
What better way to get around Queenstown's wineries than on a bike?
Gibbston is home to many great, award-winning vineyards and wineries and the area is geared up for cycle tours, with eight wineries scattered over an ambling 9km bike trail that traverses stunning mountain and river views.
Do it one way and get picked up at the other end by a trail transport company, or make a night of it and stay among the vines at Kinross, historic Warbrick Cottage, or the luscious new Gibbston Valley Lodge and Spa.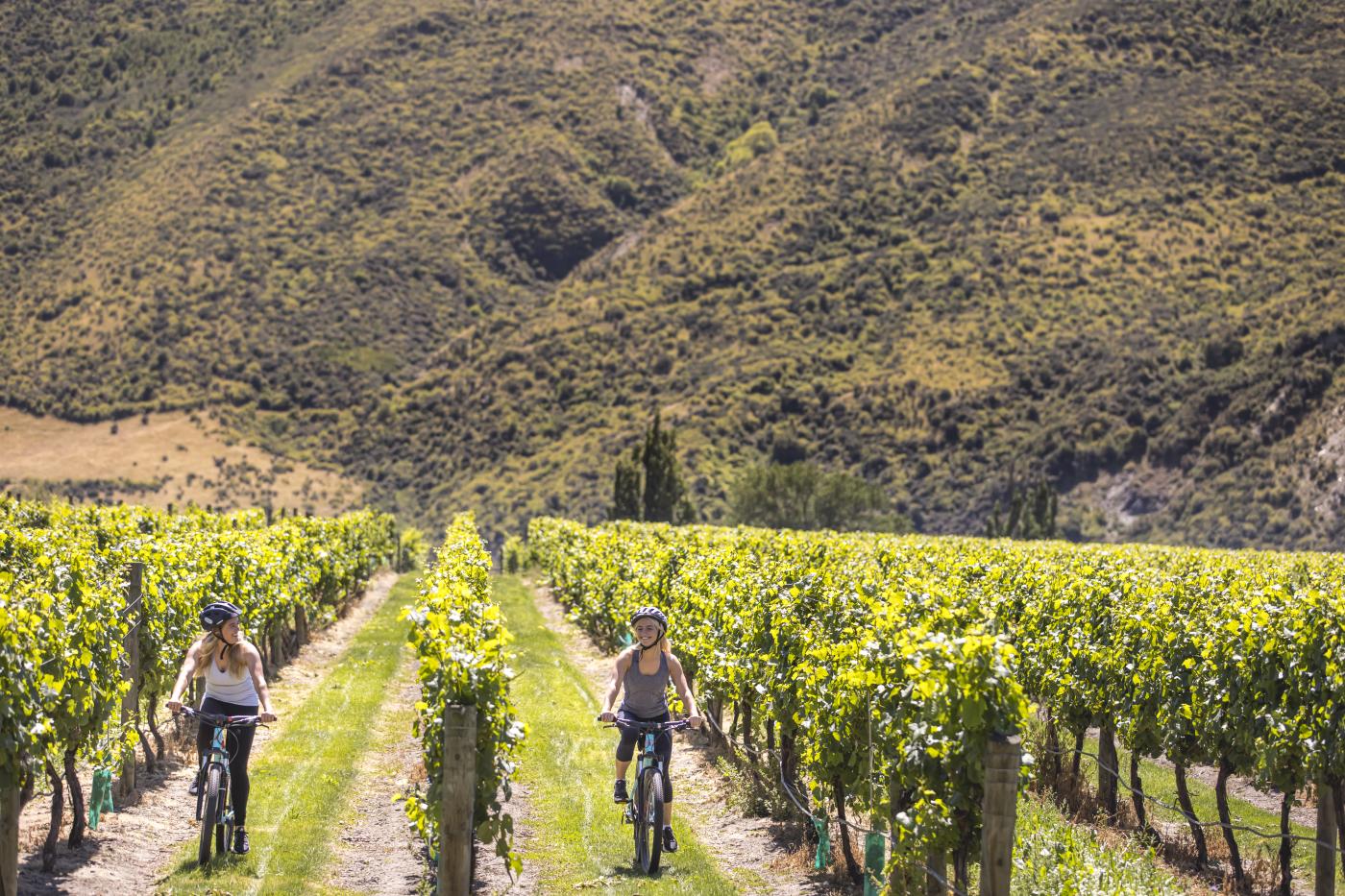 Biking through the vines in Gibbston
Queenstown's climate is perfect for cycling
You can generally rely on the accuracy of Queenstown's weather forecast. Once you have a sunny spell in sight, it's usually here to stay, which makes for good cycling weather.
Queenstown also has clear cut seasons, which can make the same cycling journey feel like a different trip depending on when you go. Take the trails around Arrowtown in autumn and you will be greeted with a spectacle of golden colours as the leaves change. Take the same trail in spring or early summer and experience the brighter shades of the wildflowers that line the riverbanks. For a different experience experience Cyclorama, New Zealand's first e-bike festival held over labour weekend.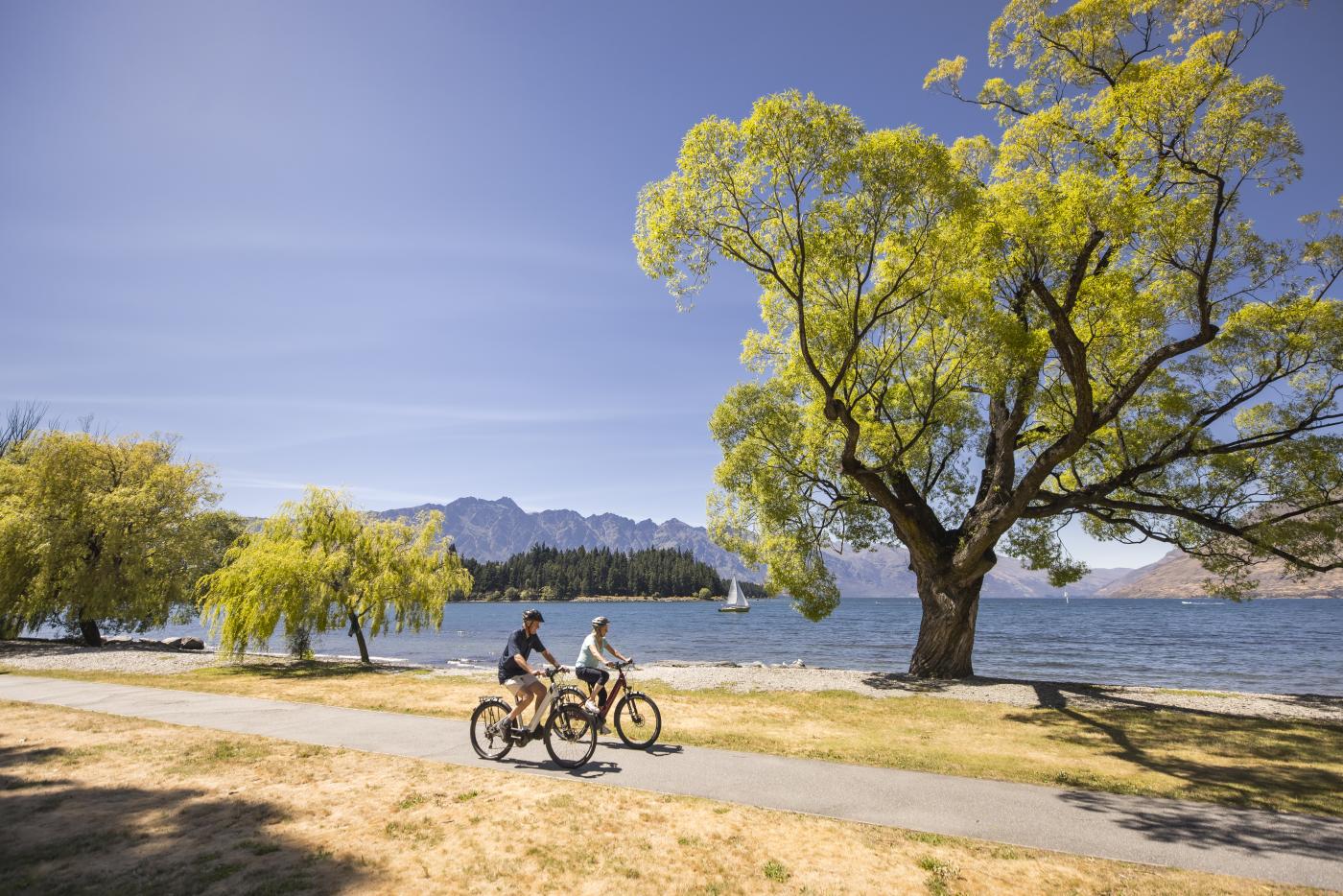 Biking along Queenstown lakefront
You don't have to be an experienced cyclist
With e-bike options and plenty of short and flat trails, there is no need to be concerned about a lack of cycling ability. They say you never forget how to ride a bike - and on these trails, it is common for cyclists to amble along at a leisurely pace with plenty of stops for sightseeing and photographs.
Many of Queenstown's cycle tour companies also provide you with a guide, removing any concerns about getting lost or coming into technical issues with your bike. A guide will also deepen your experience of the trails by sharing their knowledge of the unique history of the places you are journeying through, as well as interesting spots to stop. You can also arrange for a pick-up mid-trail if your legs just aren't cooperating!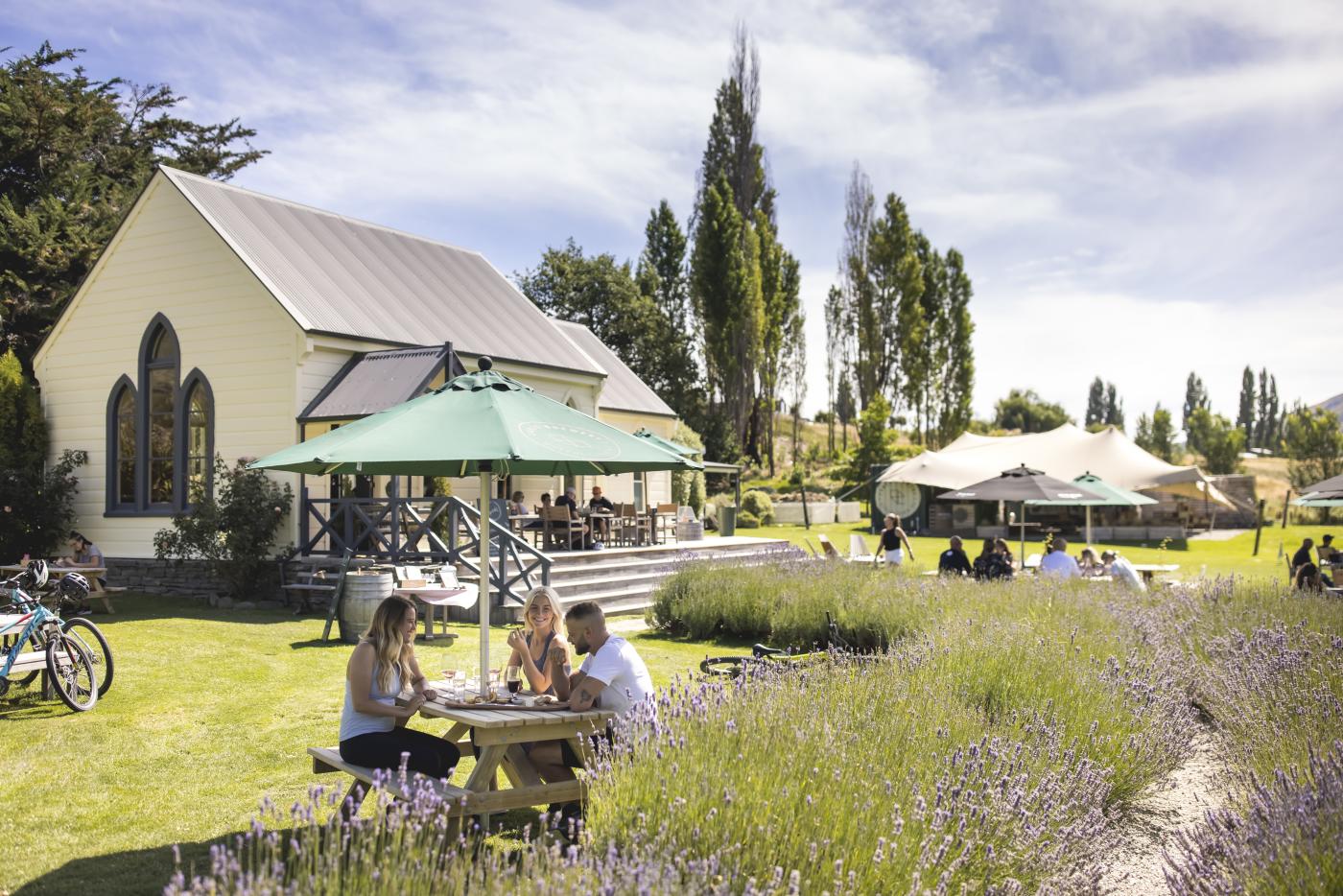 Après-bike at Cargo Brewery
Queenstown knows après
After a day out biking, pampering is a must. Queenstown's restaurant and bar scene buzzes every night of the year, with everything from quiet, romantic dinner spots, to bustling pubs for post-ride beers.
There are also a range of massage and spa options for weary limbs. Book an hour at the Onsen Hot Pools Retreat and Day Spa or The Spa at Nugget Point and melt into warm waters while taking in panoramic views of the Shotover River. Or limber up with a massage at one of Queenstown's many local day spas. Then saddle up again the next day for more adventures!