With 31 designated trails covering 450m vertical, it's no surprise riders from all over the world choose to spend their winters playing and training at Queenstown Bike Park. The tracks range from mellow(ish), flowy machine-built trails to technical, narrow single tracks, with plenty of jumps and features to keep anyone and everyone entertained. Expect combos galore for trail-linking, your options are endless and there's no better place to get your tyres dirty.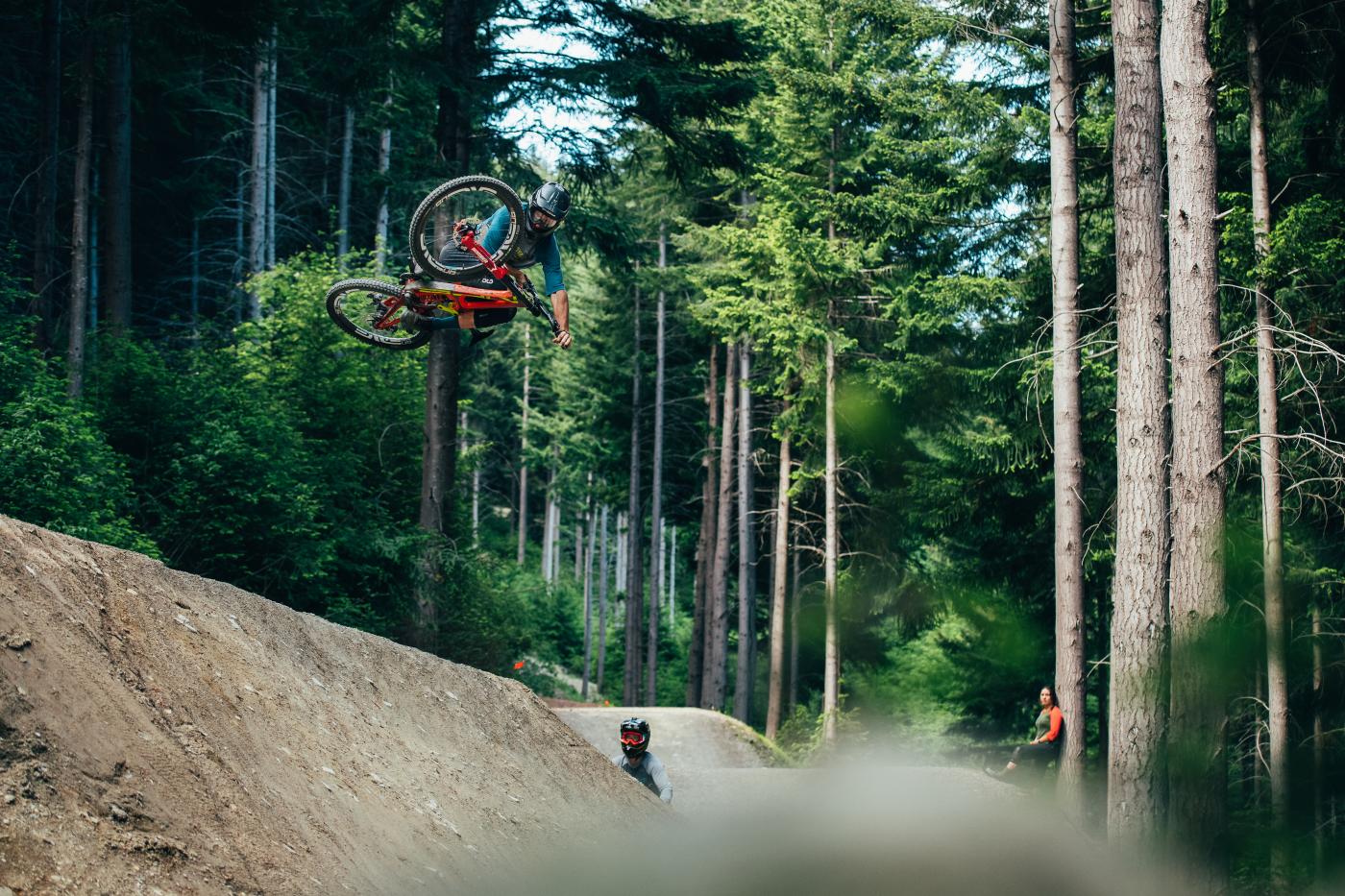 Jumps at Queenstown Bike Park
Queenstown Bike Park was New Zealand's first lift-assisted bike park, which means you can catch a ride up in the Skyline Gondola from the middle of town. It's a six minute ride, with world class views over Lake Whakatipu, the Remarkables and Cecil Peak. The 'Gondy' spits riders out high above Queenstown, and right at the entrance to some of the best tracks in the world.
If you prefer to punish your legs and lungs, pedal up the Skyline Access Road instead. The bike park is open (for free) all year round, but if you want to ride the Gondy, you'll need to buy a half day, full day or season pass. It's open for up-lifts September through May, and to give back to the MTB community, Skyline helps the Queenstown Mountain Bike Club to look after the bike park, making it one of the most well-maintained bike parks in the world.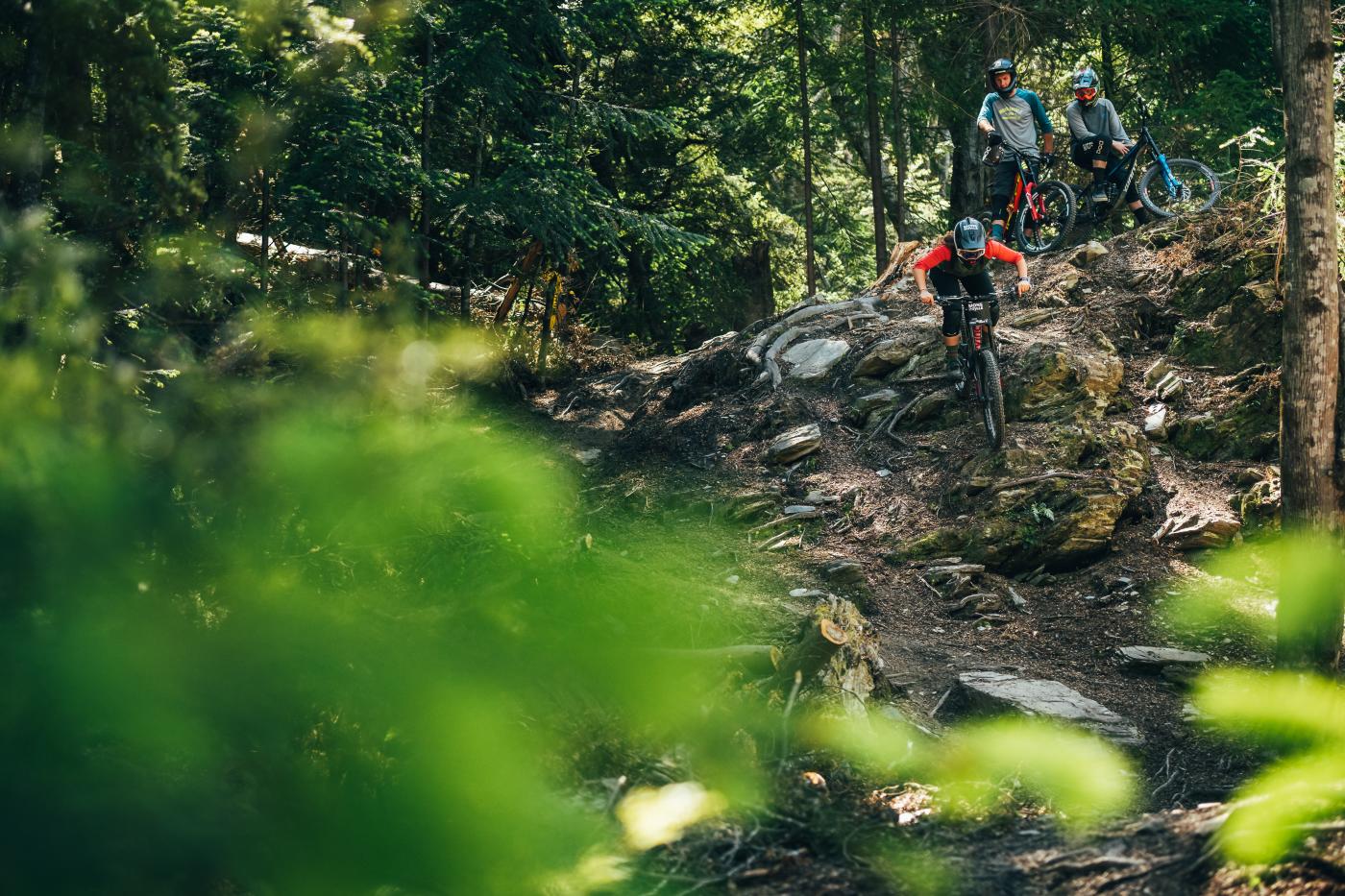 Queenstown Bike Park - Joel Tunbridge, Conor Macfarlane and Shania Rawson
The easiest route down
Hammy's
This ain't no beginner trail, but it's the easiest route down and an awesome first run at the park for anyone, intermediate or expert. It's the longest trail at the park at 6km and uses the least amount of gradient, but it's still a pretty fast track.
Hammy's has got plenty of tight corners, rocks and roots, but if you've got the basics of downhilling on lock, it's really good fun. Warm up your legs and feel into your bike with big bermed corners, roller features, a couple of little table top jumps and unreal views of Ben Lomond and Lake Wakatipu.
Grade: 2 Green
Ramping it up
Vertigo and Lazy Vertigo
Queenstown Bike Park offers machine-built blue flow trails at their best, with some of the smoothest, most manicured rides in the world. Vertigo is one of these, with big banked corners, and heaps of fun features like doubles, rollers, step ups and step downs. Not super gnarly and around 1.5km long, it's perfect for fun chilled laps.
Lazy Vertigo offers an alternate start, skipping out the Hammy's climb and dropping straight in from the top of the Gondola, meeting Vertigo after some sharp turns and a series of rollers. It also allows access to double black track, World Cup (if you are that way inclined). Vertigo takes you to the Midway Clearing - link it up with Original and jump your way to the bottom.
Grade: 3 Blue
Original
From the Midway Clearing, you've got a well-loved and well-cared for jump track that follows the path of gold miners from the late 1800's. These days, it's a favourite with young shredders and anyone who loves a bit of air under their tyres. Starting off straight, it takes a few wide corners before hitting some epic berms and shooting you out into a clearing. Soak in the views for a split second before finishing with some tabletop jumps and a steep chute.
Grade: 3 Blue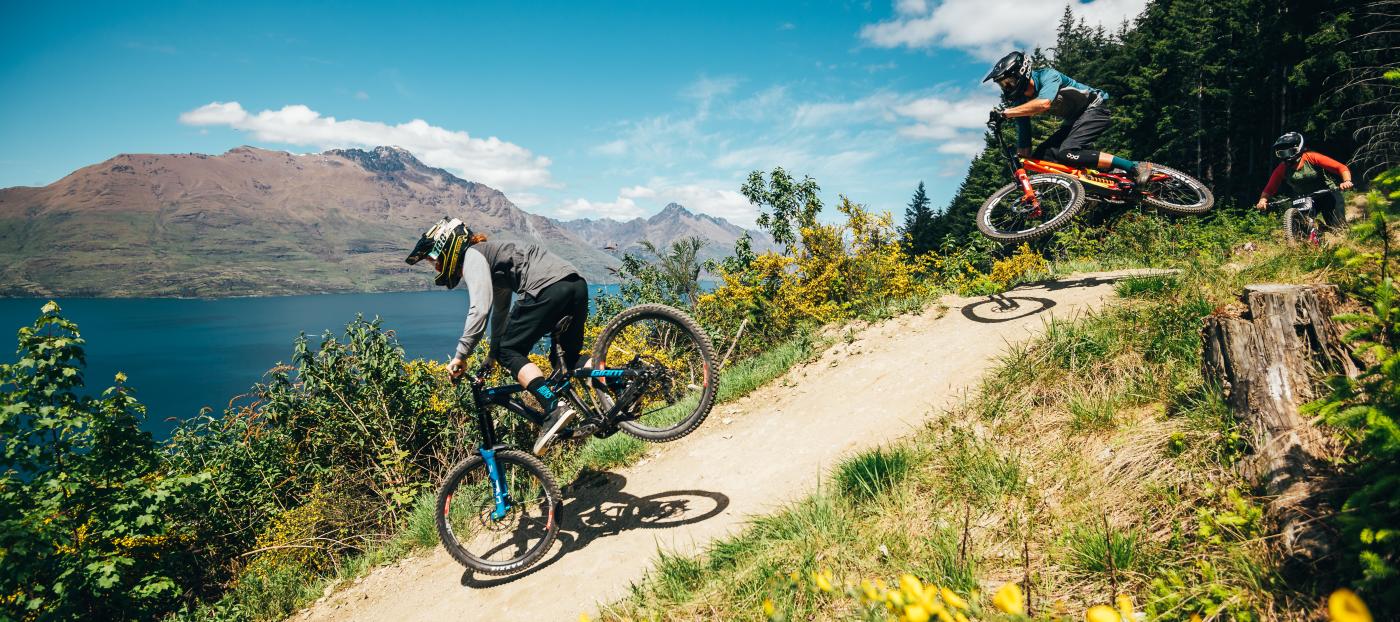 Queenstown Bike Park - Joel Tunbridge, Conor Macfarlane and Shania Rawson
Dial up your tech skills
Thingymajig
For those just cutting their teeth on single track riding, this is a popular trail to get comfortable on before stepping up to the next level. It's a bit more technical and quite twisty, but again, not super gnarly. For riders wanting to improve on their tech skills, it's got a bit of everything - there are some great turns and optional drops, and it sails into the Midway Clearing with one last tabletop. The track branches off Vertigo and ends at the clearing - link it up with Single Track Sandwich here for a full-length lap that'll keep you on your toes.
Grade: 4 Blue
Single Track Sandwich
Another single track that's perfect for progressing. Starting from the clearing, this is an old school trail with roots, epic turns and flow. Watch out for the 'western roll' which can be rutted and muddy.
Grade: 4 Blue
Expert only
Armageddon
Rocky, rooty, narrow and steep - this short track will test you, particularly with the rock work just before it joins up with Thingymajig. Take a deep breath and prepare to get your adrenaline flying.
Grade: 5 Black
Grundy
Get ready to press send. This Double Black Diamond track is steep and slippy with plenty of drops and jumps. Drop in from Vertigo, and keep left when the track splits after crossing the Access Road. Take care when merging back on to Original.
Grade: 6 Double Black
Slippery Ninja
As the name suggests, this one is slippery as anything when wet, but it's a great time. Steep, techy and about 500m long, this Double Black Diamond has plenty of tight corners to keep you on your game.
Grade: 6 Double Black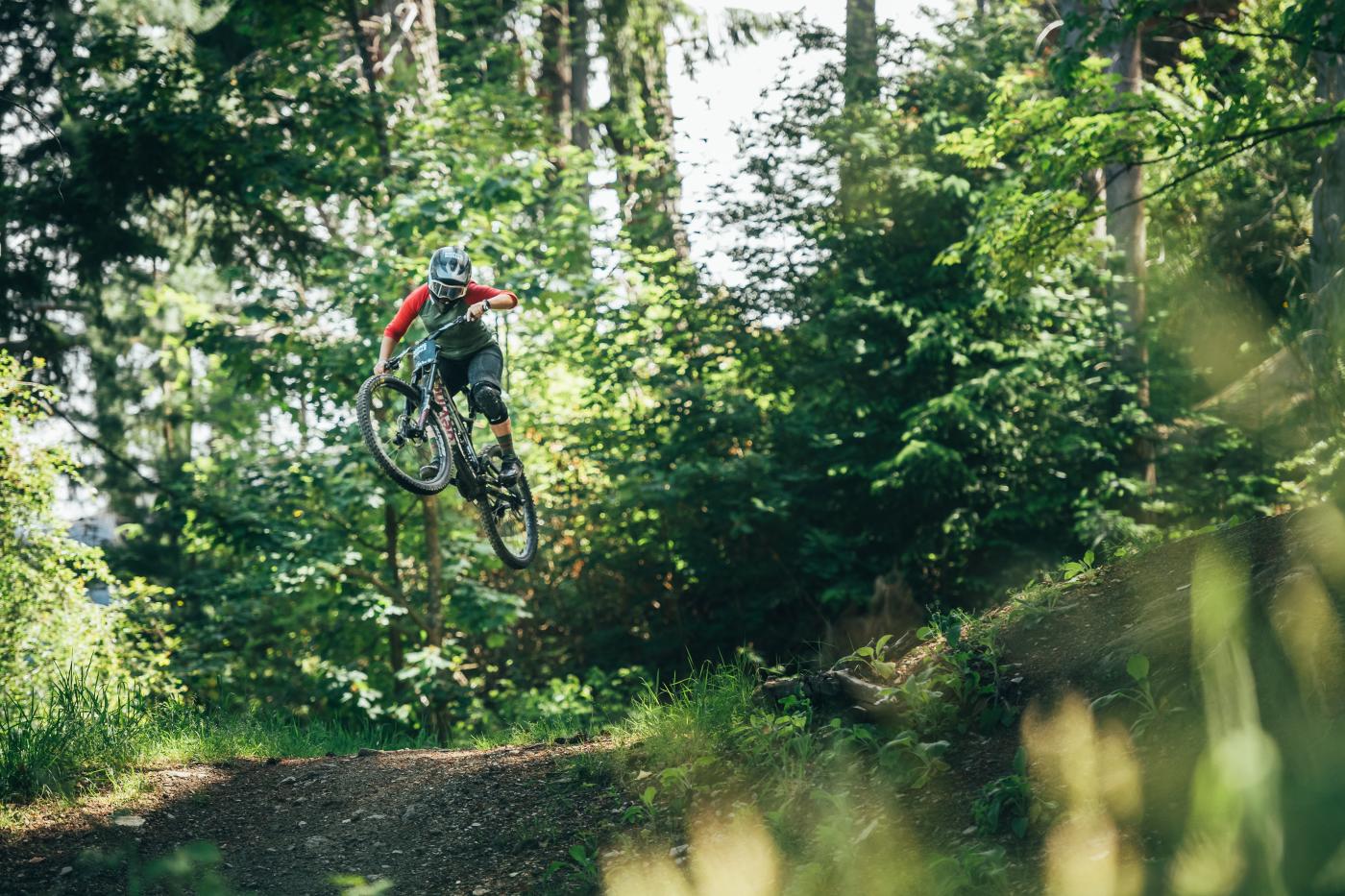 Shania Rawson jumps at Queenstown Bike Park
An unbeatable MTB community
As well as well-kept, world class tracks and jaw dropping views, Queenstown has a dedicated, supportive and tight-knit MTB community in Queenstown. The Queenstown Mountain Bike Club are integral to the community here. You can download their app to get the inside scoop, or head to local apres bike hotspots like Atlas Beer Café, Altitude Brewery or Cargo Brewery at Gantleys where you're likely to bump into the members in person. 
Always ride prepared
Ride hard, but stay safe. Make sure you're riding the right bike for the park (downhill), wear a helmet and bring plenty of water. There are some awesome bike shops (like Torpedo 7 and Vertigo Bikes) in Queenstown for bike rental, repair, advice and trail maps - from guys who live and breathe riding.
If you're going to be hitting jumps or pushing your limits, make sure you've got a buddy. There are plenty of roots and rocks to beat your bike up so don't forget to bring your spare tube, patch kit and a pump.
Queenstown trails are a step up from the rest of the country due to the steep prolonged verticals of Queenstown's forest and a blue trail here might be a black trail in Rotorua, Christchurch or Wellington. Strap in and get ready to up your game on Queenstown's epic MTB trails!