Try new adventures together to spark conversations and connections. Queenstown has more activities to try than any other destination in the world. You could come for a retreat every year for the rest of your life, and still not do everything we have to offer.
Take a break from your hard work with a walk in the fresh air, a bike ride along our extensive trail network, or relax in hot pools. Then reward yourself with some delicious local food cooked by our talented chefs, or a tasting of celebrated Central Otago wines.
Now more than ever, businesses need to make space for strategic thinking. In tough times, the organisations that work on their business are the ones who survive and thrive. And your organisation's culture is critical to your ability to ride the wave of change. Executive retreats are an investment in your company's future.  
Queenstown hosts hundreds of executive retreats each year. We spoke to our local event planning maestros to get their top tips for the best locations for executive retreats in Queenstown.
Here are seven of their favourites to help you plan your next retreat.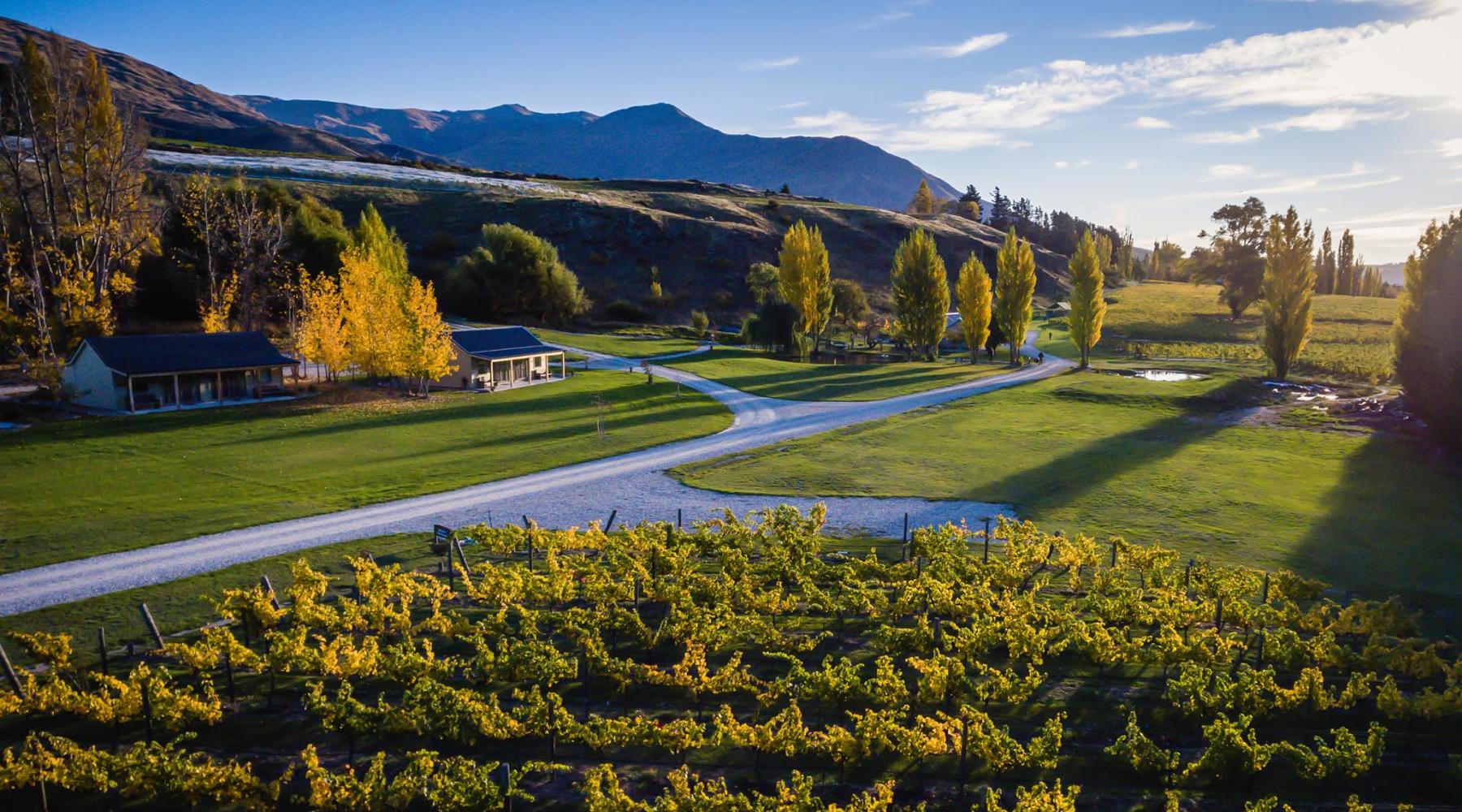 Kinross
A finalist for NZ Cellar Door of the Year in 2019, Kinross is in the beautiful Gibbston Valley.The vineyard is on the old Kinross Station established in the late 1860's by pioneering Otago farmer, Thomas Kinross. Thomas ran a trading post, farm and gold agency. We like to think that his entrepreneurial nous still rubs off on businesses that host their retreats here today. 
The Willow Room at Kinross is designed for events and can take 24 people in boardroom format and up to 70 for a cocktail reception. You can stay on site, with boutique four-star accommodation in studio cottages set in a 100-year old heritage orchard planted by the Kinross family.
The grounds offer an abundance of options for team building activities. Or simply stroll among the vines and enjoy the breath-taking backdrop of the hills. With hot tubs, wine tasting, and catering from their popular on-site Bistro, Kinross is a gem of a corporate retreat venue.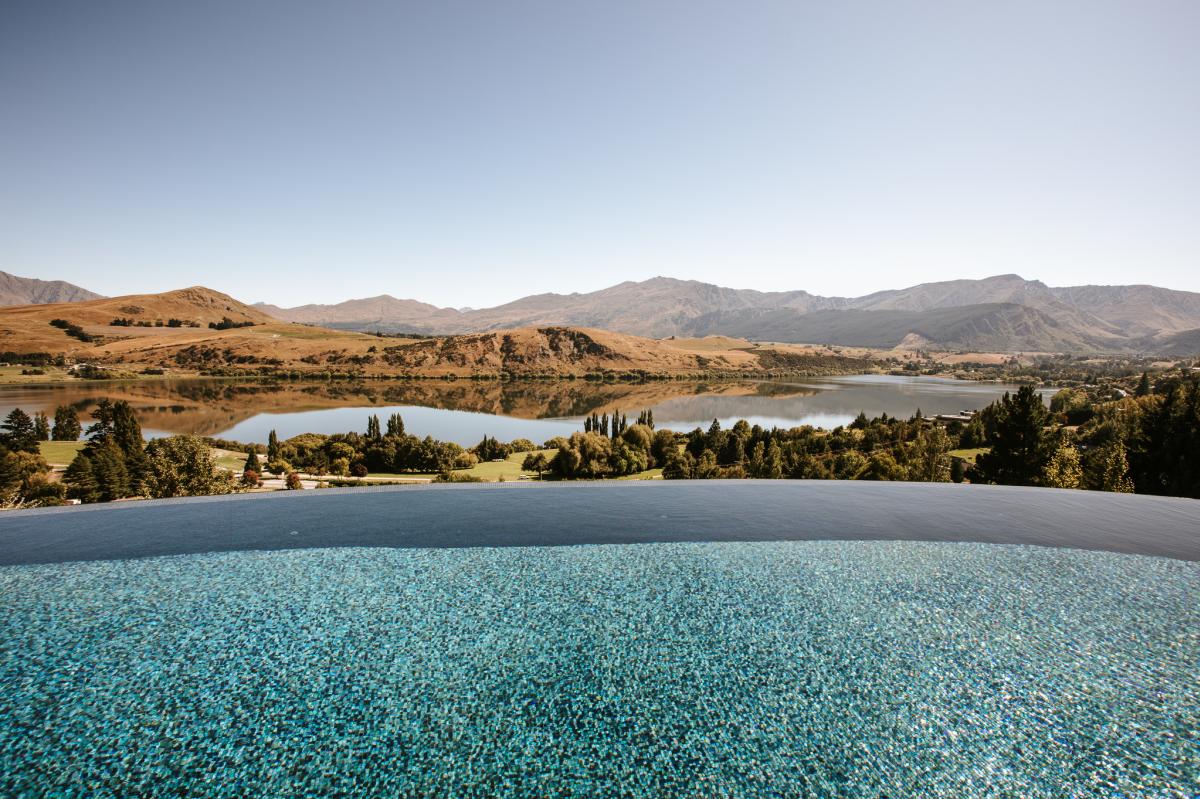 Stoneridge Retreat
Long before the current lodge was created, Stoneridge Estate was a destination for travellers seeking retreat, The ruins of the historic Maynes Hotel can be found at the bottom of the property. Local lore has it that the impecunious landlord paid his debts with his roof slates. This didn't work out too well for the structural integrity of his hotel.
Today's estate began as the vision of artist Da'Vella Gore, who bought the remains of an old church and transported them to her land by Lake Hayes, where she rebuilt them as a chapel amidst gardens and vineyards. Her son shared her love for this land overlooking the lake and added the medieval-inspired lodge and surrounding buildings.
A short stroll from the main lodge, Stoneridge Retreat can be booked by corporate groups seeking privacy. Groups have the use of an infinity pool and hot tub, gym, and sauna.
There are six suites, each with a private deck or balcony, and your group can come together to meet and celebrate in the open plan living and dining area. Have your event catered by Chef Brad McWhirter and his talented team, or stroll over to the main lodge for their five-course degustation. Then kick back and relax with a glass of wine as the sun sets over the lake.
Gibbston Valley Lodge
Last in our triumvirate of retreats in and around Gibbston Valley, Gibbston Valley Lodge was unanimously recommended by all our local experts for its exciting spaces.
Meet or dine in the Gibbston Valley Cellar, where you can plan your five-year strategy while Central Otago's finest vintages mature in their barrels around you. Or book the Conservatory, a flexible airy space with views over the hills and vineyards. A luxury media room is ideal for screenings or presentations.
Your team can stay in beautiful villas amongst the vines. Each villa has a sunny, secluded courtyard where your team can take space from the pace and soak up the stunning scenery. Amble up to the lodge to enjoy a wine tasting and classic European cuisine with a modern New Zealand twist.
You're close by all the activities Gibbston Valley has to offer, wine tours, cycle trails, jet boating, and bungy jumping at the birthplace of bungy, Kawarau Bridge. Gibbston Valley is one of the region's founding wineries, celebrated for releasing Central Otago's first commercial vintage in 1987.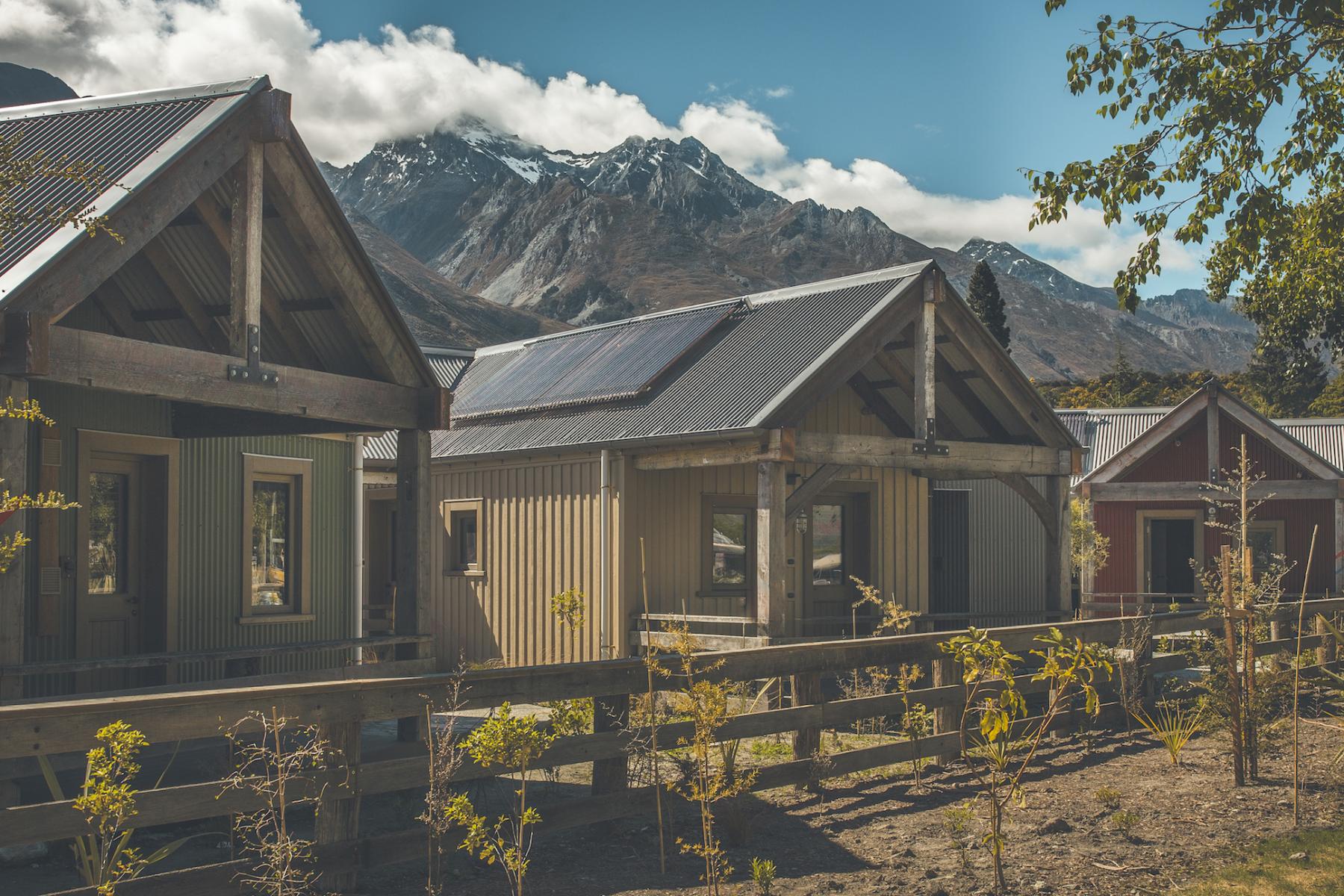 Camp Glenorchy
Nestled in the Headwaters of Lake Wakatipu  Camp Glenory is an award winning luxury Eco Retreat - the perfect corporate escape which is sure to get the team bonding and new ideas flying in no time! 
Just 40 minutes from Queenstown, Camp Glenorchy is close enough to enjoy all that world-famous Queenstown has to offer yet far enough away to ensure your team optimise the tranquillity of the peace and quiet of Glenorchy village. Their luxury cabins and bunkrooms can accommodate up to 56 guests and the meeting rooms include state-of-the-art AV.
Camp Glenorchy has an incredible choice of corporate team building activities, including jet boating, horse riding, helicopter trips, day walks, fishing tours and more.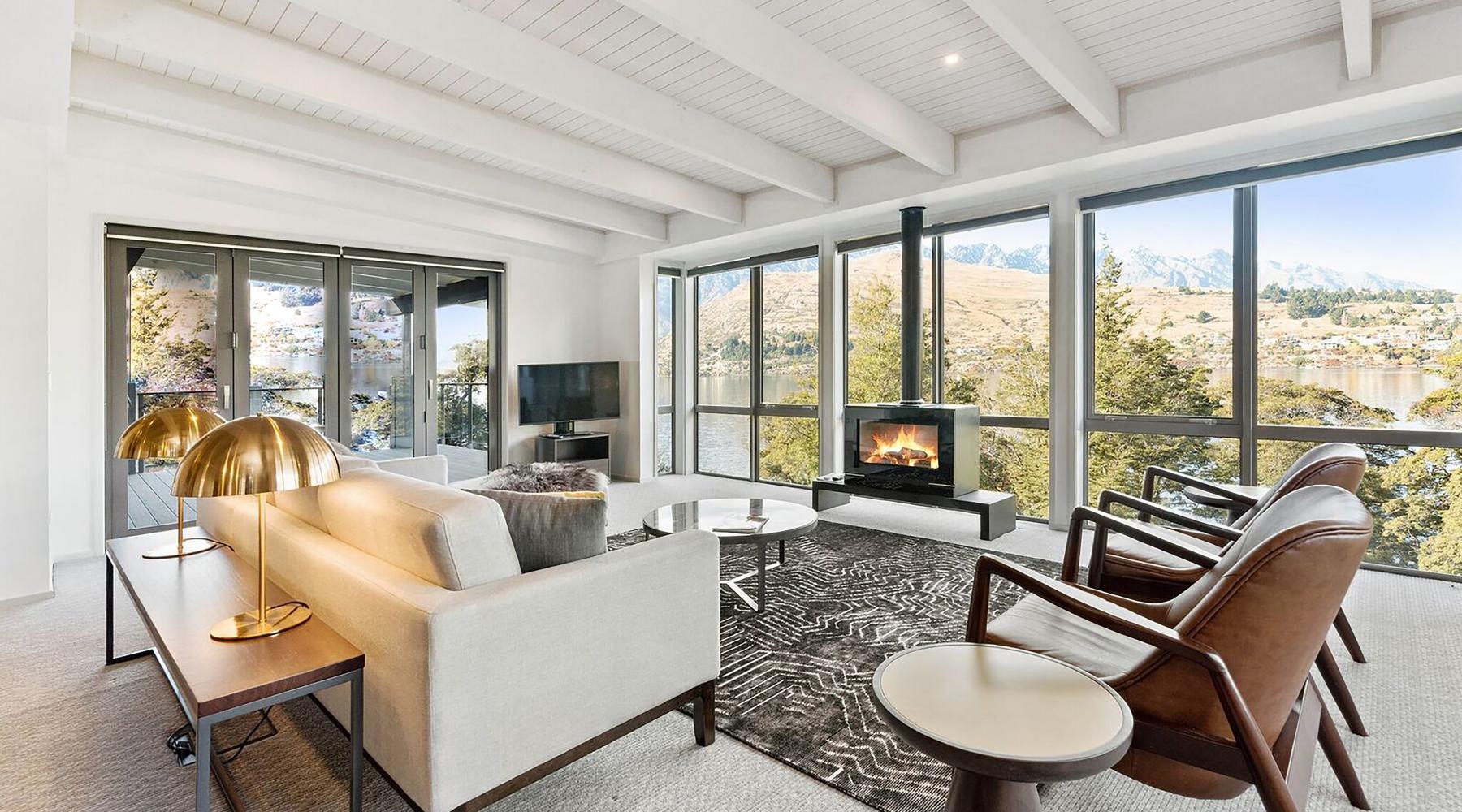 The Rees Residences
The Rees Lakeside Residences are part of the Rees Hotel, a five-star hotel beside Lake Wakatipu. The Residences offer secluded meeting areas and accommodation, ideal for an executive retreat.
The space can accommodate any layout you desire, from boardroom to banquet. Comfortable breakout areas enjoy views over the lake and wood burners make this a wonderful option for a winter retreat. A private chef can create an exclusive dining experience for your team.
You can swim from the hotel's beach or jump off the wharf. But be prepared for that alpine lake water. Other hotel facilities include a library of rare books, a spa, kayaks, a gym, and a free shuttle into Queenstown. Guests are also offered the services of a travel curator, who can arrange activities for your team.

Touch of Spice
If you're bringing a small executive team to Queenstown and you want your own space, think a Touch of Spice. Jacqui Spice has curated a collection of exceptional locations for executive retreats in Queenstown. She's a Condé Nast Traveller Travel Specialist, and a member of Virtuoso's Elite Ultraluxe Community. Which is a fancy way of saying, you're in for something really special when you choose a Touch of Spice property for your retreat.
Her Queenstown private villa collection includes a home with a private cinema, a roaring fire and a hot tub near Lake Hayes. A slate and cedar hillside haven with a collection of New Zealand art at the top of Queenstown Hill. And a peaceful Jack's Point villa, with architectural pavilions framing the views.
Jacqui and her team can curate a full itinerary for your stay, so you can experience the Touch of Spice attention to detail that makes everyone feel like a VIP.

Queenstown Park Boutique Hotel
This bijou boutique hotel has 22 rooms and can provide five-star accommodation for up to 40 guests. So, it's ideal for a larger executive team if you want the whole place to yourself. Family owned, by hoteliers with 50 years' experience, you can see their expertise in every quietly considered detail, from the complementary pre-dinner drinks and canapés, to their commitment to sustainability.
The hotel's comfortable meeting space opens onto an outdoor area, where your team can stretch their legs and take the fresh mountain air between sessions. The Queenstown Park is in central Queenstown, so it's ideal for taking advantage of our many activities and our celebrated nightlife.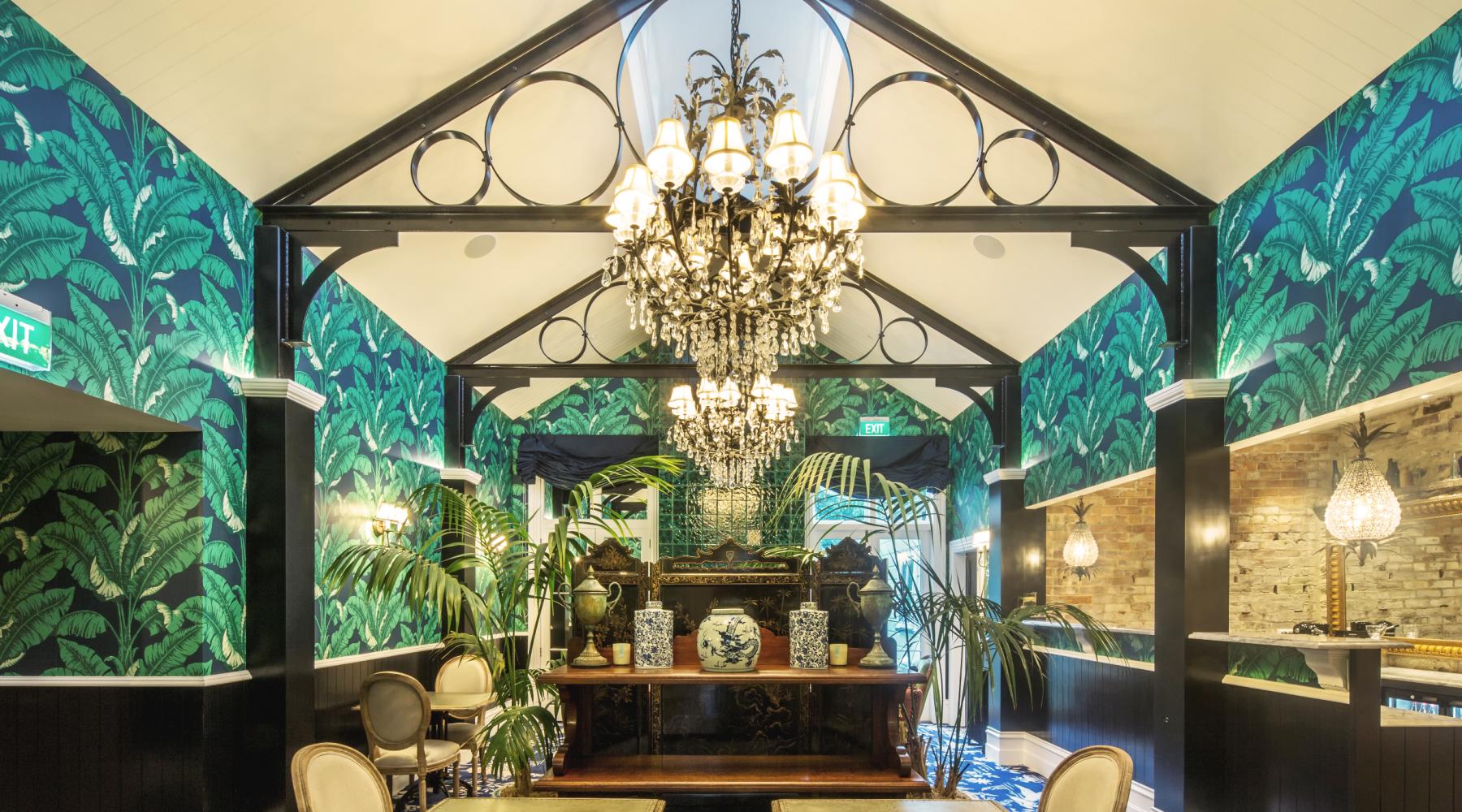 Hulbert House
Our last gem for a Queenstown executive retreat is a grand old dame. A restored Victorian villa, one of Queenstown's original residences, Hulbert House combines contemporary luxury with historical elegance.
The house has a racy history. Built by receiver of gold Horatio Nelson Firth with his gold rush profits in 1888, he was sent to prison for embezzlement in 1901, leaving his wife to run the property as a boarding house.
The house then waltzed through many incarnations. Maternity hospital, private nursing home, a wartime refuge for girls, a base for the Salvation Army, a staff hostel, and backpacker's accommodation, before becoming the classy boutique retreat she is today. If the walls could talk, they'd have many a tale to tell.
The interior design is opulent, with period details enhanced with splendid wallpapers, custom carpets inspired by willow pattern china, French antiques and chandeliers. A Palm Lounge has been added for bonus high Victoriana.
The hotel sleeps 12 and you can book the entire place. Meetings can be held in the Palm Lounge, or on the Victorian veranda in the summer.  The owners promise that the tea (Harney & Sons naturally) will be brewed to perfection.
Book your next meeting in Queenstown
For more spectacular executive retreat options, explore our event venues. Or contact the Queenstown Convention Bureau to ask for help planning your business event In Queenstown. We're an independent team of event professionals with the local knowledge and expertise to make your next retreat the most memorable yet.