Send your incentive trip delegates far off the beaten track. Take in Queenstown's dramatic alpine landscapes from the sky, then land in awe inspiring natural splendour amidst the Southern Alps or in Fiordland National Park.
We've curated five of the most scenic backcountry heli landings for you to choose from. Your guests will be up high in exposed alpine environments, so encourage them to bring sturdy shoes, warm windproof clothes, sunblock, sunglasses, and of course, their camera to capture those unforgettable views.
Luna Ridge
Who flies there: The Helicopter Line
Best for: Champagne on a mountain top
Take off and enjoy the stunning lake and alpine views as you fly over the Whakatipu Basin towards Luna Ridge, nestled between Mt Crichton and Mt. Larkin. Your guests can stroll across the lofty ridge line and take in the stunning views of the surrounding mountains and Pig and Pigeon Island on Lake Whakatipu far below, before toasting the exhilarating panoramas with a glass of champagne.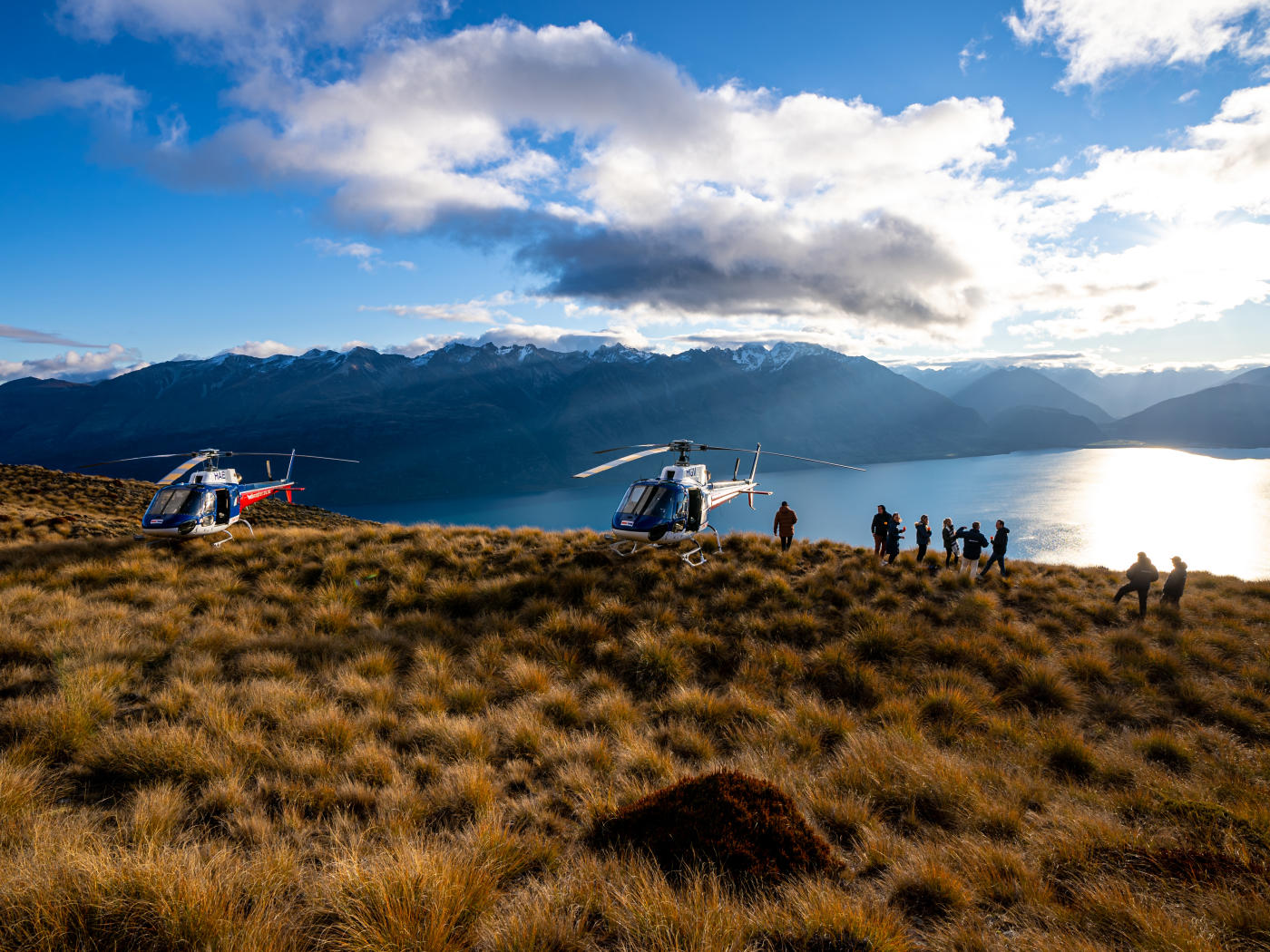 Helicopter landing at Luna Ridge
The Remarkables
Who flies there: Glacier Southern Lakes Helicopters
Best for: Getting up close and personal with a Queenstown icon
Nothing says Queenstown more than the jagged range of the Remarkables soaring above Lake Whakatipu. Landing on one of those iconic peaks is an incentive trip experience not to be missed.
A sundown helicopter flight takes your delegates high above Queenstown and Whakatipu Basin at golden hour, before touching down for their alpine landing. They can soak in spectacular views of the lake, Coronet Peak, the Crown Range and Cecil Peak, enjoy refreshments and get the ultimate group photo with the stunning backdrop.

Helicopter landing at The Remarkables
Earnslaw Burn
Who flies there: Heliworks Queenstown
Best for: Seeing a hanging glacier
A flight into Earnslaw Burn offers epic vistas of snowcapped peaks as your delegates fly through the Moonlight Saddle and over the Richardson Mountains. They'll fly past the blue ice of a hanging glacier before descending to the valley floor, 1,000-metres below to take in the breath-taking wall of waterfalls towering above them.
Only Heliworks are licensed to land here, so your guests will likely have this glorious, serene location to themselves (apart from the occasional intrepid tramper) before getting back in the helicopter to continue their adventure across Lake Whakatipu for a second landing. This flight also includes dramatic views of historic Skippers Canyon.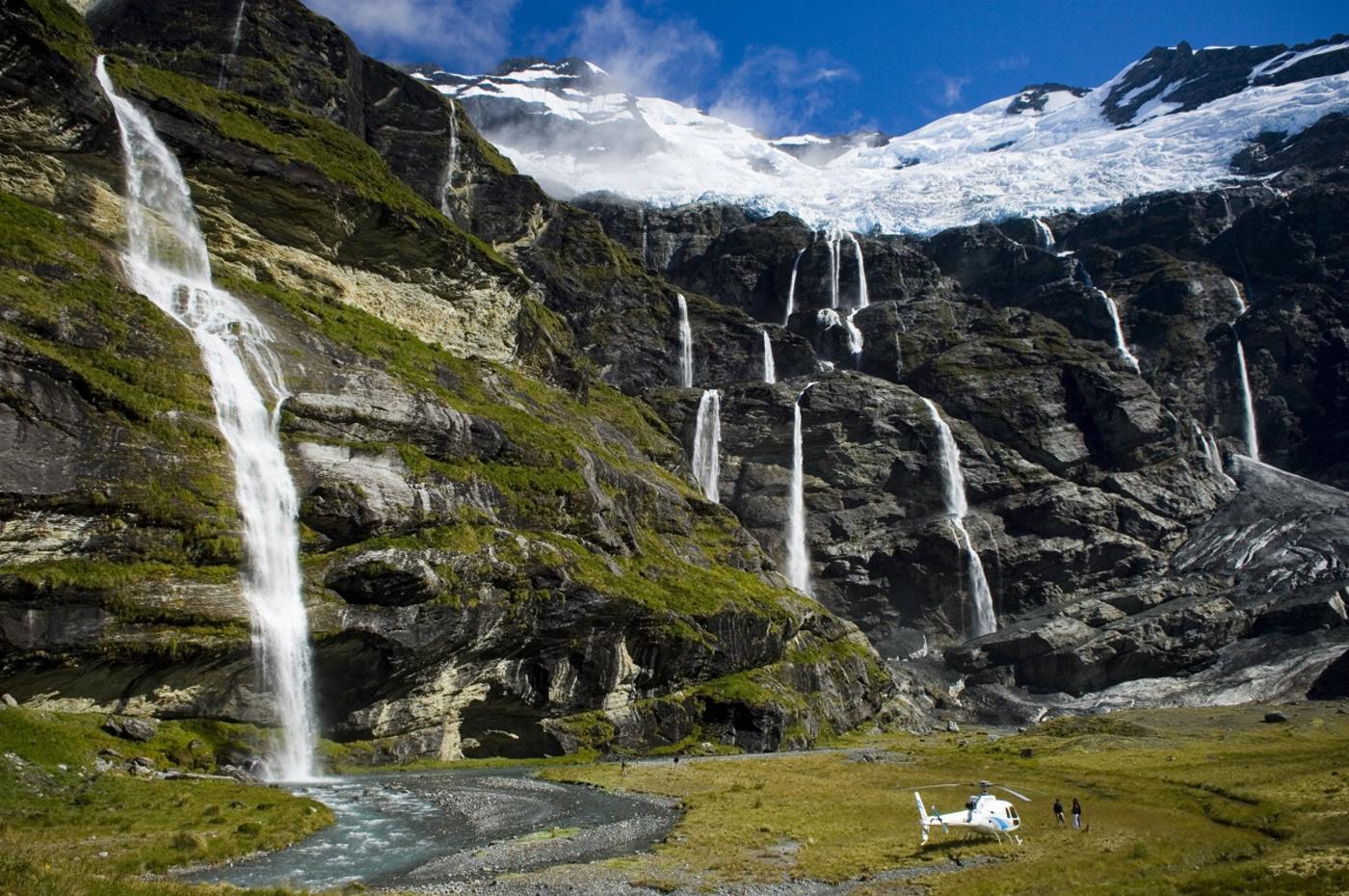 Earnslaw Burn
Lake Quill
Who flies there: Alpine Helicopters
Best for: Views of Milford Sound and Sutherland Falls  
If you're including a trip to Milford Sound in your incentive program, don't forget to stop at the hidden treasure that's Lake Quill. Located 979-metres above sea level in a hanging alpine valley in Fiordland National Park, the lake feeds the famous 580m Sutherland Falls plunging into Milford Sound (the seventh highest falls in the world).
The lake was named after daredevil surveyor and explorer William Quill, who climbed Sutherland Falls in 1890 to find their source. He stood on the summit and admired the "indescribably magnificent" view. Sadly, William's luck ran out the next year, as he fell to his death at Gertrude Saddle in Fiordland National Park. His death led to the foundation of the New Zealand Alpine Club "to assist inexperienced climbers".
Ask our local event experts to arrange morning tea in the mountains for your group, before they continue their flight to Milford Sound.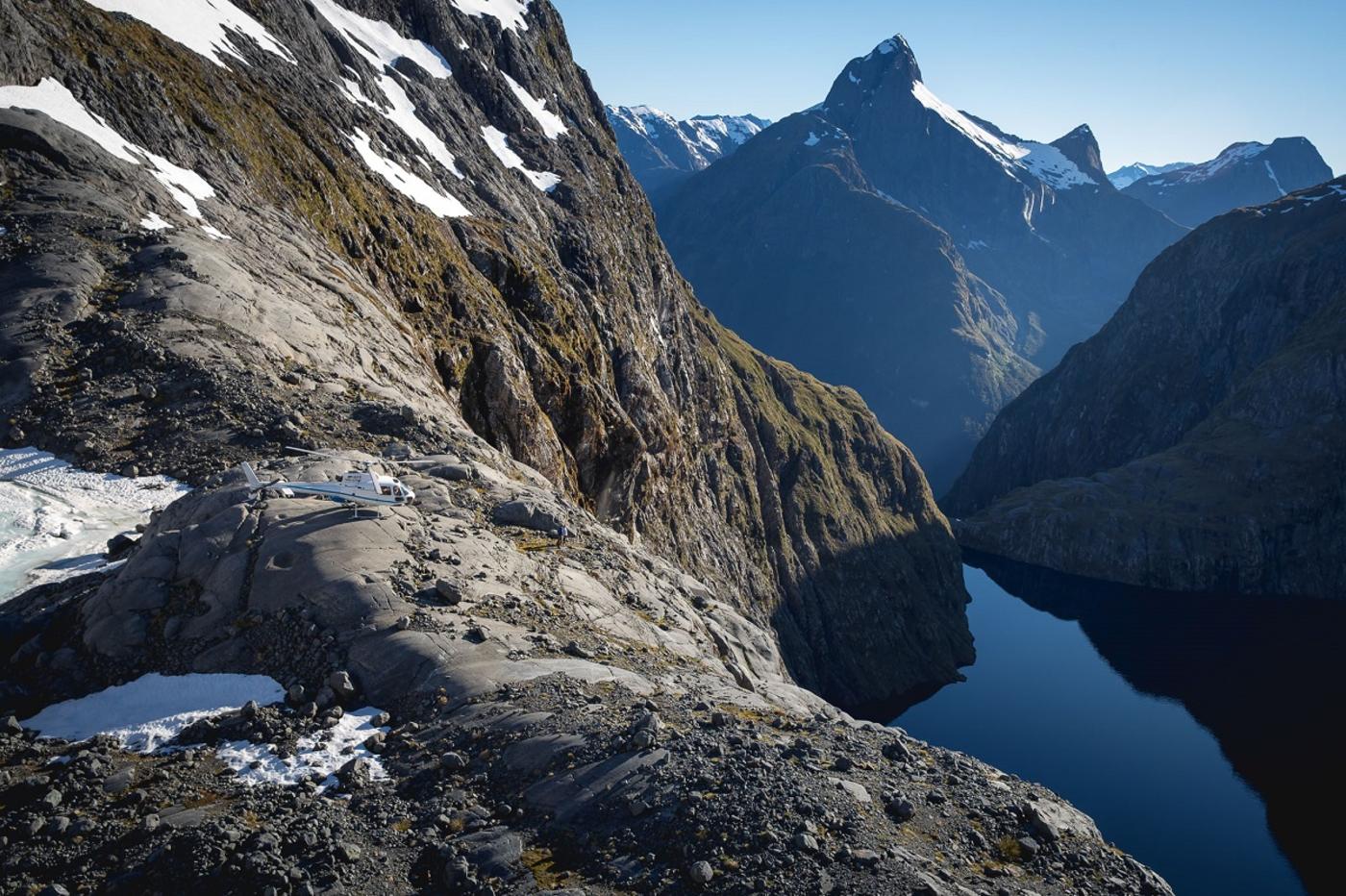 Lake Quill (photo credit: Alpine Helicopters)
Cecil Peak
Who flies there: Over the Top Helicopters
Best for: Alfresco treats with panoramic views
Surprise your delegates with a helicopter trip to Cecil Peak. Towering 1,978-metres above Lake Whakatipu, Cecil Peak is popular with hikers and canyoning tours.
The helicopter lands on a ledge at the top of the mountain, where your delegates can discover an alfresco cocktail bar and sip a delicious cocktail while enjoying the serenity of the alpine environment and incredible views of Queenstown, the Remarkables, and Frankton Arm. Sweet toothed teams may prefer to be served up a locally made Pavlova with champagne or craft beer.
Another Cecil Peak helicopter adventure is to play one of the world's most scenic golf experiences, a par-3 golf hole on the mountain side, 1,372-metres above sea level.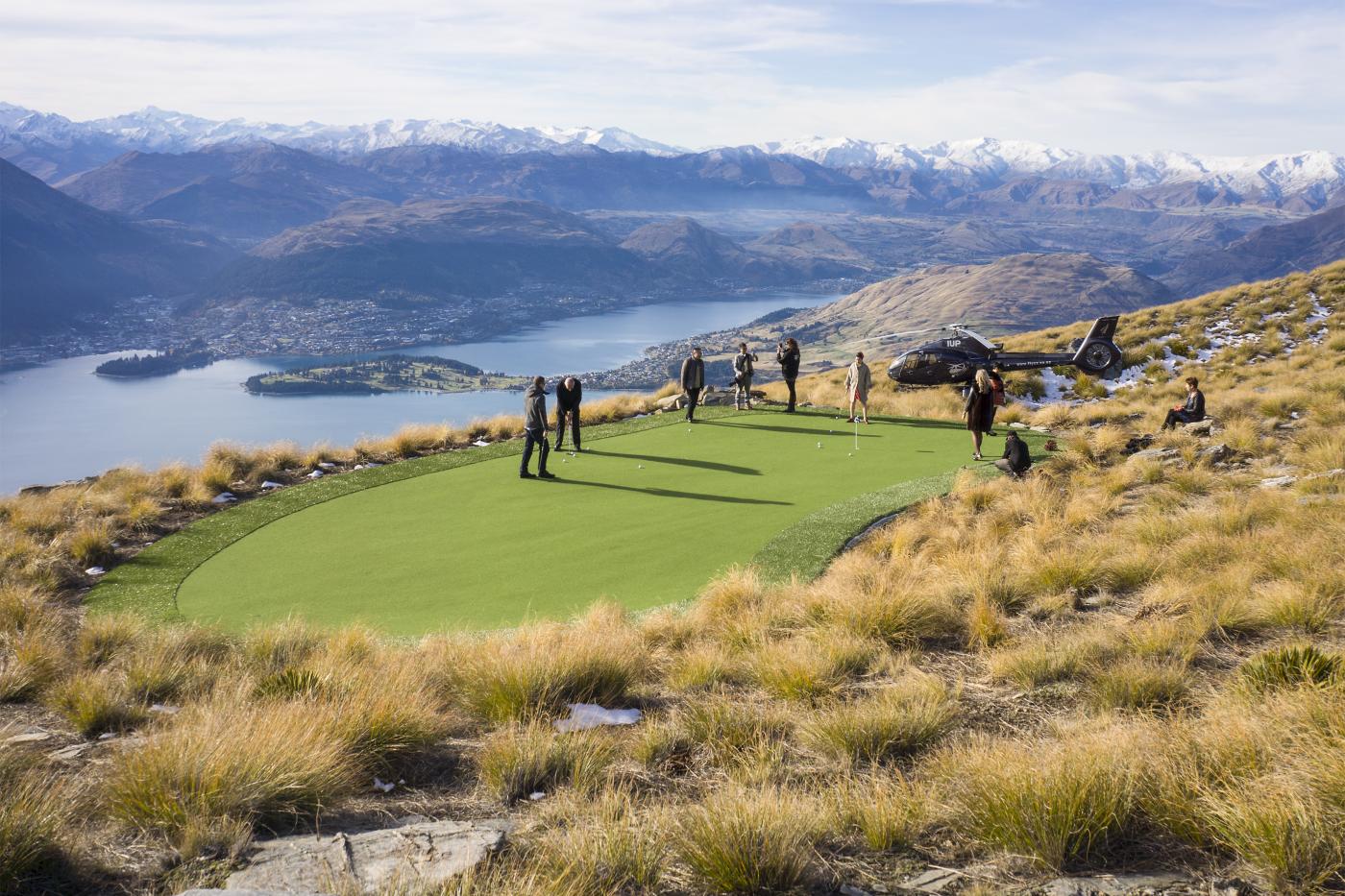 Over The Top Golf at Cecil Peak
Book your Queenstown incentive heli landing
Our local event experts are here to help you plan your incentive trip. They can help you arrange heli experiences for all styles and budgets. Queenstown Convention Bureau also offers free, impartial advice, itinerary planning and quote sourcing services. Make your next incentive trip unforgettable with a scenic helicopter flight.