The Real Journeys Queenstown Winter Festival is well known for its quirky events, and this year will be no exception.
Check out our list of 12 Festival antics to get amongst this year! 
Tug O' War on Skis
Cardrona Alpine Resort, Friday 21st June 1:30pm
A hilarious competition that your parents might have won back in 1976, teams will compete to win a battle of the balance and braun in the Tug o War on skis.
Extra prizes for anyone who can supply pictures from when this event ran in the golden days.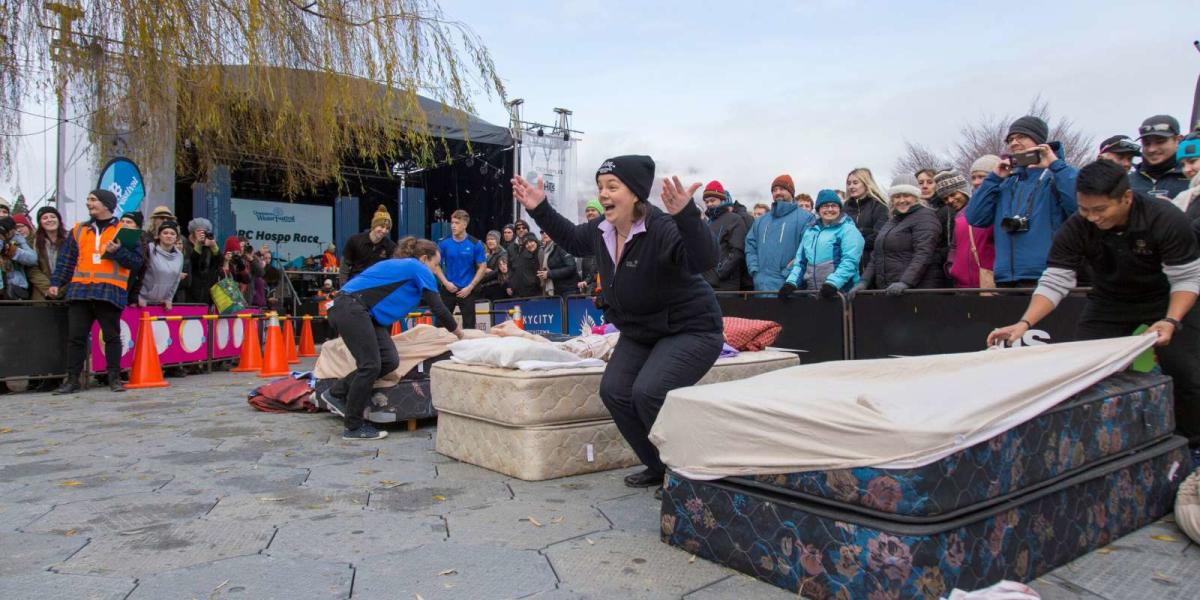 Steamer Wharf Hospo Race
Earnslaw Park, Thursday 20th June 12:00pm – 2:00pm
The Hospo Race has been a firm Festival favourite for years and this year is set to be no exception. The course has been designed to tackle skills ranging from bar service to housekeeping.
Entry is FREE, all you need is your team of 3 to sign up to this event. Pre-registration is essential and no teams will be allowed to sign up on the day.
You've gotta be in it to win it, and reign supreme as Queenstown's winning Hospo team.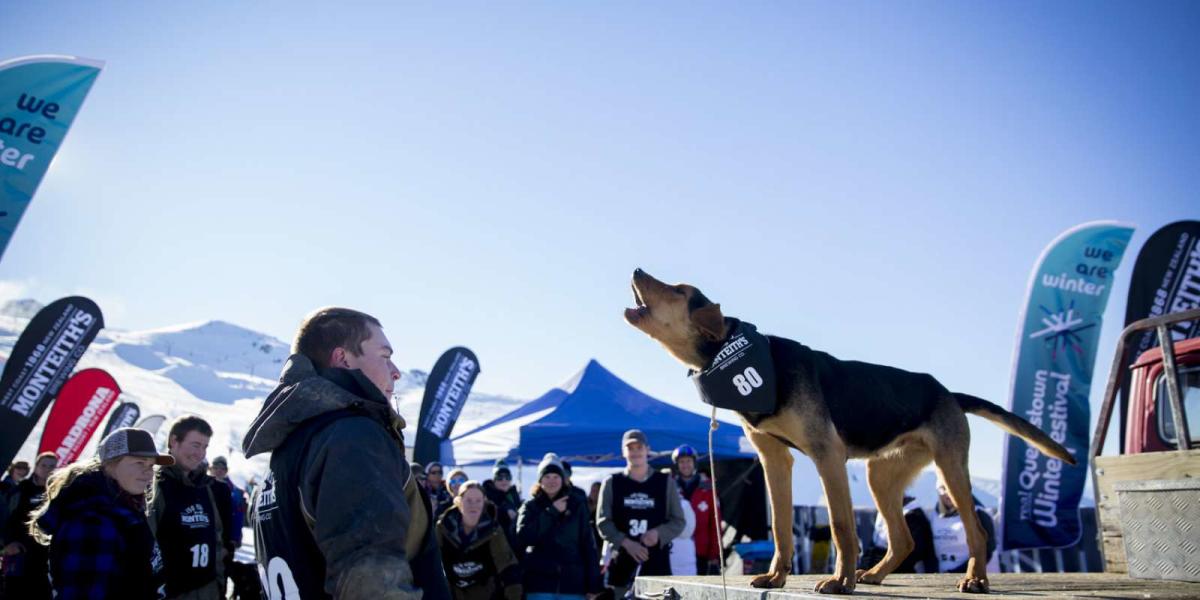 Monteith's Dog Barking
Cardrona Alpine Resort, Friday 21st June 12:00pm – 1:00pm
The rules are simple: if a dog doesn't bark on cue, their owner has to get down on all fours and bark on the dog's behalf. Now why wouldn't you watch that?!
Registration is available at the Mountain Festival Village on the day, contestants must be 18 years or older and have a dog to register.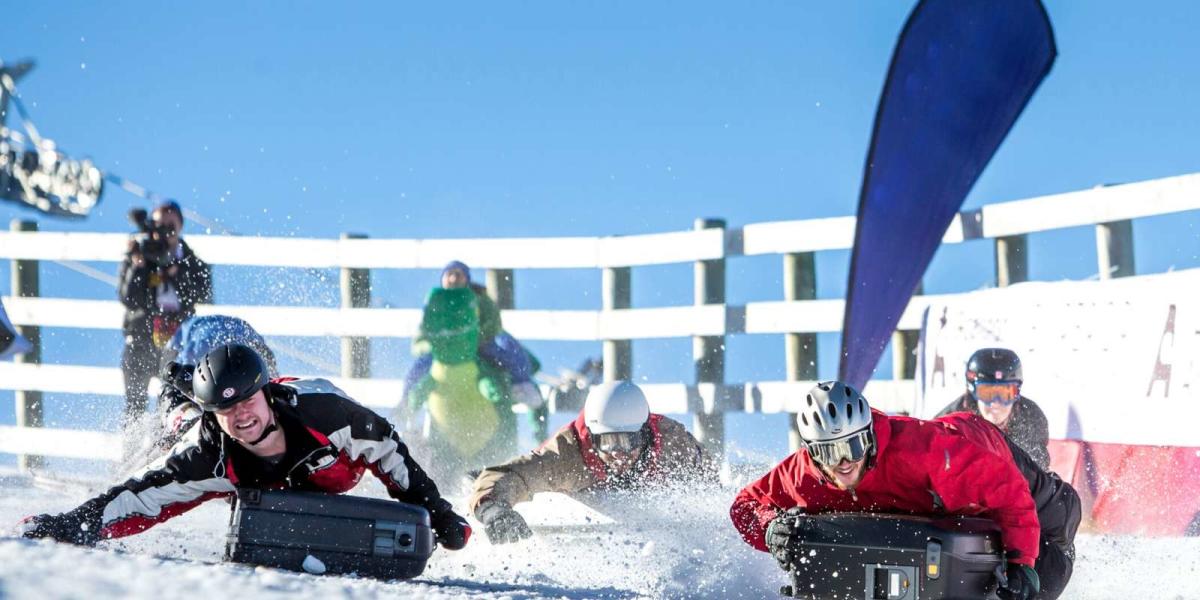 Winter Fest Suitcase Race
Cardrona Alpine Resort, Friday 21st June 2:00pm
Classic Winter Fest antics return in our Suitcase Race where you will slide down the Cardrona mountain side aboard a beaten up old suitcase. Sound fun? Yeah, why the hell not! 
Prizes go to best dressed, gold and silver placings and with a plethora of amazing prizes to win you won't want to be that guy who says "I wish I'd done that this year".
Best dressed is not just for your best ski gear - traditionally people have gone all out for this one, we'd like to see some effort getting put in please! See you on the Mountain!
Go on, get involved.
Winter Fest Snow Tubing
Cardrona Alpine Resort, Friday 21st June 12:00pm – 4:00pm
Whilst you're enjoying the hilarity of the events up at our Mountain Festival Village get amongst it yourself and give Snow Tubing a try!  Open to anyone so come and have a laugh throwing yourself down a hill on a snow tube. Open for kids and adults alike, once you'll get a taste it'll be hard to stop!

For your safety helmets are compulsory. One person per Snow Tube (unless participant is too young).
You can sign up now below or on the day at our Mountain Festival Village.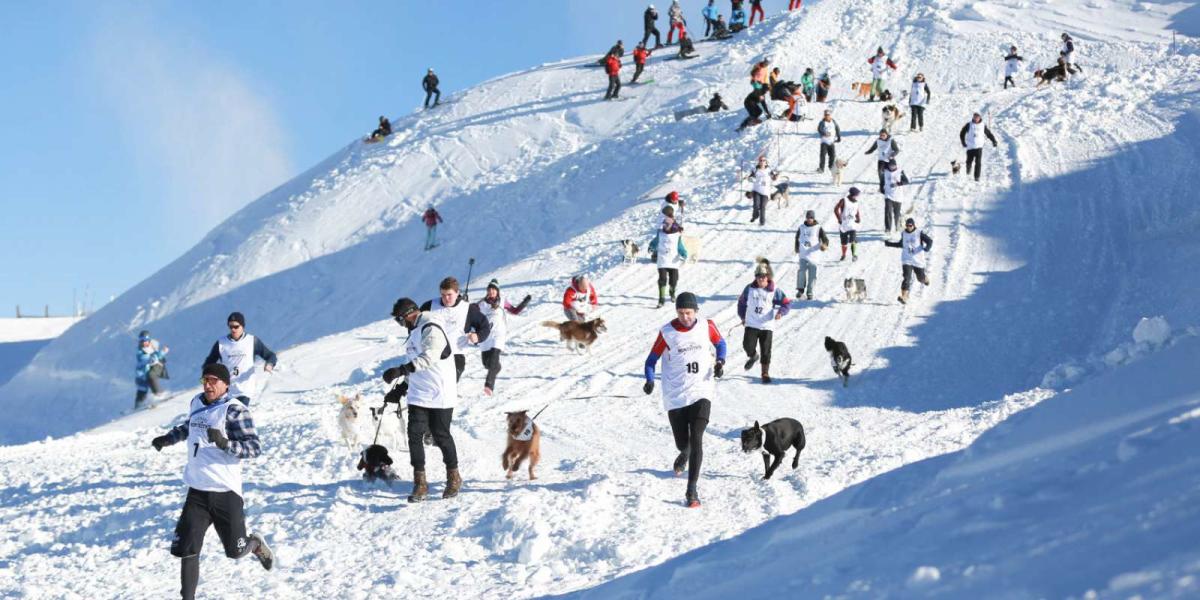 Monteith's Dog Derby
Cardrona Alpine Resort, Friday 21st June 12:00pm – 2:00pm
Winter Festival's original event the Monteith's Dog Derby is back for 2019 and is as exciting as ever! 1.2km of pure adrenaline for you and your canine buddy as you flee down the mountain side while the crowds cheer you on.
Farmers and 'townies' all welcome, come and join the fun running and sliding down the slopes of Cardrona. It's a must watch on the Festival calendar.
Beer and burger to fuel you after the race as part of your entry fee.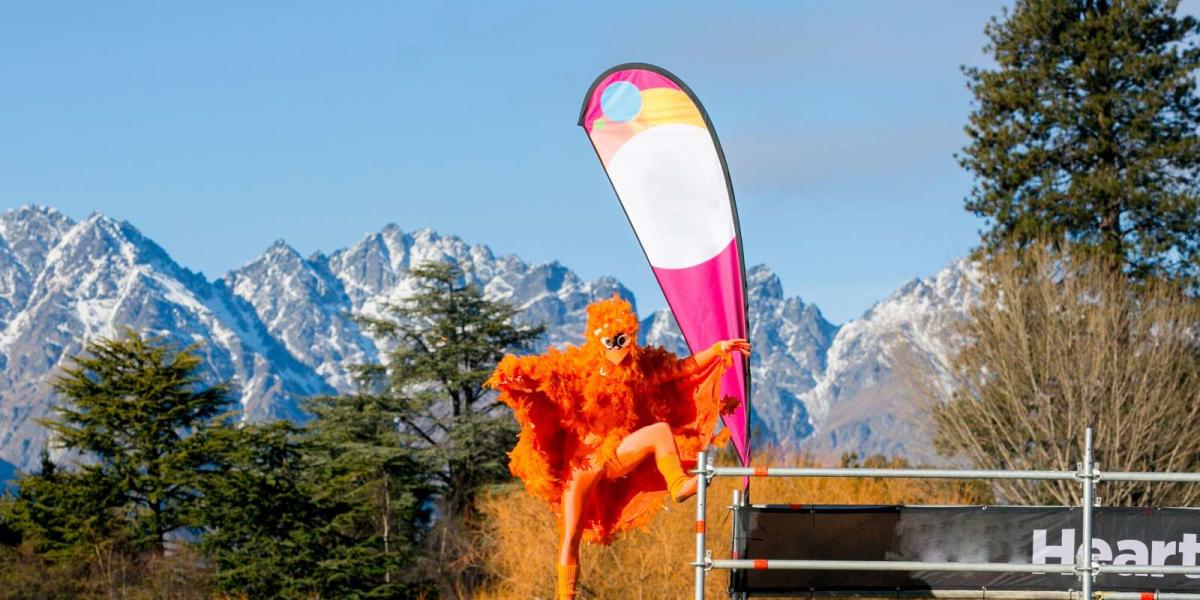 AJ Hackett Birdman
Queenstown Bay, Saturday 22nd June 12:00pm – 3:00pm
We've got together with our mates over at AJ Hackett Bungy and given the old Birdman a bit of a shake-up - so if you've enjoyed watching the crazy, brave, and enthusiastic people launch themselves into icy cold Lake Wakatipu over the years, you don't want to miss the AJ Hackett Birdman competition.
If you think you can step up to the challenge, you're very, very welcome!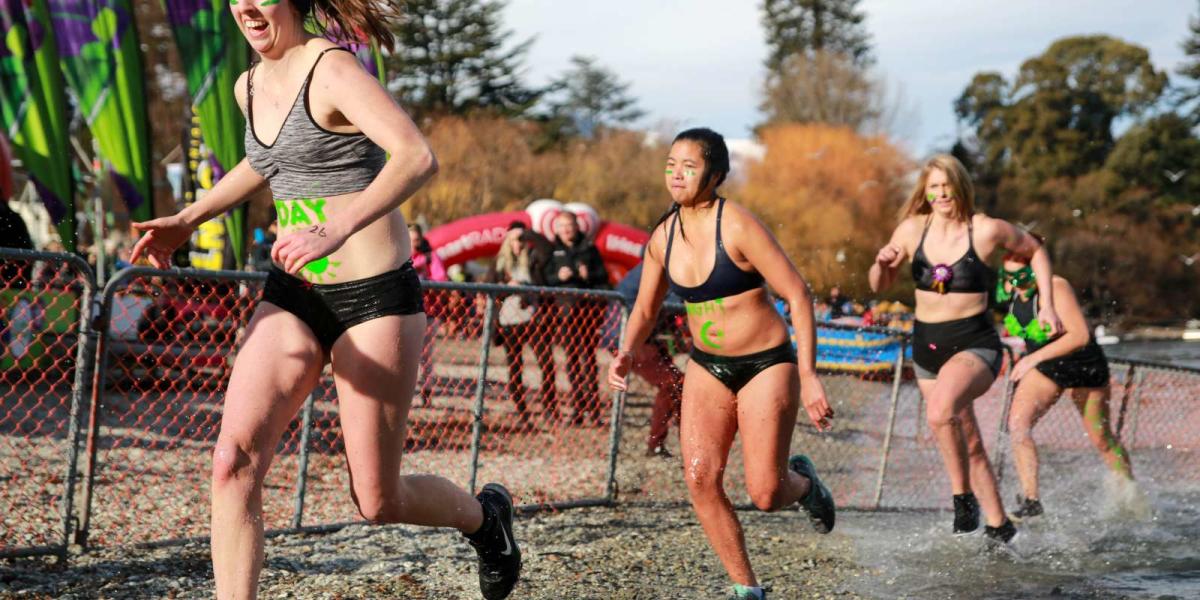 JUCY Undy 500
Queenstown Bay, Saturday 22nd June 12:00pm – 3:00pm
Ready to show winter what you're made of? Celebrate the start of winter JUCY style, by braving the Bay in the JUCY Undy 500! This year the course is heading water-bound, if you're lucky you'll get through it dry as a bone but we wouldn't put any money on it. Wahahahahahaaaaa
We'll hook you up with some JUCY undies, all you need to do is complete the obstacle course to be in to win!
There's a 7-day JUCY campervan adventure up for grabs, plus some spending money, treat yo self!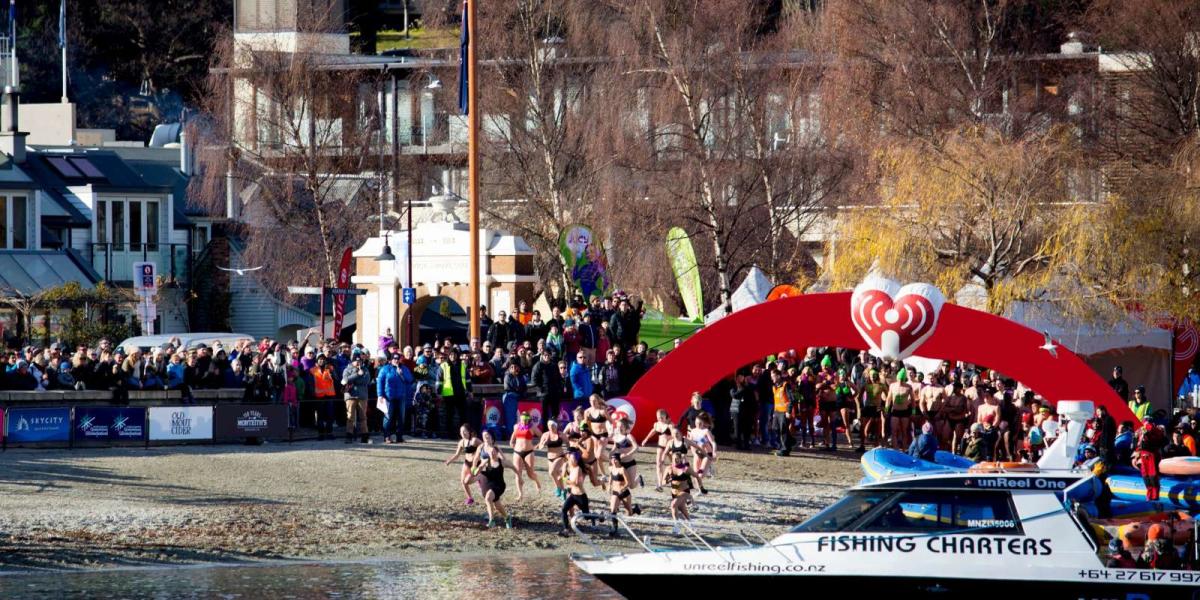 Go Orange Splash for Cash
Queenstown Bay, Saturday 22nd June 12:00pm – 3:00pm
Reintroducing a classic throwback, the Splash for Cash is a cross between a polar plunge and a good old swimming race. Yes, it'll be bloody cold but hey - you could win a wad of cash and reign supreme as a champion. No wetsuits or rash vests allowed, so you can brave the cold in your budgie smugglers if you want! We won't keep you in the cold for too long, but we would always suggest heading to the warming tent post swim for a blanket and a cuddle. Our team will be prepped with some free hugs.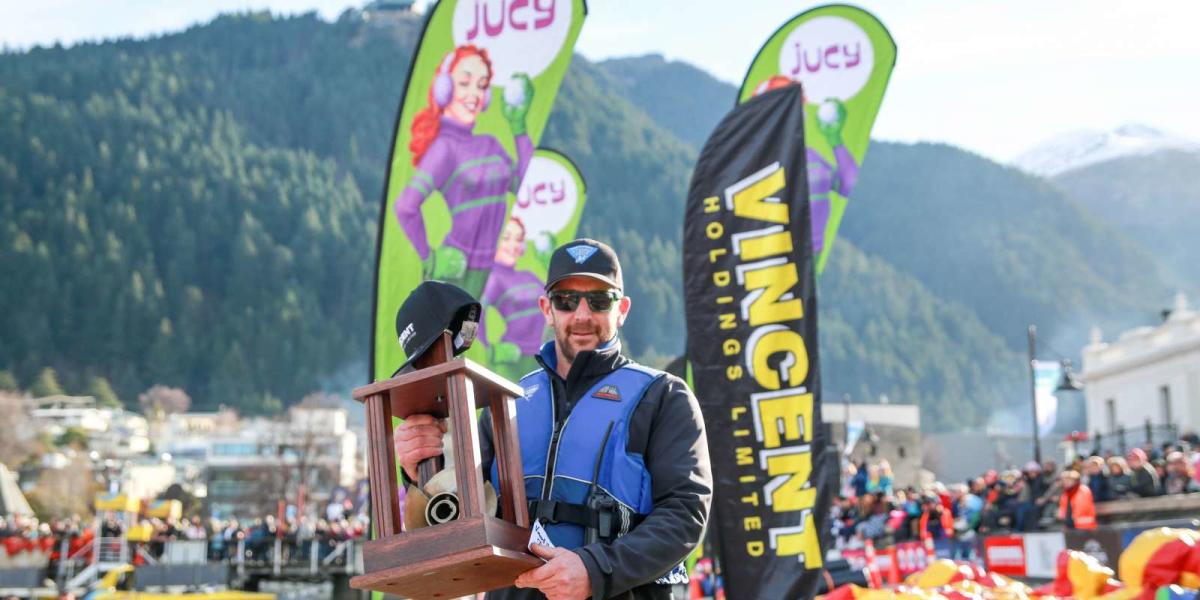 Vincent Holdings Jet Sprints
Queenstown Bay, Saturday 22nd June 12:00pm – 3:00pm
The adrenalized Vincent Holdings Jet Sprints are a sight and sound to behold as Queenstown's commercial jet boats go head to head to speed through a challenging course on Queenstown's Bay.
Champion of speed will take home $250 cash and the iconic Vincent Holdings trophy.
Tour De Cardies
Cardrona Alpine Resort, Sunday 23rd June 7:00am – 8:30am 
Have you always wanted to try skinning? Or already a pro? Get out of bed and 'skin' a full loop up at Cardrona on the Tour De Cardies! Capture the gorgeous sunrise views from Cardrona - what a way to kick of winter!
Macpac Mountain Bikes on Snow
Cardrona Alpine Resort, Sunday 23rd June 10:00am – 12:00pm  
Does wheeling your way down a snowy mountain course sound like fun? Of course it does! Mountain Bikes on Snow is back with men and women competing for loads of amazing prizes.