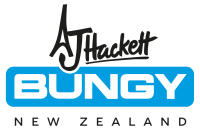 AJ Hackett Bungy Queenstown
Nevis Swing
Introducing the Most Famous Swing in the World - and we don't say that lightly. It's big, it's bad and it's loud (if you consider every shriek of every person who's had a go). Swing by yourself or tandem with a friend - forwards, backwards, upside down - you choose. You'll complete the 300m arc, bellowing at the top of your lungs, wanting to do it all over again once you're back on solid ground.
Contact Us
Company:
AJ Hackett Bungy Queenstown
Physical Address
The Station Building - corner of Camp St and Shotover St
Frankton
Queenstown, 9300
Outdoor seating

Town Transfers

Wifi Internet
Price:

$280
Adult: $280 Child (10-14yrs): $230 Spectator: $50


Supplied transportation is compulsory as the Nevis Playground is located on private land and is only accessible by our 4WD buses.


Monday:

9:00 AM - 4:00 PM

Tuesday:

9:00 AM - 4:00 PM

Wednesday:

9:00 AM - 4:00 PM

Thursday:

9:00 AM - 4:00 PM

Friday:

9:00 AM - 4:00 PM

Saturday:

9:00 AM - 4:00 PM

Sunday:

9:00 AM - 4:00 PM



Holiday hours:

Closed Christmas Day



Months of Operation:

Jan - Dec


Group Info:

Whether you've got a group, squad, crew, family, work team or just an assortment of weird and wonderful people, we've got something for everyone - even if they're pretty keen to keep their feet on the ground.



Group Reservation Email:

groups@bungy.co.nz



Group Capacity:

130