In the heart of the Southern Alps, with unrivalled alpine scenery, snow-capped mountains and fresh mountain air, Queenstown is New Zealand's home of winter. Whether you have an appetite for adventure, mountains and fresh air; or are keen to enjoy a delicious meal and fine wine beside roaring fire, you will be well catered for. Get away from the everyday and escape to Queenstown.
Each year from early June onwards, the region transforms into a winter wonderland, attracting snow sports enthusiasts from around the world with its incredible lake and alpine scenery, crisp blue-sky days and easy access to some of New Zealand's finest ski and snowboard terrain accompanied by a vibrant après ski scene. Queenstown is big enough to offer a wide range of accommodation, activities, four ski areas, events, eateries, and bars—yet small enough to make you feel like you belong.
The region's four ski areas, all within a handy 20 to 90 minute drive of Queenstown, open from mid June. These ski fields boast a range of terrain for all levels whether you're keen to conquer the basics, enjoy groomed runs, tackle off-piste, throw down some freestyle tricks or experience the thrill of night skiing. With the first snowfalls, you can feel the buzz in town as skiers and snowboarders gear up for a season of fun.
Queenstown winter temperatures
Temperatures during winter in Queenstown usually range from 5-8°C in the day time. The nights are often cold and frosty with the temperature dropping to -2°C on cold nights. The days are short and crisp, but provide incredible blue skies and fresh crisp mornings. Snowfall is sporadic throughout the season and each mountain will receive a different amount of snowfall due to the direction they face. If you are planning a Queenstown ski trip, you will want to keep an eye on the weather and snowfall.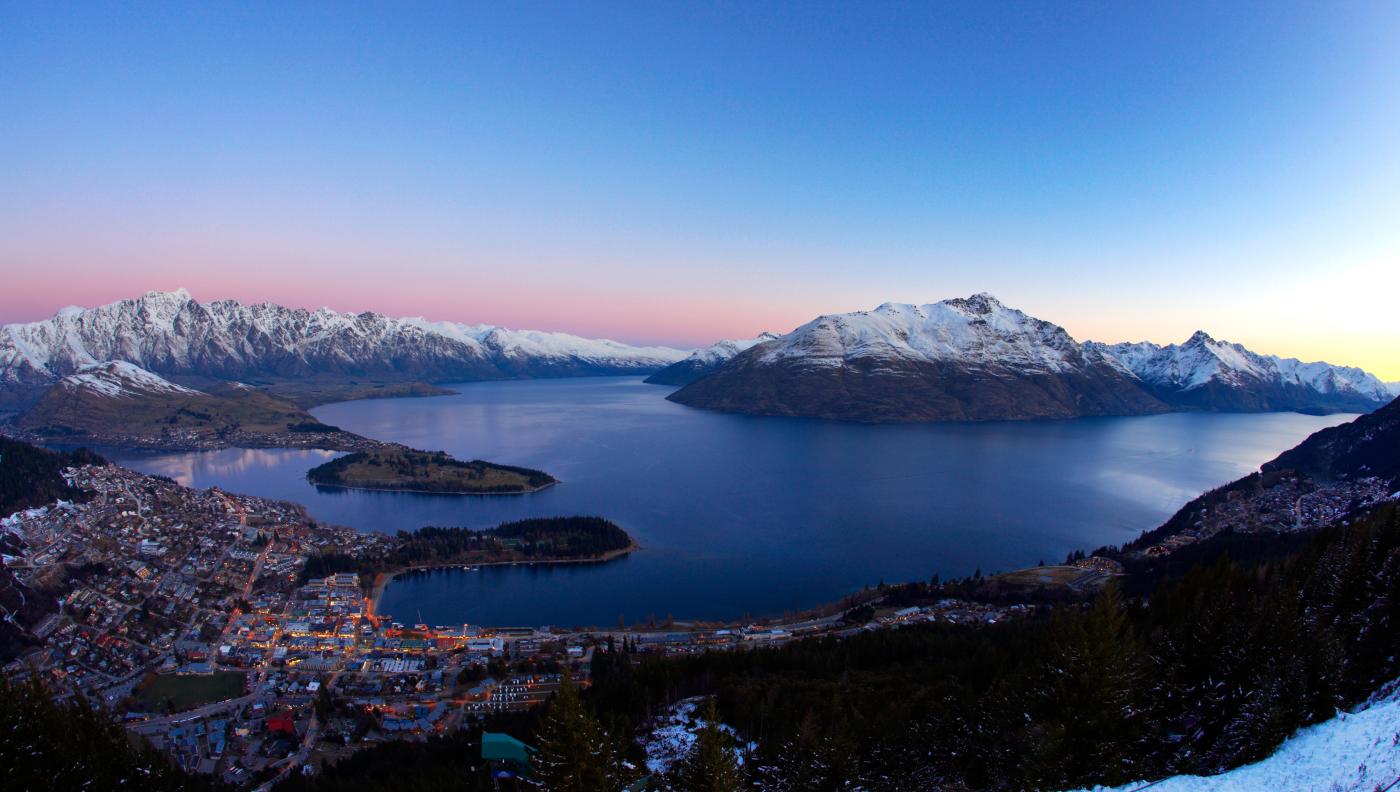 Aerial views of Queenstown in winter
What to pack for your winter trip
Queenstown's winter weather is generally calm with blue skies. Because of this, you should be prepared for crisp frosty mornings and cold temperatures. Warm socks, boots, thermal under layers, and a good down jacket should be staples in your winter suitcase. Merino layers are always a hit in Queenstown and a good hat, glove and scarf combo will keep you cosy. Don't fret if you happen to forget some of your wardrobe staples though (or simply fancy an excuse for a shop). You will find a mix of boutique and high street shopping in Queenstown's CBD, Frankton and Arrowtown.
A true winter experience
Queenstown's cosmopolitan town centre has a welcoming, vibrant energy that resonates across the resort to make for a unique holiday destination. Skiers and boarders, or those just curious about snow, gather here to lap up the fun. Queenstown is the Southern Hemisphere's leading ski destination, offering a choice of four world-class ski resorts within a short drive of the bustling town. Extensive skiable terrain ensures there's something suitable for all abilities and styles. The range of iconic off-mountain activities and a vibrant après ski scene will make your winter escape truly unforgettable.
Snowsports are firm favourites for many visitors to the town but not all fun is restricted to the mountains. With an abundance of activities and events peppered throughout the winter months, you will be never far away from something epic in the home of adventure.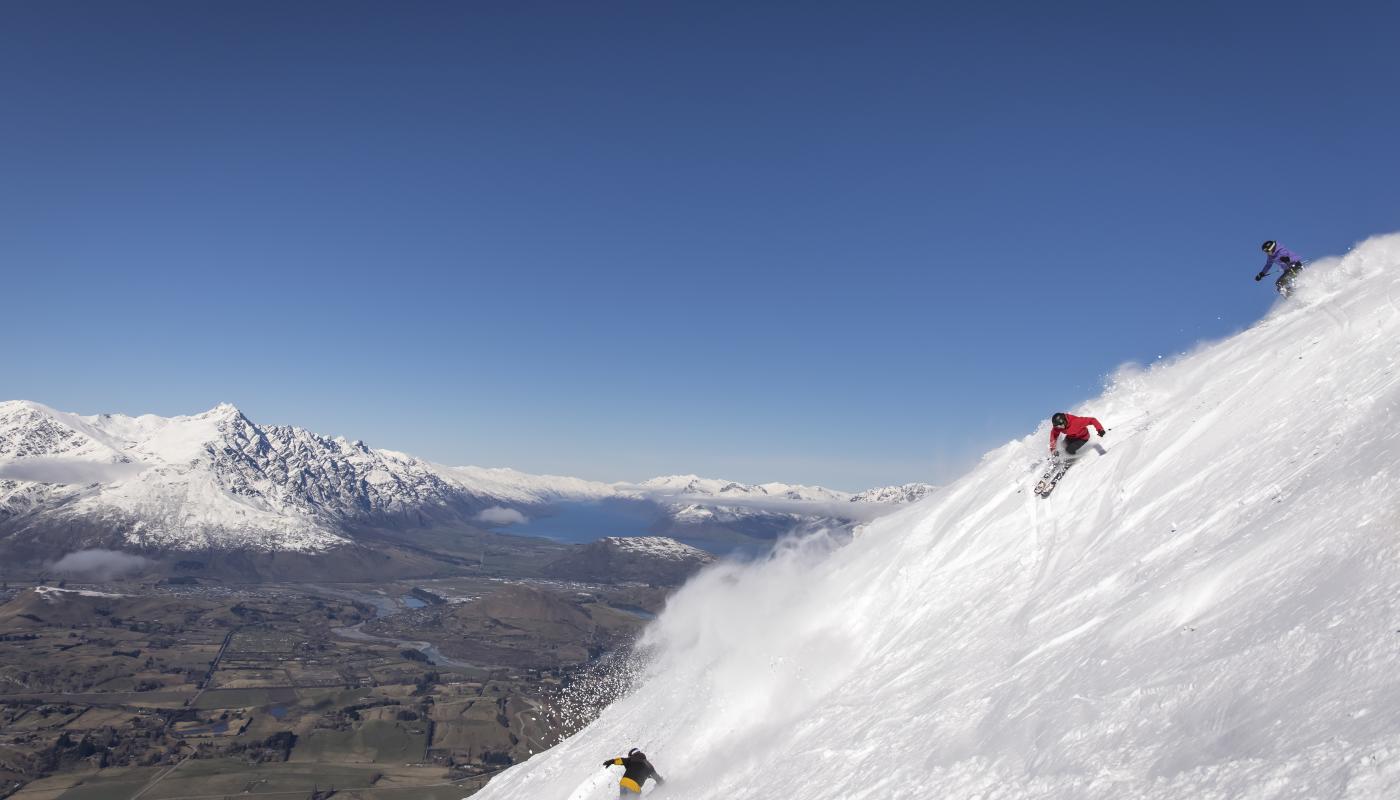 Skiing Coronet Peak on a bluebird day
Queenstown winter events
Queenstown comes alive in winter and brings people together to celebrate the best of the snow season with festivals, live music, light shows, cultural events and sporting showcases. From major headliners to hidden happenings, there are events to suit everyone this winter season. 
Find out what's on here.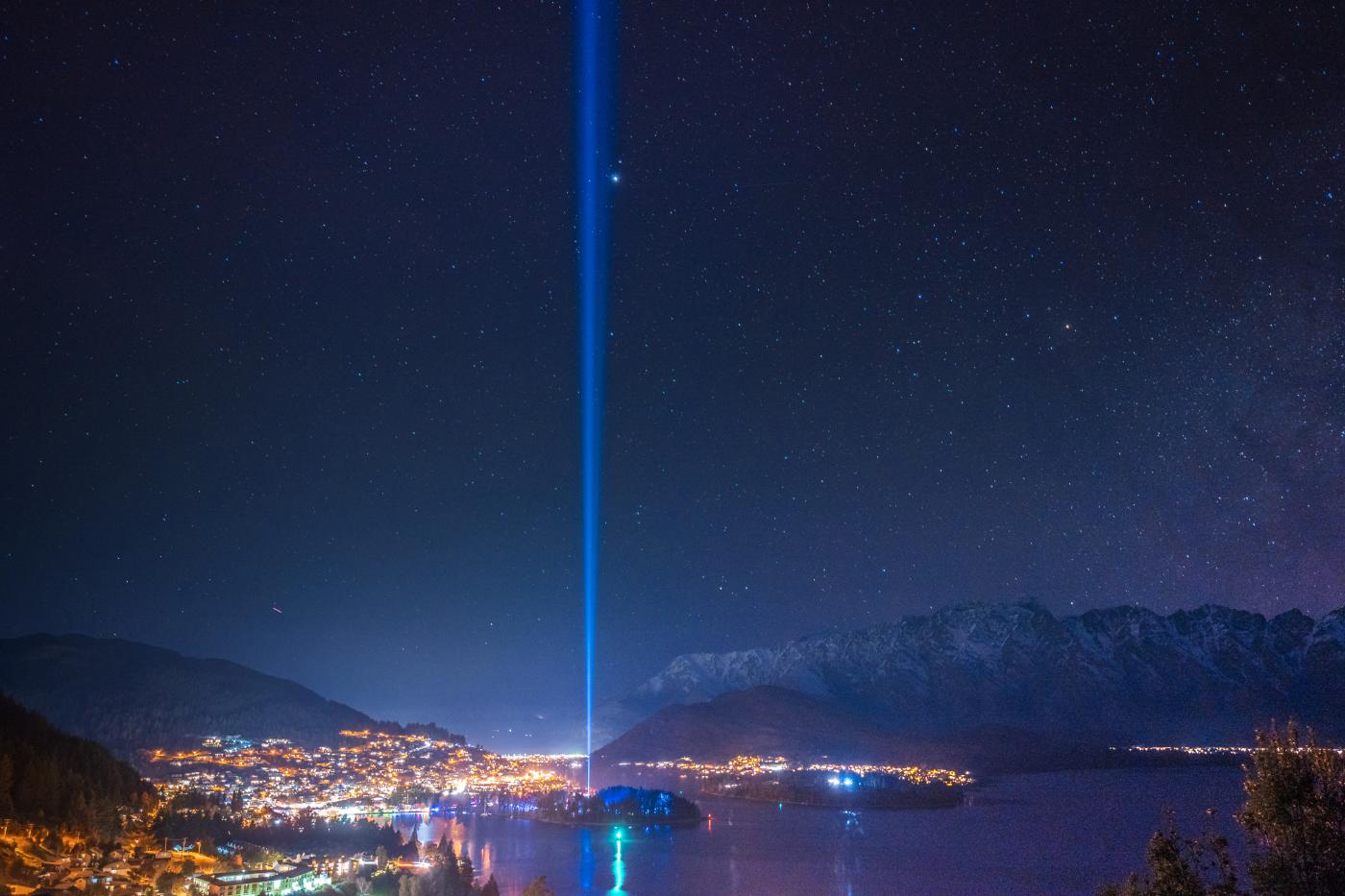 LUMA Southern Light Project. Credit Nick Odroft
Ski for all abilities
The region's four ski areas, The Remarkables, Coronet Peak, Cardona Alpine Resort, and Treble Cone are all within a handy 20-90 minute drive of Queenstown.
Each mountain offers a range of terrain for all levels. No matter if you're keen to conquer the basics, enjoy groomed runs, tackle off-piste, throw down some freestyle tricks or experience the thrill of night skiing, there is a mountain for you.
2023 Queenstown ski season open dates*:
*Subject to conditions. Check the individual ski area snow reports for the latest updates.
Skiers and snowboarders descend upon our picturesque town for some of the finest ski runs and views to match. Did you know that the mountains also have facilities for those who want to sightsee? Jump in the Chondola at Coronet Peak or Cardrona Alpine Resort and take in the views down the valley below.
All mountains offer a ski school for those who want to learn from scratch or for intermediate riders looking to up their game. Transport and on-mountain rentals are also on offer which makes travelling to Queenstown a breeze without the added bulk of your gear.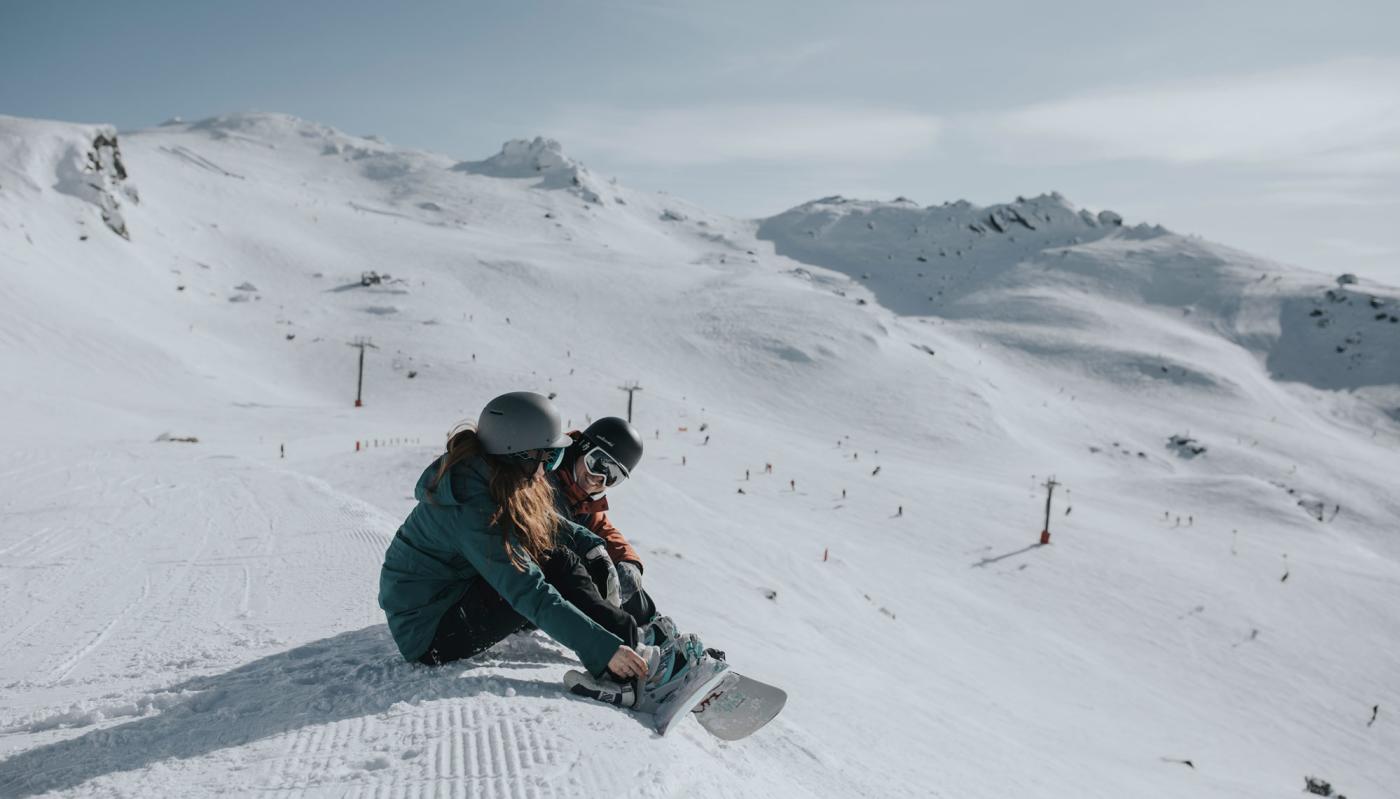 Cardrona Alpine Resort
Activities beyond the slopes
For fun beyond the mountains, Queenstown's seven golf courses and renowned wineries are just a short drive away. Central Otago produces some of the best pinot noir in the world thanks to the region's combination of shale soil and sharply defined seasons. Gibbston, referred to as the 'Valley of the Vines', is just a 20-minute drive from Queenstown and home to internationally award-winning wines. Jump on a wine tour for a great way to taste and explore the terroir of the region.
After a day on the slopes, enjoy some 'me time' at one of Queenstown's hot pools and luxury day spas.  A full range of treatments are available and it's the perfect way to revitalize mind, soul, and body – particularly those legs! In addition to spas, the region has many other ways to stretch and recover, including yoga and pilates classes as well as multi-day retreats.
The kids will also find plenty of indoor and outdoor adventures to take their fancy. Indoor skydiving, a ride on the iconic Skyline Gondola and Luge, or some indoor laser quest at Thrillzone should keep the little ones entertained. Site Trampoline is a great way to keep active on a rainy day and the best place to practice those tricks for when the mountains are open.
For a relaxing day off the slopes meander through the quaint streets of Arrowtown, explore the rich gold mining history and grab a hot beverage in one of the many bespoke eateries. Take the 45-minute scenic drive out to the Glenorchy township, with stunning snow-covered mountains leading the way. Visit the famous wharf and red shed, stroll along the Glenorchy Boardwalk or sit lakeside and soak in the winter landscapes.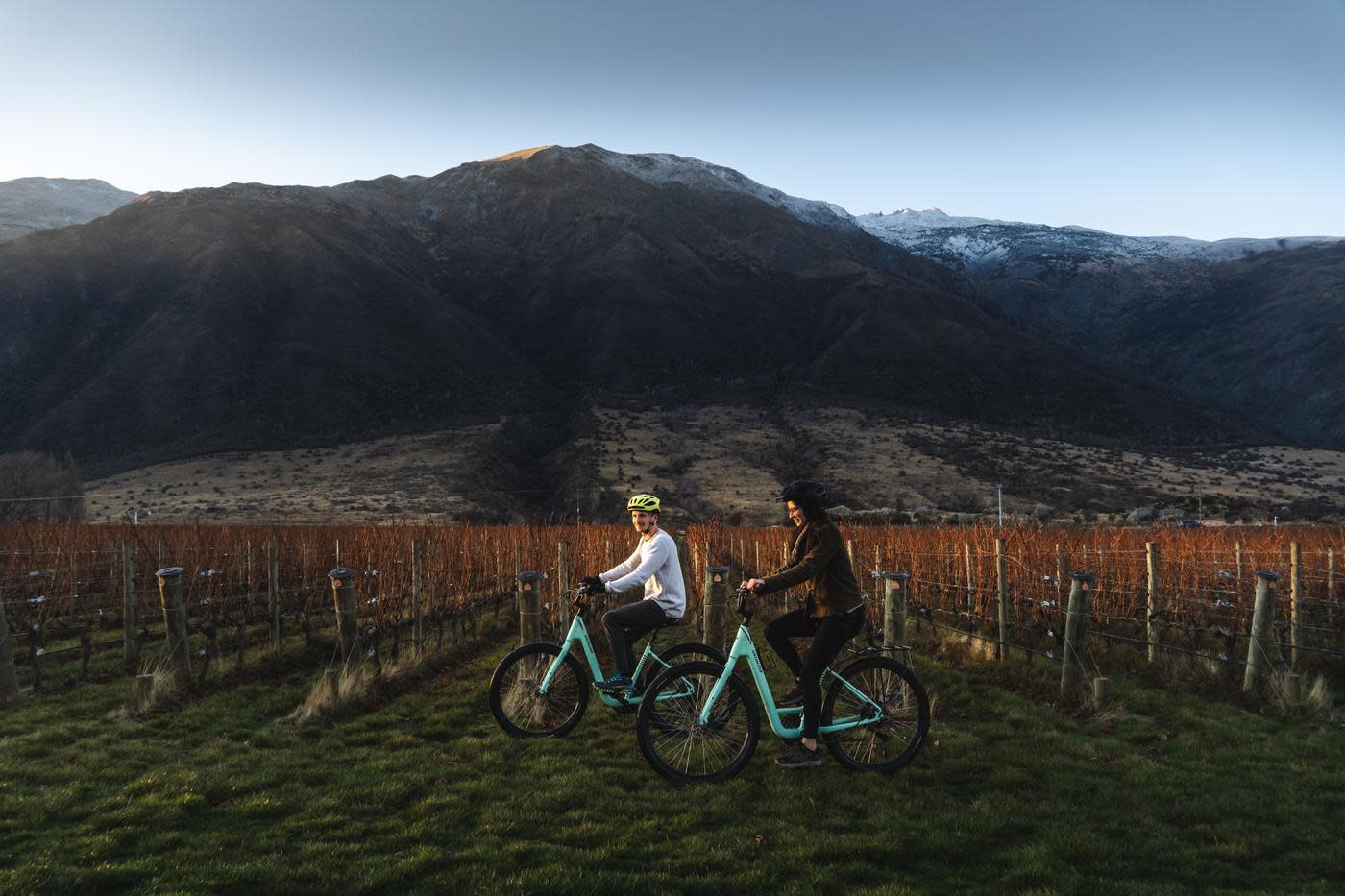 Biking through Gibbston
The après-ski low down
As the sun goes down behind the mountains each day between 5-6 pm, the days are short, crisp, and packed full of adventure in Queenstown. But with this early sunset, there is ample time to head down from the slopes and into the town centre for some après fun after dark. Winter in Queenstown is just as much about skiing and snowboarding as it is about après ski, after all. 
With an array of cosy wine bars, friendly pubs, or buzzing nightclubs, Queenstown's après ski offering is the perfect end to a day on the slopes. During the winter months, you can experience classic winter flavours from venue to venue. From hot mulled cider, craft beer and red wine on the lakefront to bespoke cocktails infused with local flavour, there's something to suit all tastes. Restaurants are also set up to cater to all with everything from fine dining and boutique eateries, to pubs and family-friendly restaurants. Sampling the variety of food, wine and craft beer available is the best reward after a day of exploring.
As the chill settles over the mountains, the lure of our glistening, snowy slopes starts calling. So whether you are a Queenstown local, New Zealander, or popping across the pond from neighbouring Australia for some winter fun, Queenstown is the place to be. Make the Southern Alps your playground this winter.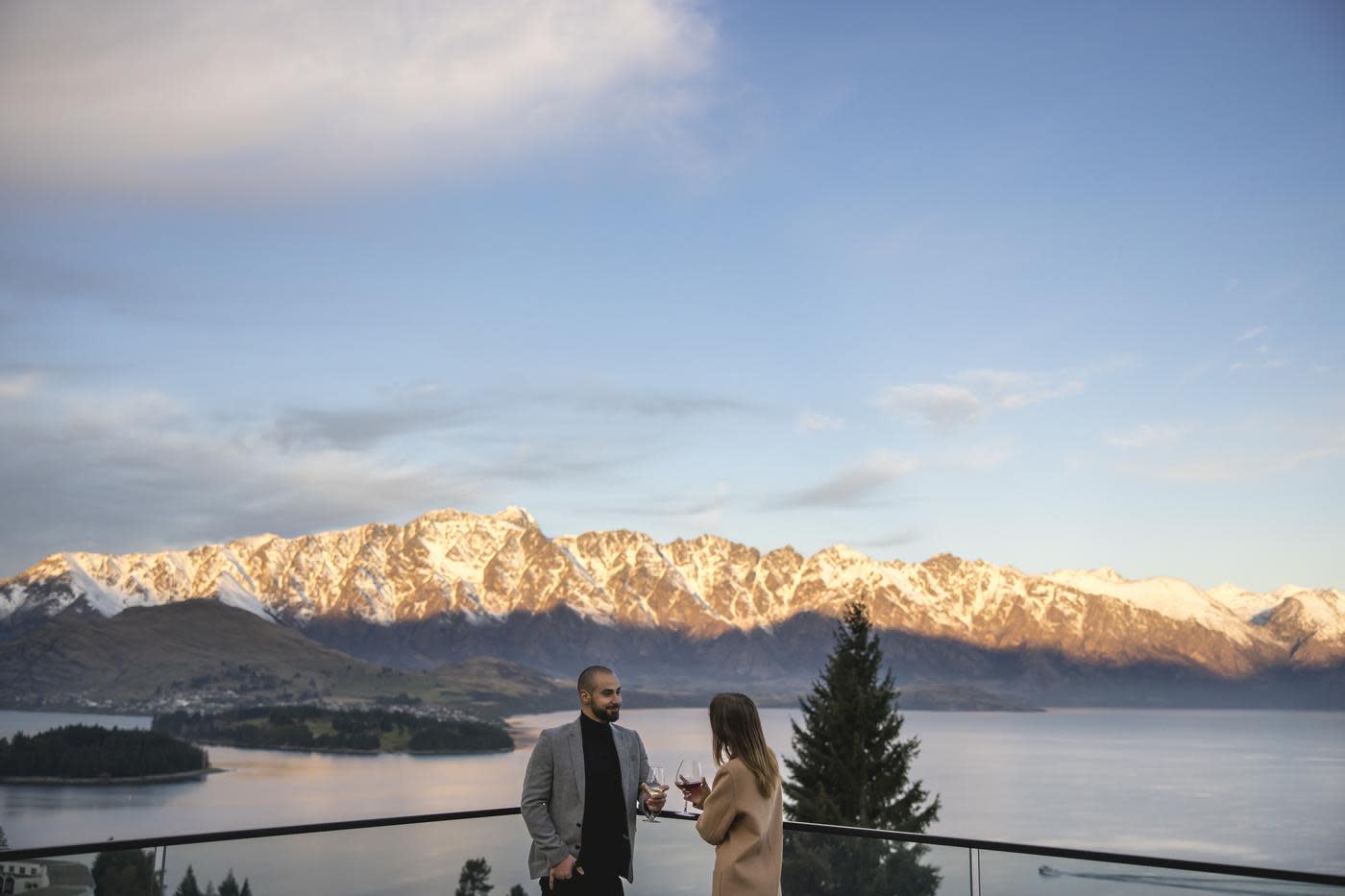 The Nest Kitchen and Bar