Getting to Queenstown is easy whether you decide to fly, drive or catch a coach.
Queenstown International Airport receives daily direct flights from Auckland, Wellington and Christchurch, and great road access on major New Zealand highways makes driving into Queenstown an easy and beautiful experience. Exploring the region once you're in Queenstown is simple with a range of local transport options.
Where is Queenstown?
Queenstown is located in the southwest corner of the South Island of New Zealand and is very accessible with multiple daily direct flights from all New Zealand's main centres. Direct scheduled services from Sydney, Brisbane, Melbourne and Gold Coast in Australia are also available.
For visitors that choose to drive, experiencing the beautiful Southern Scenic Route through Otago and Southland is a stunning way to arrive in Queenstown or meander down the South Island from the West Coast or Canterbury, taking your time to take in the scenery along the way.
Explore the interactive map to plan your scenic journey to Queenstown, New Zealand today.
Travelling to Queenstown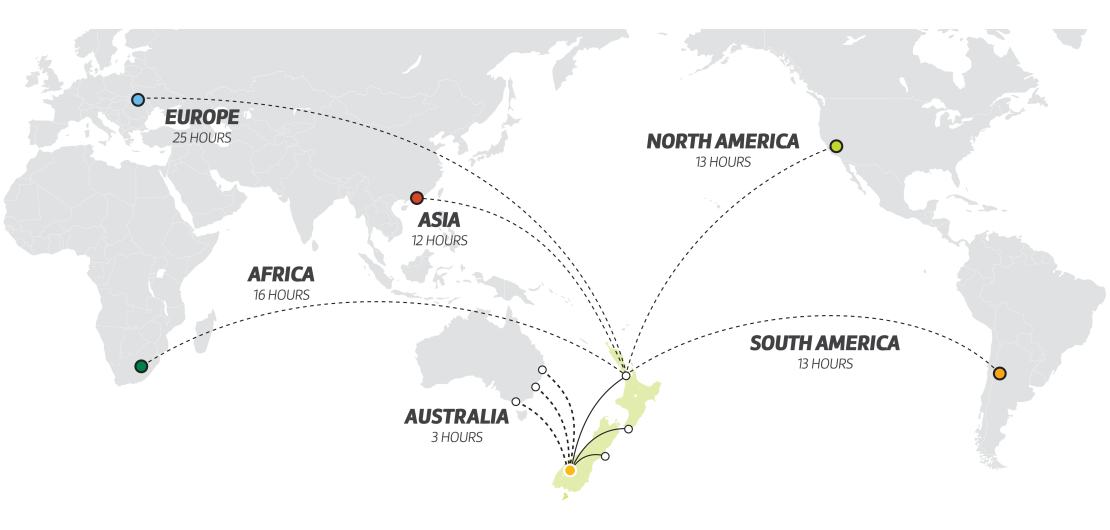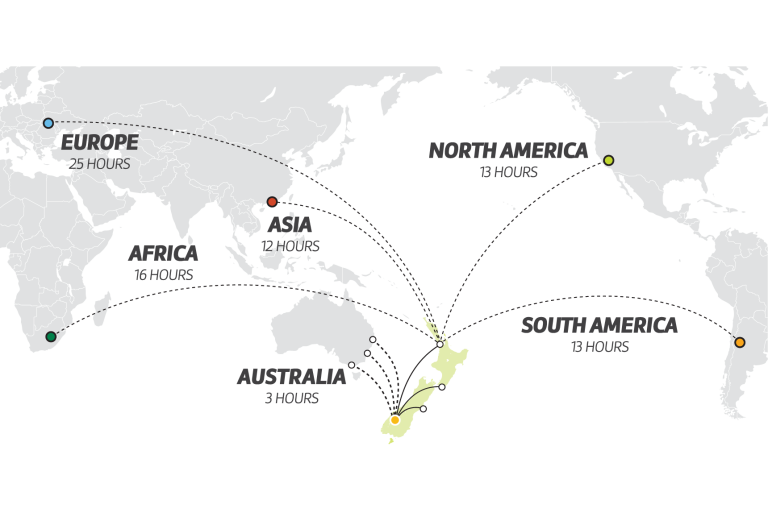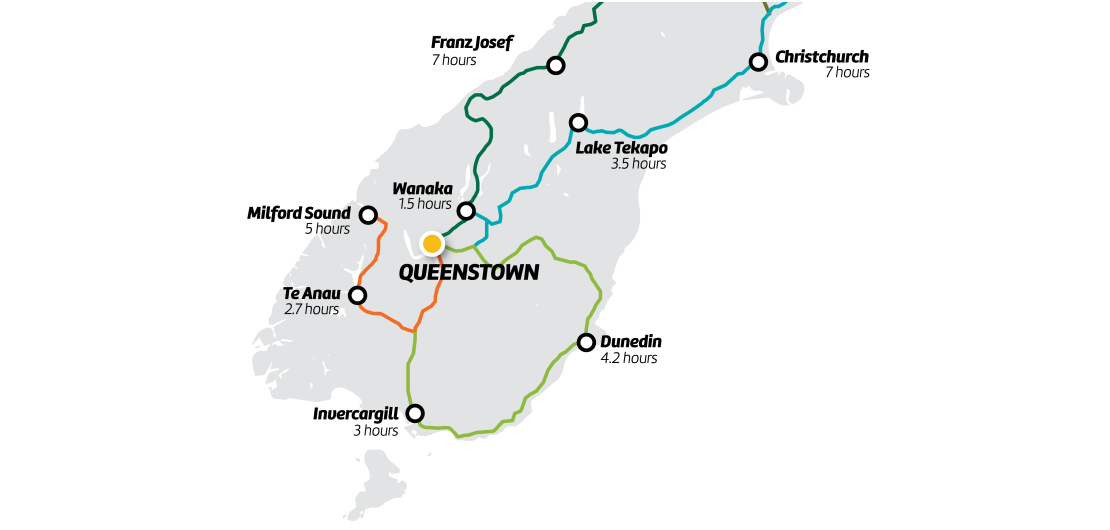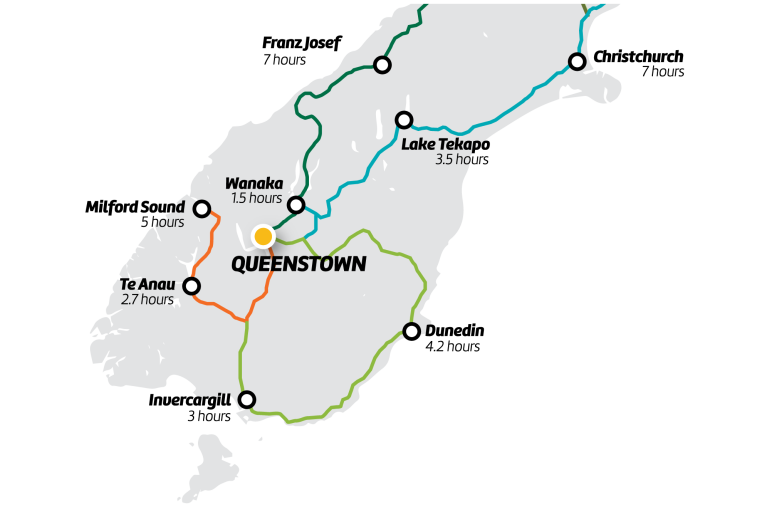 Drive to Queenstown
Driving to Queenstown is a very scenic option and if you're planning to travel by road you can drive yourself, hop on a bus or join a coach tour. Major New Zealand highways connect Queenstown to surrounding South Island regions and you'll come across incredible natural landscapes and different attractions on the drive to Queenstown.
Roads to Queenstown are well-signposted from the surrounding regions. New Zealand highways are fully sealed and well-maintained but some side roads to activities and attractions may be loose gravel and require more time and care.  
In New Zealand, we drive on the left-hand side of the road and some of our roads can be narrow and winding. It is also possible to encounter sheep and cattle on rural roads in New Zealand and ice or snow on the roads in winter. It pays to give yourself extra time and to understand New Zealand road rules and signs. Visit Drivesafe New Zealand for helpful tips and information if you are planning a self-drive trip to Queenstown.
There are daily buses to Queenstown from Wanaka, Dunedin, Invercargill and Christchurch to Queenstown as well as scheduled coach tours and backpacker tour buses. There are also many rental car and motor home depots based at Queenstown Airport.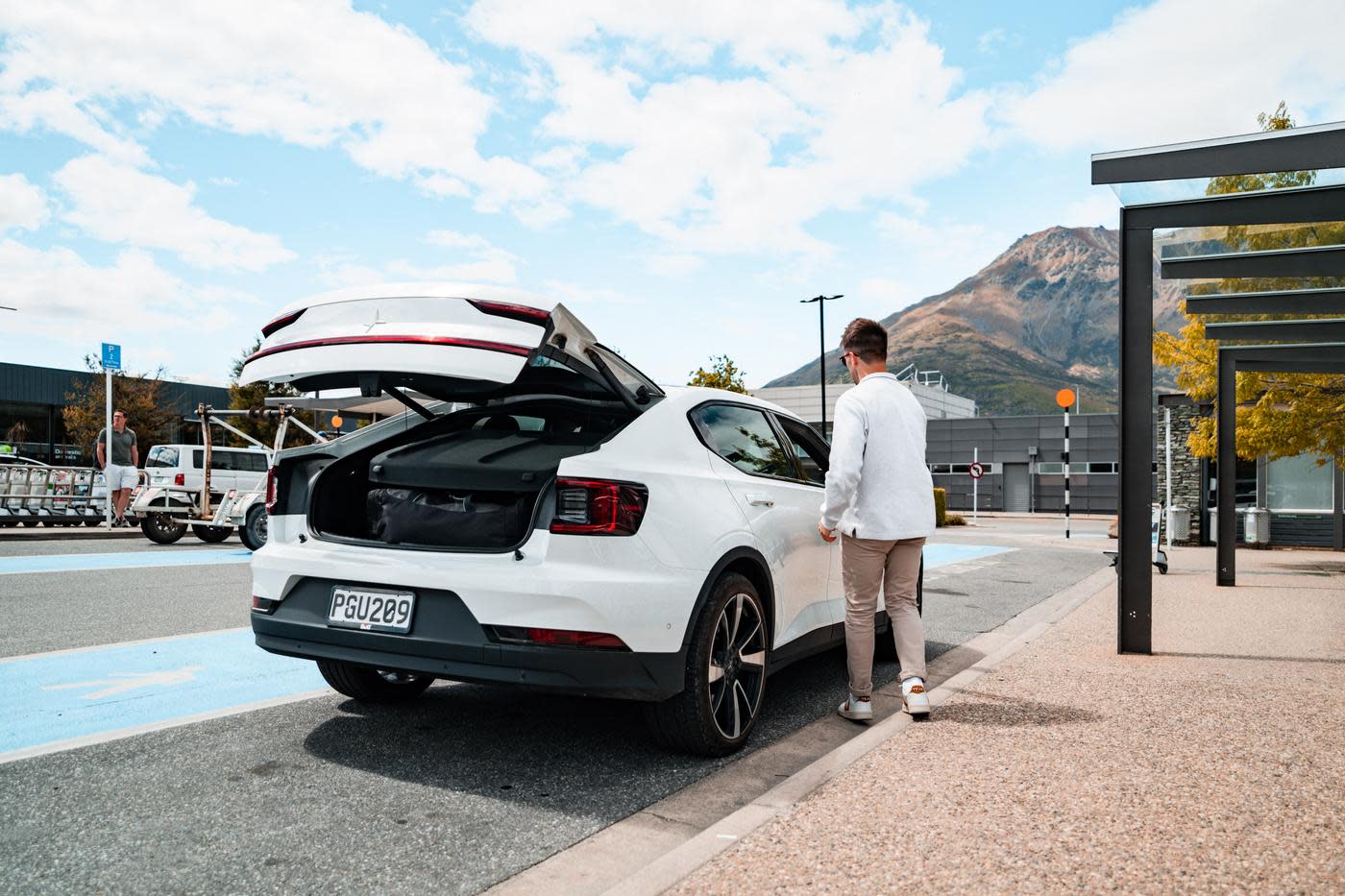 Queenstown Airport arrivals
Fly to Queenstown
Queenstown Airport is the gateway to the lower South Island. Located 15 minutes from downtown Queenstown, the Queenstown Airport services the region with daily domestic flights operated by Air New Zealand and Jetstar. It receives direct scheduled services from New Zealand's main metropolitan ports of Auckland, Wellington and Christchurch.
Direct scheduled services from Australia's eastern ports Sydney, Brisbane, Melbourne and Gold Coast are also available via Air New Zealand, Jetstar, Qantas and Virgin Australia. Getting into the town centre from the airport is easy with shuttles, taxi services, buses and rental cars available. Bus fares are just $2 if you have a Bee Card (or $4 cash) and preloaded Bee Cards can be purchased from the Paper Plus store next to domestic arrivals.
Queenstown Airport is also New Zealand's busiest helicopter base and is frequently used for 'flightseeing' on fixed-wing and rotary-wing aircraft. There are many great options available for visitors to explore the region by air.
Getting around
Getting around Queenstown is easy, whether you use the $2 public bus network, explore the region by foot or by bike on the Queenstown Trail, or hire your own car. For an extra scenic option, hop on the Queenstown ferry network which operates scheduled daily services from Frankton to Queenstown. You can check out the ferry timetable here. 
Many local activity operators also offer free transport from the town centre and hotels making it easy to get out and about and experience what the region has to offer. The compact downtown area of Queenstown means many restaurants, attractions and accommodation are within walking distance of each other.
If you prefer to self-drive, Queenstown is home to the best-known rental car brands from around New Zealand and the world. With car rental outlets at Queenstown International Airport, picking up or dropping off your rental vehicle is easy and convenient. 
Hiring an EV is a great option to explore Queenstown sustainably and with a growing network of EV infrastructure around New Zealand, convenient charging is never far away. Some rental companies also provide bike racks as an add-on for their vehicles if you're looking to bring your own bike with you, or you can hire a bike when you're here.
Campervans and motorhomes are a great way to explore the Queenstown region and hiring a campervan or motorhome in Queenstown is easy, with both internationally recognised and local vehicle hire companies operating in the town centre or airport.
For the ultimate convenience, there are multiple taxi and limousine services available in and around Queenstown.