New Zealand's natural beauty is on display in the grand landscapes of Fiordland. Fiordland National Park is one of the Southern Hemisphere's great wilderness regions and has achieved World Heritage Status.
Home to Mitre Peak, the stunning fiords of Milford Sound and Doubtful Sound, the beautiful lakeside towns of Te Anau and Manapouri and the Kepler, Milford and Routeburn Tracks, Fiordland is known as the sightseeing and walking capital of the world and is on many visitors' must-see list. Whether you're taking a day trip from Queenstown, enjoying a scenic flight over the Sounds, or a leisurely overnight boat cruise, you can explore the natural wonders and beauty of the region.
Te Anau & Manapouri
The townships of Te Anau and Manapouri (both 2.5 hours' drive from Queenstown) provide lakeside bases to explore New Zealand's largest National Park and pristine World Heritage area.
Milford Sound
There are many photographic and walking stops on the scenic four hour drive between Queenstown and Milford Sound so allow plenty of time. Once there you can explore Milford Sound by kayak, on a boat cruise, or go for a hike and look down on Sound from above. For an underwater perspective on this unique environment take a guided diving experience or visit the underwater observatory.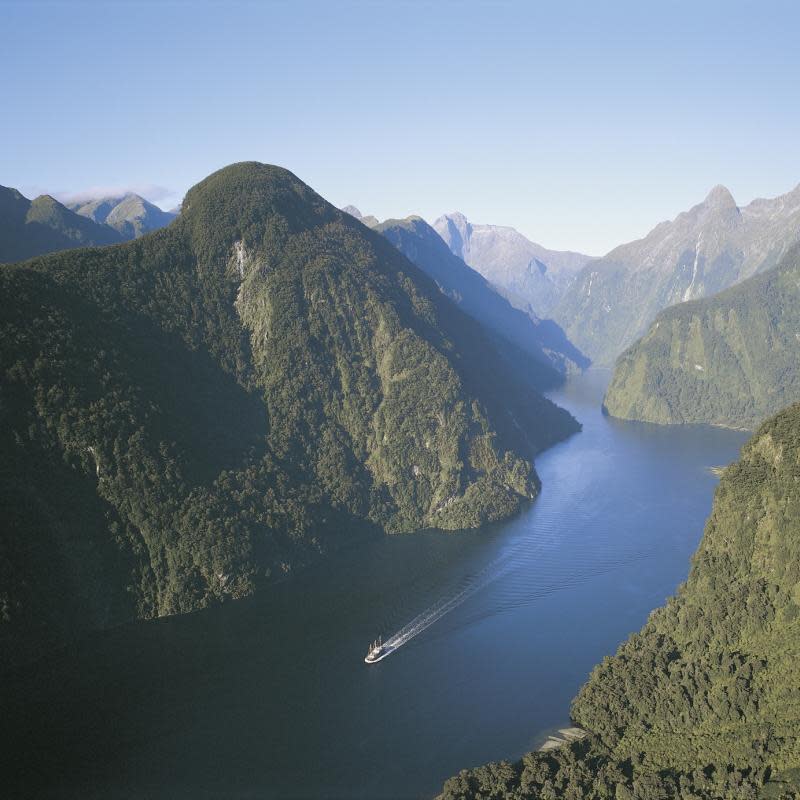 Doubtful Sound
Doubtful Sound is more remote than its famous sister, and is best known for its silent grandeur. Journey across Lake Manapouri by boat and then by road over Wilmot Pass to take a memorable cruise from Deep Cove. Explore aboard a day excursion, overnight cruise or kayak and make sure you look out for Doubtful Sound's resident pod of bottle nosed dolphins.
Hiking in Fiordland National Park
Fiordland National Park is home to some of the world's greatest multi-day hikes including the Milford, Kepler, Routeburn, Tuatapere Hump Ridge, Greenstone and Hollyford Tracks. Walks on these tracks, and many others in the region, can be undertaken with a guide or independently.
More Information