In the excitement of booking your Queenstown trip it can be easy to overlook some of the essentials you need for your visit. Depending on when you travel you'll need to think about what to pack as well as crucial information such as visa requirements, medical necessities, driving in New Zealand and money for your trip.
Weather in Queenstown
While New Zealand has a largely temperate climate, the South Island and particularly inland Queenstown can be as cold as -10 in the winter months due to the alpine environment. Rainfall is moderate and sunshine hours are long but the continental-like climate means long, hot summers and cool, crisp winters.
The warmest months in Queenstown are December, January and February, and the coldest are June, July and August. In summer, the average maximum temperature ranges between 20 to 30ºC and in winter between -2 to 8 ºC. It pays to learn more about Queenstown's seasons and pack clothing that has these temperature extremes in mind.
New Zealand is generally a reasonably informal place, so smart casual clothes will be appropriate for most places you want to go, apart from high-end upmarket restaurants and bars. One outfit for this type of outing would be sufficient. In general, you'll want to prepare for adventure and discovery and even if you aren't planning on hiking or camping, that means adaptable clothing that you can move in easily. Sturdy footwear is a good idea, there are lots of opportunities to get off the beaten track in Queenstown, so solid footwear that is comfortable for walking in is a good idea.
In summer you may fancy a dip in one of the many lakes, so pack your 'togs' (kiwi for swimsuit). The lakes and rivers are mountain and glacially fed so the temperature stays relatively cool, in the 8 - 11 ºC range.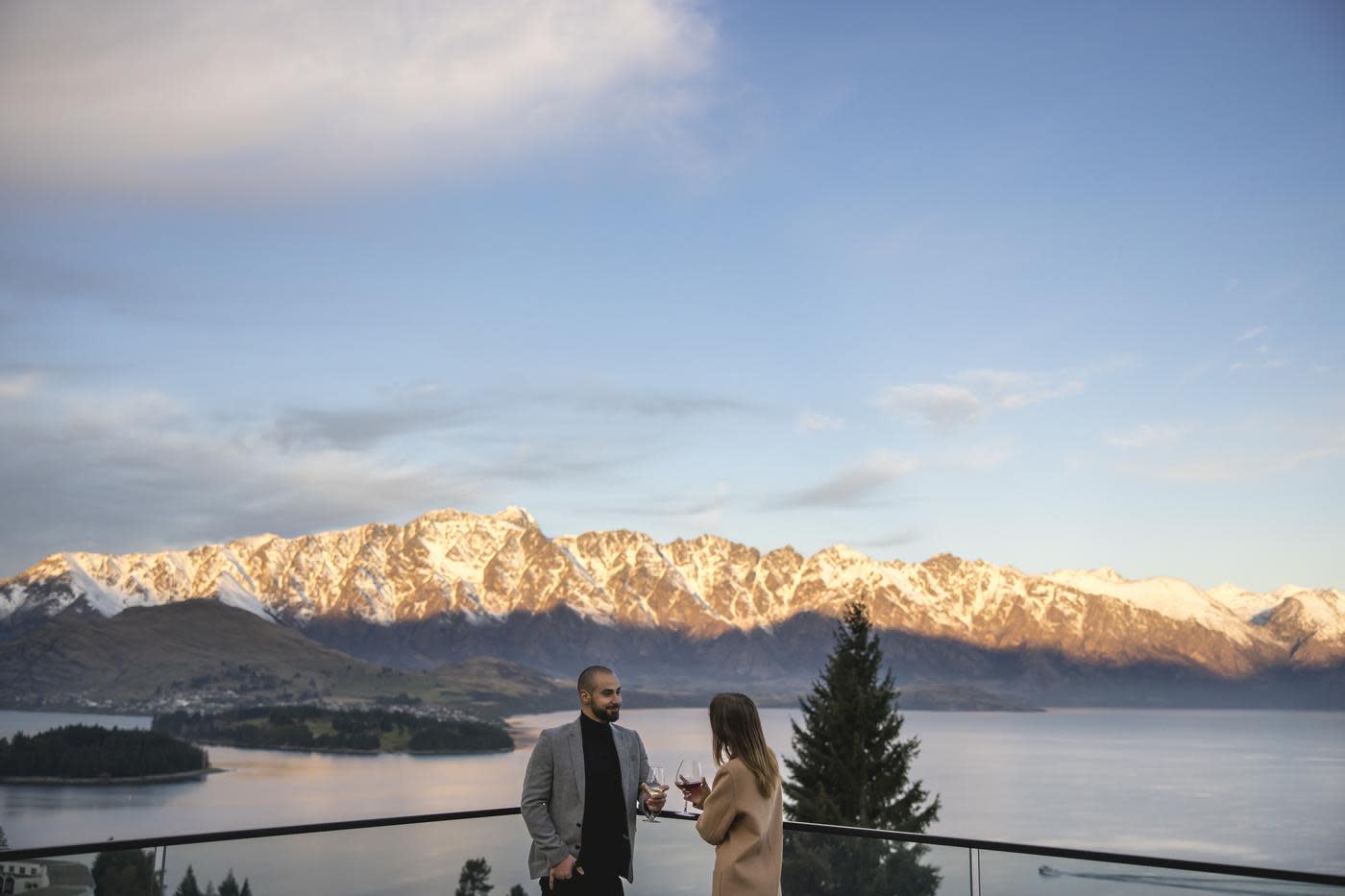 Nest Restaurant and Bar, Fernhill
Exploring the outdoors
If you plan to get out and about in the great outdoors in Queenstown there are a few things to remember. If you are travelling in the summer months it's a good idea to pack loose-fitting clothing, this will help you to keep cool. However, as Queenstown is an alpine region you can encounter cold weather any time of the year – and it's not uncommon to experience four seasons in one day here!
A good way to prepare for this is to wear two or three thin layers of clothing, rather than one heavy layer. Fabrics such as merino wool are good insulators and great for layering and it's important to pack wet weather gear if you are heading into the outdoors.
In the winter months, Queenstown gets cool, with temperatures dropping into the negatives regularly, and you need to be prepared so you can enjoy your visit. Although the snow generally stays on the mountains and not the downtown area, it does snow to ground level at least a few times each winter and can settle for days. While all gear can be purchased once you get here, it pays to have layers, a warm jacket, gloves and hat for your arrival. Ski and snowboard attire and equipment is easy to hire in Queenstown, you can literally hire everything, but it pays to book in advance.
There are plenty of things you need to consider before you set off into the outdoors. Familiarise yourself with the Department of Conservation's Outdoor Safety Code and head to their site to get up to the minute track information and safety alerts for areas that may be experiencing changes, weather warnings and any permits or licenses you might require.
It also pays to check out the Adventure Smart website which has tips, links and advice for you to plan and prepare for any activity safely, and for any level of ability.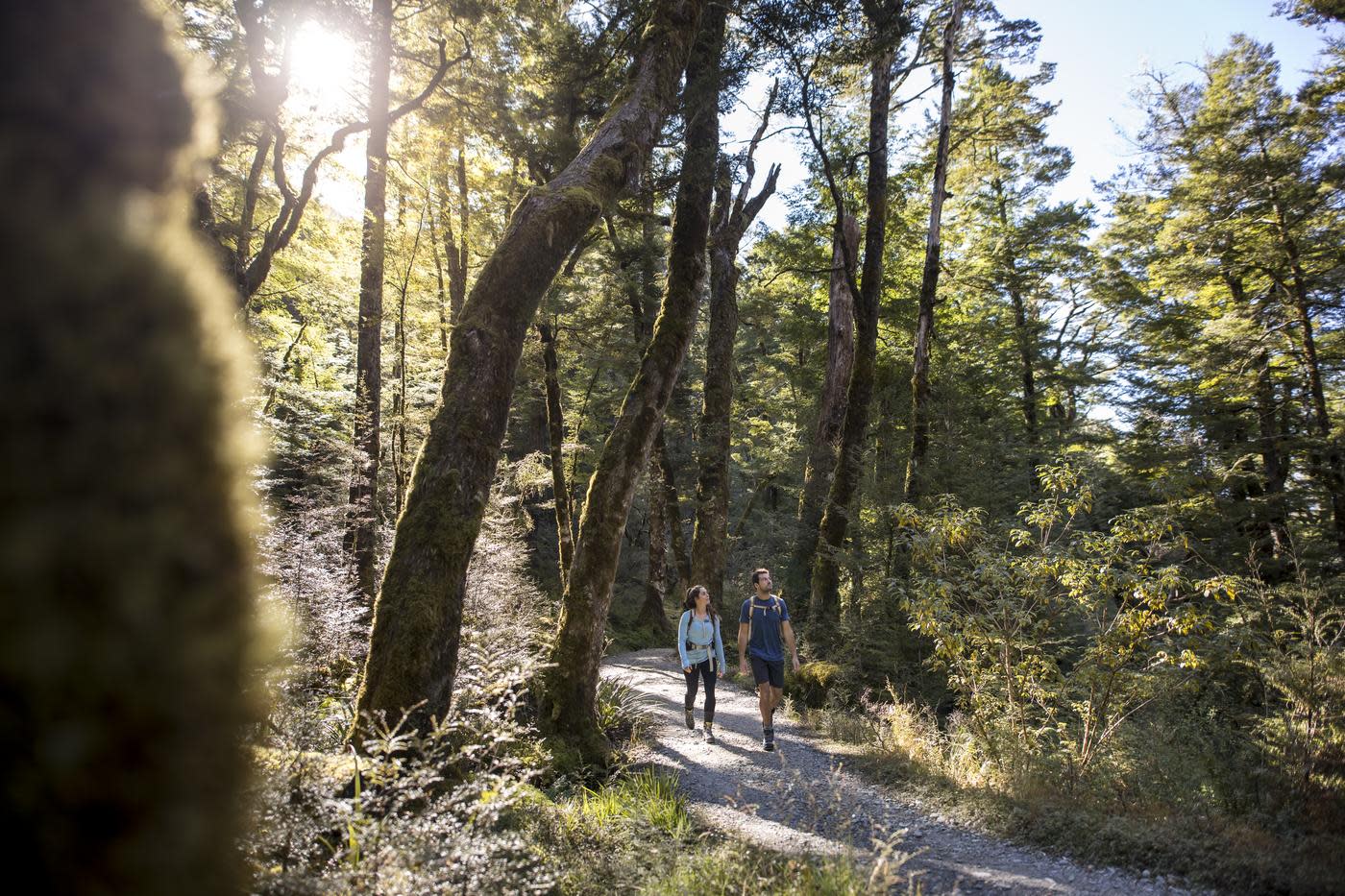 Routeburn Track Nature Walk
Responsible camping in Queenstown
If you are planning on camping you need to be aware of the fire restrictions in the area. All year-round fires and fireworks are strictly prohibited in the 'red zone' determined by the Queenstown Lakes District Council. For details about the 'red zone' see Queenstown Lakes District Council. Fires should only be lit in established fireplaces; keep them small and have water nearby. Do not cut down or use live vegetation, and ensure that the fire is out before leaving the area. It is recommended that trampers (hikers) use gas stoves for cooking.
Before planning your camping trip, make sure you check out these tips about responsible camping.
Travel insurance
Travel insurance covers an agreed-upon set of circumstances as set forth in the insurance contract. Many travel insurers will not cover accidents that occur under certain circumstances, please take the time to understand and select the correct travel insurance policy before embarking on your trip.
Visa information
Before you get to Queenstown you need to be prepared with a valid passport and the appropriate visa requirements for immigration. You do not need a visa to visit New Zealand if you are:
A New Zealand or Australian citizen or resident,

A UK citizen and/or passport holder (you can stay up to six months), or

A citizen of a country which has a visa waiver agreement with New Zealand (you can stay up to three months).
If you are applying for a New Zealand visa or Working Holiday visa there may be health requirements and information that you need to provide in order to get your visa. Please visit the Immigration New Zealand site to check your requirements and eligibility.
Currency, banks & money exchange
The official currency of New Zealand is the New Zealand dollar and there are many places to exchange foreign currency in Queenstown. Travelex is open 7 days a week, 9:00am to 4:00pm and international credit cards are widely accepted. ATMs (automatic teller machines) are widely available in Queenstown and Arrowtown.
Internet, phone and post
Free WiFi hotspots are readily available at local cafes and businesses, as well as Queenstown, Frankton and Arrowtown libraries.
If you want to call or write home visit NZ Post's Queenstown Box Lobby at 43 Ballarat Street.  The Queenstown Box Lobby is open Monday to Friday 8.00am to 4:00pm. There is a full national and international postal and courier service available.
If you want to phone home instead, and need assistance, the National Telephone Directory Assistance numbers are as follows; for New Zealand Telephone Numbers call 018; for International Telephone Numbers call 0172.  You can also buy pre-paid calling cards from any local convenience store that let you make international toll calls from any phone.
Emergency services in Queenstown
It's important to remember to pack any medication that you require and ensure you have enough packed for the duration of your stay.
If you should require a doctor once you are in Queenstown, or are in an emergency situation, there are some important numbers to know. The New Zealand Emergency Services of Ambulance, Fire and Police can all be reached by dialling 111 from any public or private telephone or mobile phone in New Zealand.
There are a number of medical centres in Queenstown and Arrowtown:
Queenstown Medical Centre
9 Isle Street, Queenstown
Phone +64 3 441-0500
Queenstown Medical Centre, Frankton
Remarkables Park
Phone +64 3 441-0500
Arrowtown Surgery
Berkshire Street, Arrowtown
Phone +64 3 442-1215
Wakatipu Medical Centre
11 McBride Street, Frankton
Phone +64 3 442 2288
For emergencies
The Lakes District Hospital
20 Douglas Street, Frankton
Phone +64 3 441-0015
To report an incident
Queenstown Police
11 Camp Street, town centre
Phone +64 3 441 1600
Driving in New Zealand
If you are planning a self-drive holiday it's good to understand that driving in New Zealand can be different to driving at home. We drive on the left hand side of the road, meaning the driver's seat is on the right hand side of the car. New Zealand roads can be narrow and winding with varying conditions. It pays to take lots of breaks and leave plenty of time to reach your destination. Winter driving in Queenstown can be treacherous with snow, ice and fog on the roads. Make sure you've checked the weather forecast, drive carefully and carry snow chains that you know how to fit. If you aren't a confident driver it is best to consider the public transport options and shuttle and taxi services to get around town. There are also plenty of operators who offer mountain transport in winter, track transport and transfers to popular places like Milford and Doubtful Sounds. For more information on driving in New Zealand visit the New Zealand Transport Agency website or DriveSafe website.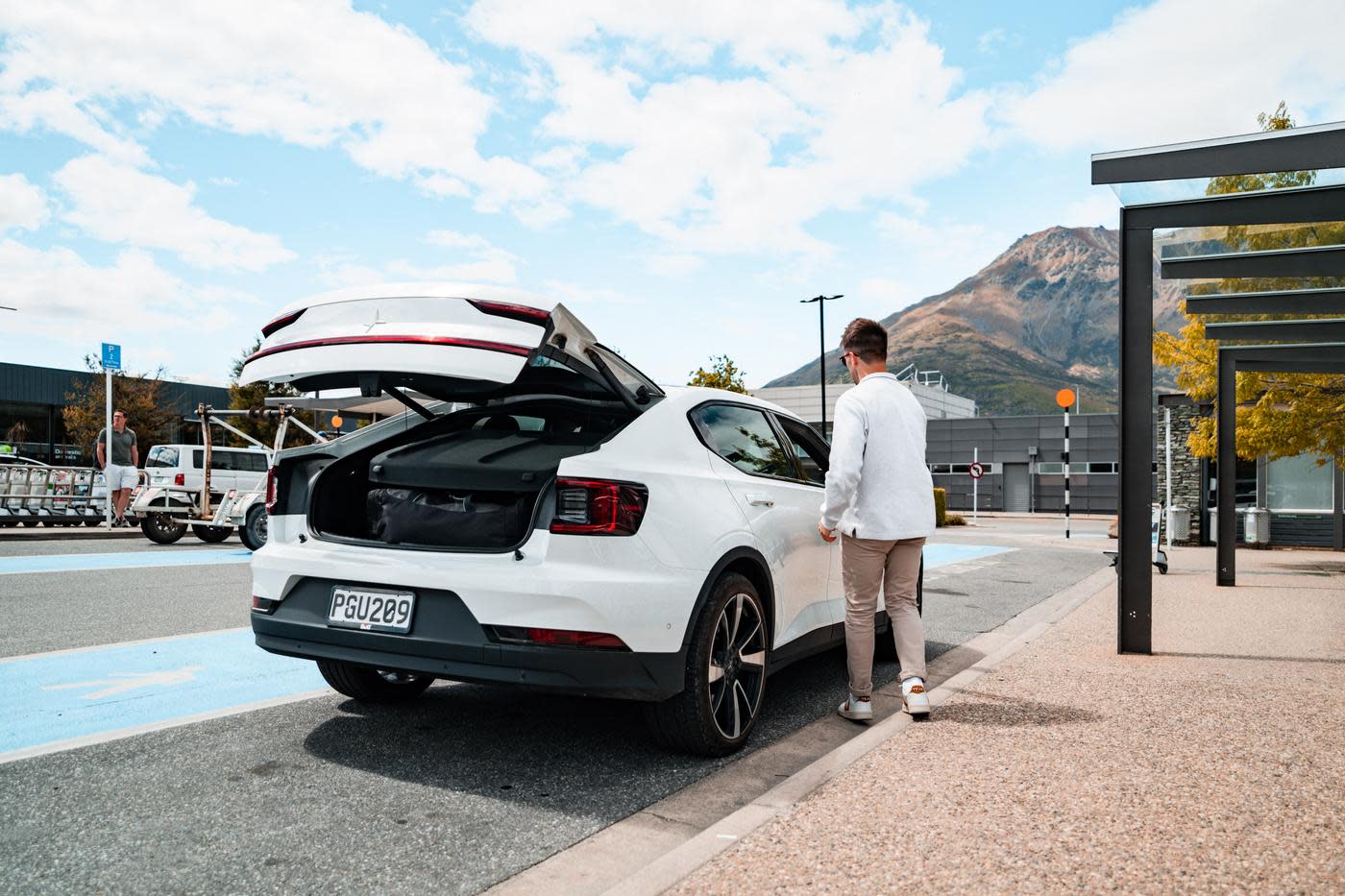 Queenstown Airport
Travelling with small children?
Leave your car seat at home and hire baby equipment from Tots on Tour. Tots on Tour provide baby hire equipment from car restraints to prams, cots, high chairs, toys and more for families visiting Queenstown. Tots on Tour can liaise directly with your rental car company to deliver and set up car seats before you arrive, and also provide babysitting and nanny services.
Booking in advance
It pays to book your accommodation in advance, particularly if you are visiting Queenstown in summer or winter, which are the peak seasons. Accommodation options range from budget to five-star, with international chains of hotels and motels alongside backpacker properties, B&Bs, luxury lodges and hosted options. Whether you stay within walking distance of town, or venture a little further out, most accommodation has spectacular views. Hospitable and welcoming, your hosts will go out of their way to give tips on special lakeside picnic spots, and wonderful trails to walk or point you in the direction of iconic local events.
Public holidays in Queenstown
There are eleven public holidays in New Zealand that are observed and these are listed below. It is common for restaurants and hospitality outlets to add a surcharge of 12-15% on public holidays so it pays to check in advance. This information is usually present in their menus or on signs at the counter or front door, but don't hesitate to ask.
Good Friday, Easter Sunday, ANZAC Day and Christmas Day have specific trading laws and some services and products, including the sale of alcohol, may be limited or unavailable.
New Zealand and Central Otago's public holidays for 2023 are:
New Year's Day - Sunday 1 January or Tuesday 3 January
Day after New Year's Day - Monday 2 January
Waitangi Day - Monday 6 February
Otago Anniversary Day - Thursday 23 March
Good Friday - Friday 7 April
Easter Monday - Monday 10 April
Anzac Day - Tuesday 25 April
King's Birthday - Monday 5 June
Matariki - Friday 14 July
Labour Day - Monday 23 October
Christmas Day - Monday 25 December
Boxing Day - Tuesday 26 December
With these useful tips in hand, you're ready to start planning a fun and safe holiday in Queenstown.