Gibbston, the Valley of the Vines, is home to some of the region's oldest vineyards nestled between ruggedly beautiful schist mountains.  
Located a 25 minute drive from downtown Queenstown you'll find Gibbston, the heart of Central Otago wine country and home to a number of wineries, restaurants, pubs, boutique accommodation, and the historic Kawarau Suspension Bridge. Famous for producing award-winning pinot noir wines, you'll find a collection of cellar doors lined up along the valley offering tastings of a wide variety of wines from throughout Central Otago's six sub-regions. There's also delicious food to savour at several restaurants and pubs serving up atmospheric, al fresco dining.
Hop on a shuttle, bike around the vines, or go on a guided wine tour – there's all sorts of ways to taste the terroir, and plenty more to eat, see and do along the way.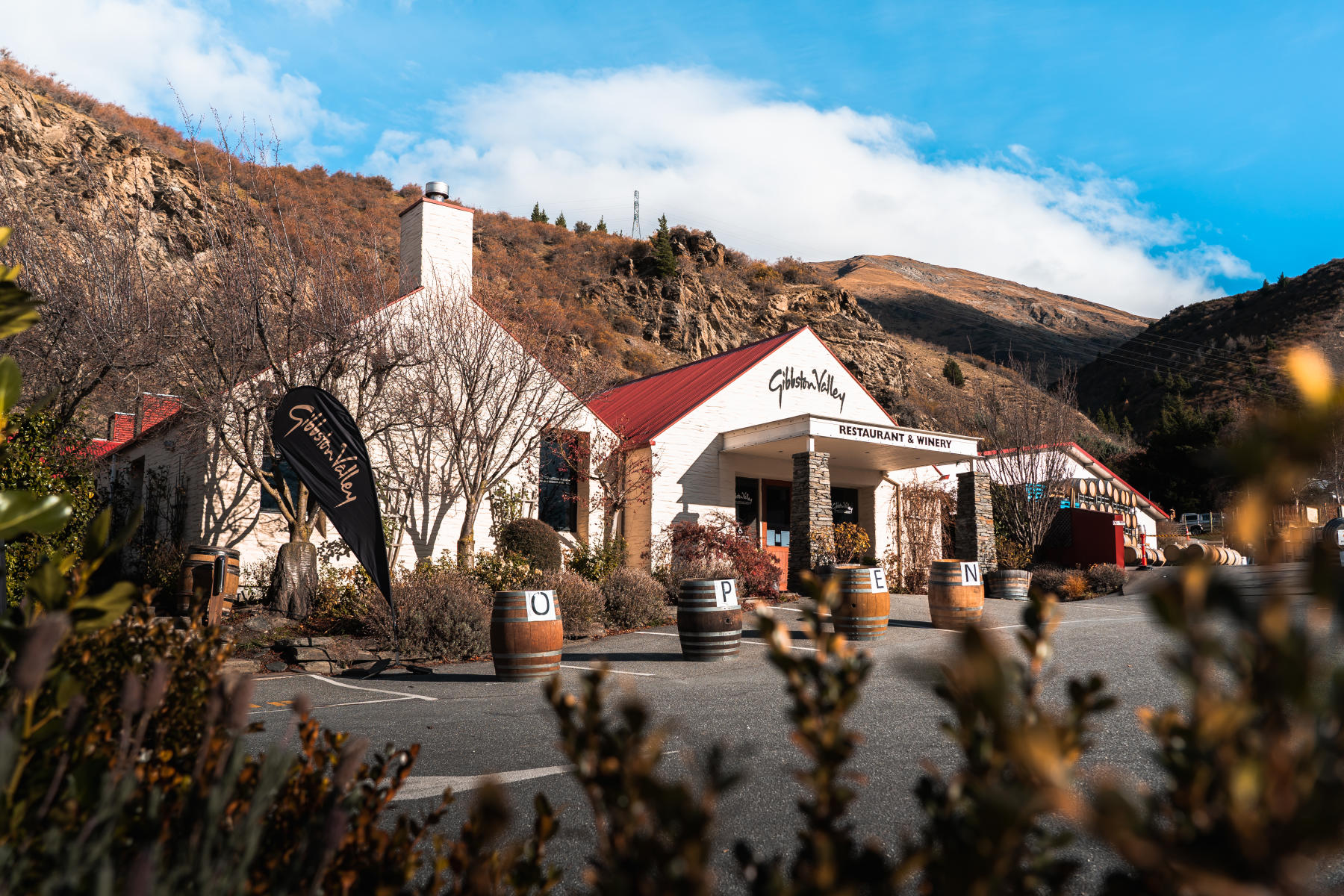 Gibbston Valley Winery
Best ways to explore Gibbston
Gibbston is located a scenic 25-minute drive from downtown Queenstown, and is a wonderful place to explore by car, bus, bike, or on foot. A great place to spend the day, there are beautiful boutique lodges, an historic cottage, or charming B&Bs to stay at if one afternoon is just not enough. 
Guided Wine Tours
You're spoilt for choice when it comes to guided wine tours around Queenstown, with a range of different tour operators offering everything from popular group trips to private tours customised to specific interests and tastes. 
The Queenstown Trail
A fantastic option for cyclists, the Queenstown Trail connects Gibbston with the rest of the region, and is one of the most scenic ways to explore Gibbston. The Gibbston River Trail starts at the Kawarau Bridge, home of the world's first commercial bungy jumping operation, and then meanders past the dozen or so cellar doors and other attractions lining Gibbston. You can ride from Queenstown (6-8 hours/40kms), Arrowtown (2-3 hours/13kms), or start your journey at the beginning of Gibbston. Bike tour operators will collect you at the end of the day so you don't have to do the full there-and-back.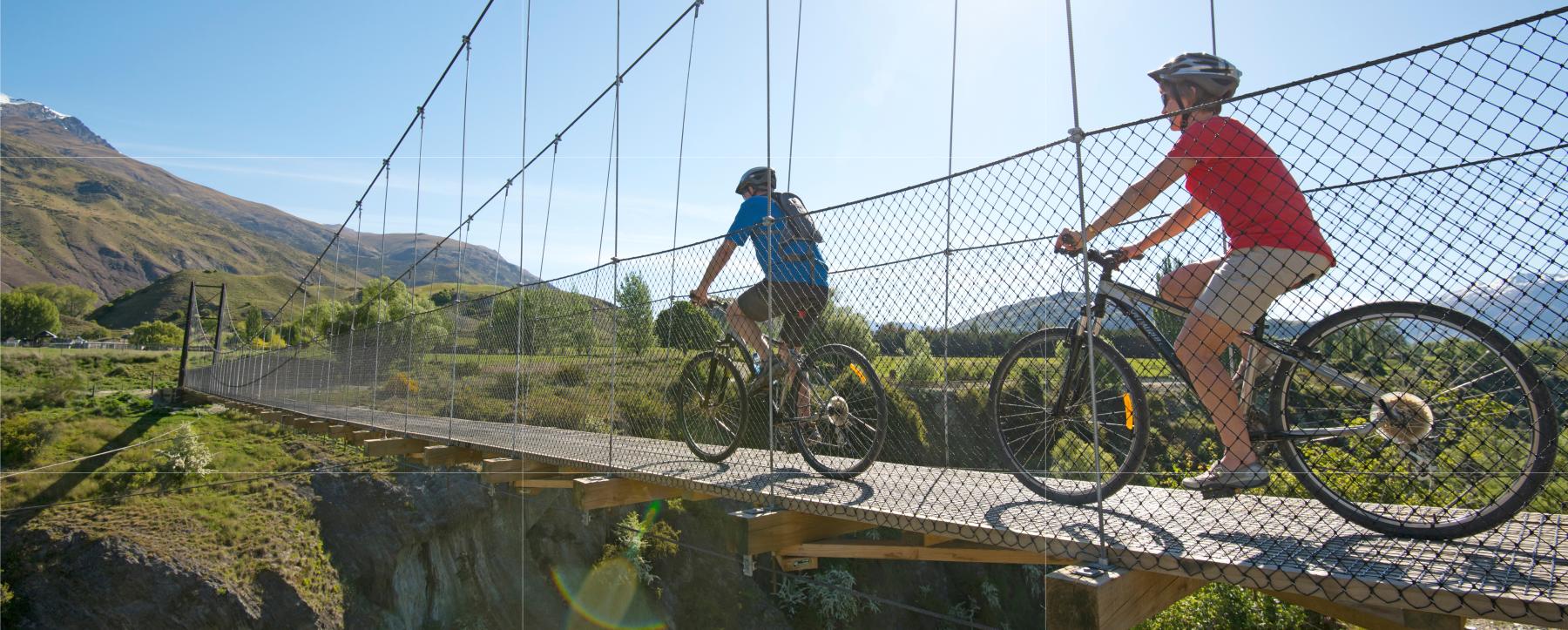 Biking across the Edgar Bridge, Gibbston
Gibbston Valley Shuttle
An easy transport option from downtown Queenstown, this shuttle bus runs 2–3 times daily to Gibbston Valley Winery, one of Central Otago's pioneer producers. Located at the gateway to Gibbston, the winery offers bike hire, a cheesery and gift shop alongside an impressive cellar door. 
Hop-on Hop Off shuttle options
Hop-on Hop-off shuttles are a fun and flexible way to get around the wineries without expending too much energy. Get tasting tips on the journey out to Gibbston, then hop-off to start your self-guided tour. Hop On Hop Off and Wine Hopper Bus both offer services departing several times a day from downtown Queenstown.
Self-drive
Pick up a wine map, designate your driver, and create your own wine tour of Gibbston and beyond. Highlights between Queenstown and Gibbston include historic Arrowtown, Amisfield Bistro & Cellar Door near pretty Lake Hayes, and Chard Farm winery perched high on the river terraces at the entrance to the valley.
Things to Do in Gibbston
Gibbston is known for its array of award-winning wineries, restaurants, and beautiful boutique accommodation, however there are also plenty more adventures and excitement to be had in Gibbston, including jet sprint boats and canyoning. Explore the map below to find out more.
Gibbston Stories
All Stories
Our Stories
Your Stories
Explore further afield
The wine tour continues in Central Otago, New Zealand's southernmost wine region. Central Otago is known for its vast, rugged landscapes, interesting heritage, expansive cycling trails, and of course incredible food and wine. Tag an afternoon at a few Central Otago wineries onto your Gibbston tour, or stay for a while and explore all that the region has to offer.