Queenstown delivers an unforgettable autumn experience. The outstanding golden and red hues dominate the hills around the region and contrast strikingly with the deep blue of our lakes and rivers. Here you can truly immerse yourself in the wonder of the season.
Of the four distinct seasons, autumn's arrival in a blaze of reds and golds is the most dramatic, attracting visitors, artists and photographers from around the world. 
The fantastic line-up of events and the season's beauty make Queenstown an ideal place to visit in autumn and there are experiences to suit any holiday, whether you're looking for adventure, relaxation, luxury or a family break.
There is also a seemingly endless supply of world-renowned experiences ranging from bungy jumping, ziplining and paragliding to horse trekking and rafting.
For a more relaxed pace, tee up a round of golf, sample award-winning Central Otago wines and superb local cuisine, enjoy a treatment at a luxury spa or explore the town's many shops, galleries, bars, cafes and restaurants.
In downtown Queenstown, there's stylish bistro food, celebrity chef restaurants, traditional pub meals, designer burgers and a variety of ethnic cuisine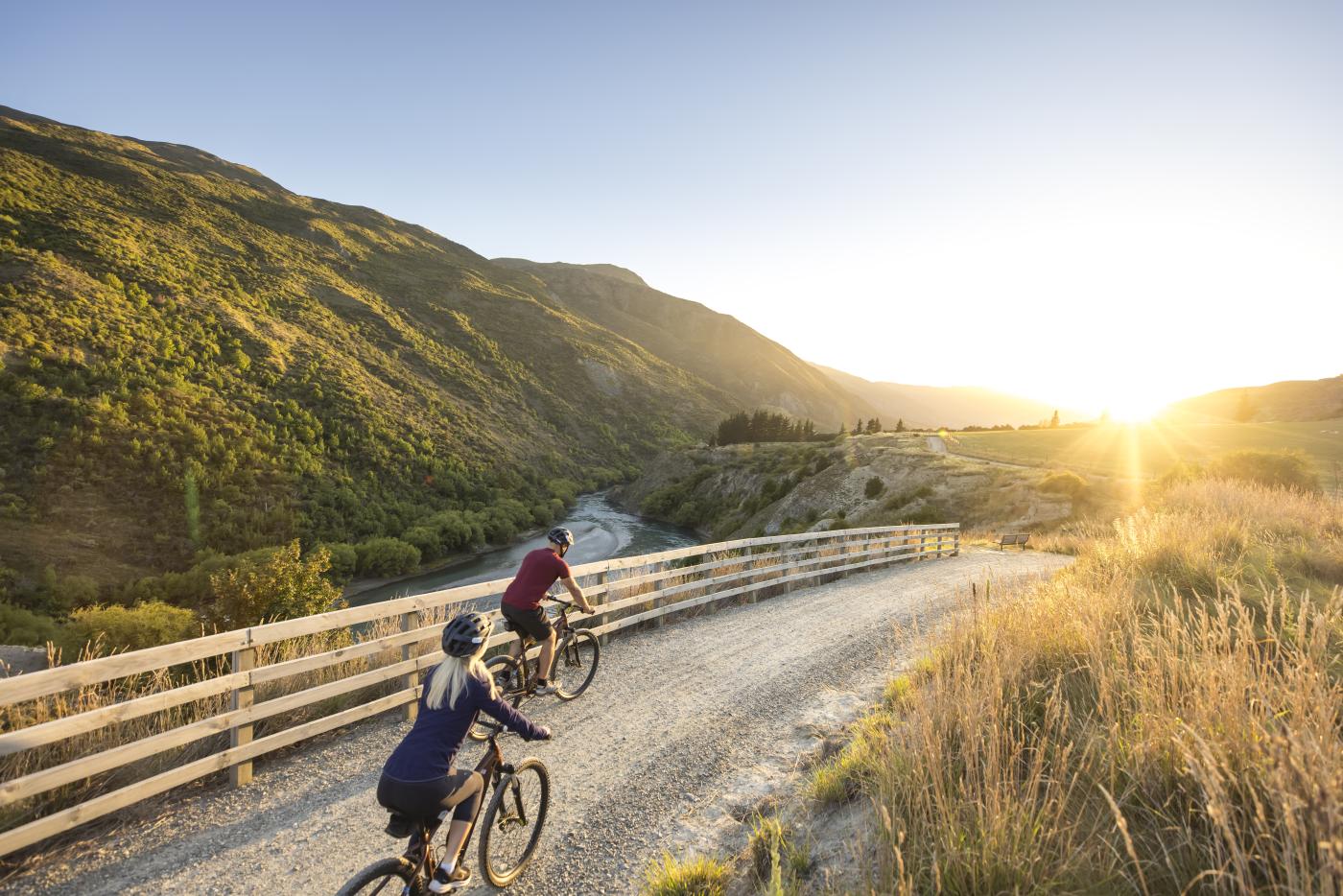 Biking the Gibbston River Trail
Queenstown autumn temperatures
Autumn temperatures are cooler at sunrise and sunset but the warm sunny days are ideal for exploring the region and enjoying the activities and attractions that make Queenstown famous. Discover the backcountry on foot or bike or make the most of the huge network of trails around the region.
Get outdoors
The Queenstown Trail is a New Zealand Great Ride and the 130km network of trails in the Wakatipu basin wind between rivers, lakes and mountain ranges giving easy access to some iconic Queenstown vistas and experiences. Popular spots such as Queenstown Bay, Frankton, Lake Hayes, Arrowtown or Gibbston's 'valley of vines' can all be accessed via the Queenstown Trail—and many of these spots offer especially wonderful displays of autumn colour. Bike operators and rental providers offer a range of hire packages and guided tour options whether it's for an hour or a multi-day trip. More challenging biking options include jump parks and Queenstown's three lift-assisted mountain bike parks.
Autumn is also a good time to enjoy some of the region's walking trails. Scenic walks from downtown Queenstown range from a short stroll around the beautiful lakeside gardens to tackling Queenstown Hill for magnificent 360-degree vistas. Further afield, Glenorchy's epic Lord of the Rings scenery is a must-see and leads on to some of New Zealand's Great Walks.
Queenstown also offers some of the country's best golfing experiences. The world-class, diverse golf courses are set amongst dramatic lake and alpine scenery and are a must-do for keen golfers. Spend a leisurely morning or afternoon taking in a round – there are seven options, all within 45 minutes of the town centre, ranging from immaculately groomed 18-hole championship courses to a family-friendly 9-hole course and driving range.  
New Zealand's premier golf event, the New Zealand Open tournament is held in Queenstown in March. The tier one event on the PGA Tours of Australasia has a unique Pro-Am format that brings together a prestigious blend of professional and amateur golfers and is held across the spectacular Millbrook Resort golf course.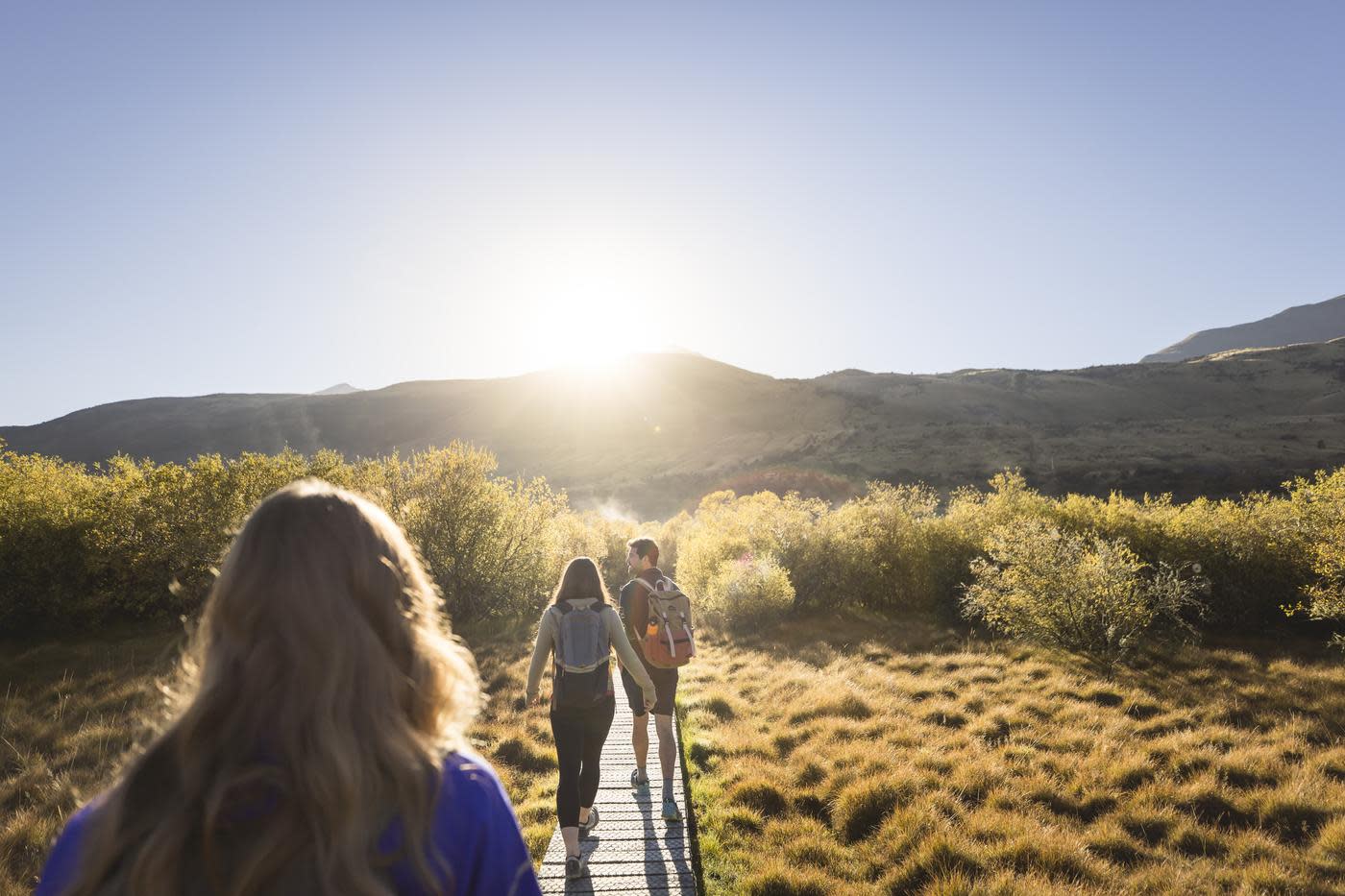 Glenorchy Walkway
Dining in Queenstown
Queenstown is fast becoming renowned as one of NZ's leading wine and food destinations and autumn is a great time to come and experience the buzz as tonnes of grapes are harvested from Central Otago's 200 vineyards. For further taste testing, enjoy a leisurely lunch at one of the region's many fine winery restaurants or spend the afternoon exploring vineyards and cellar doors on a wine tour. 
Local chefs are passionate about using local ingredients and cooler temperatures bring a change in menus to reflect the season's fresh produce.  There are more than 150 innovative and award-winning restaurants and eateries to cater for any occasion from fine dining to fun dining. 
In downtown Queenstown, there's stylish bistro food, celebrity chef restaurants, traditional pub meals, designer burgers and a variety of ethnic cuisine, while buffet dining above the gondola provides magnificent views of the region. Daytime al fresco dining is the ideal way to soak up the autumn sunshine and scenery while colder evenings are perfect for sipping a glass of award-winning local Pinot Noir beside a fire.  
A trip to Queenstown isn't complete without a visit to Arrowtown, the historic gold mining village on the banks of the Arrow River. Arrowtown is celebrated for its famous autumn hues when the trees on the surrounding hills turn red and gold.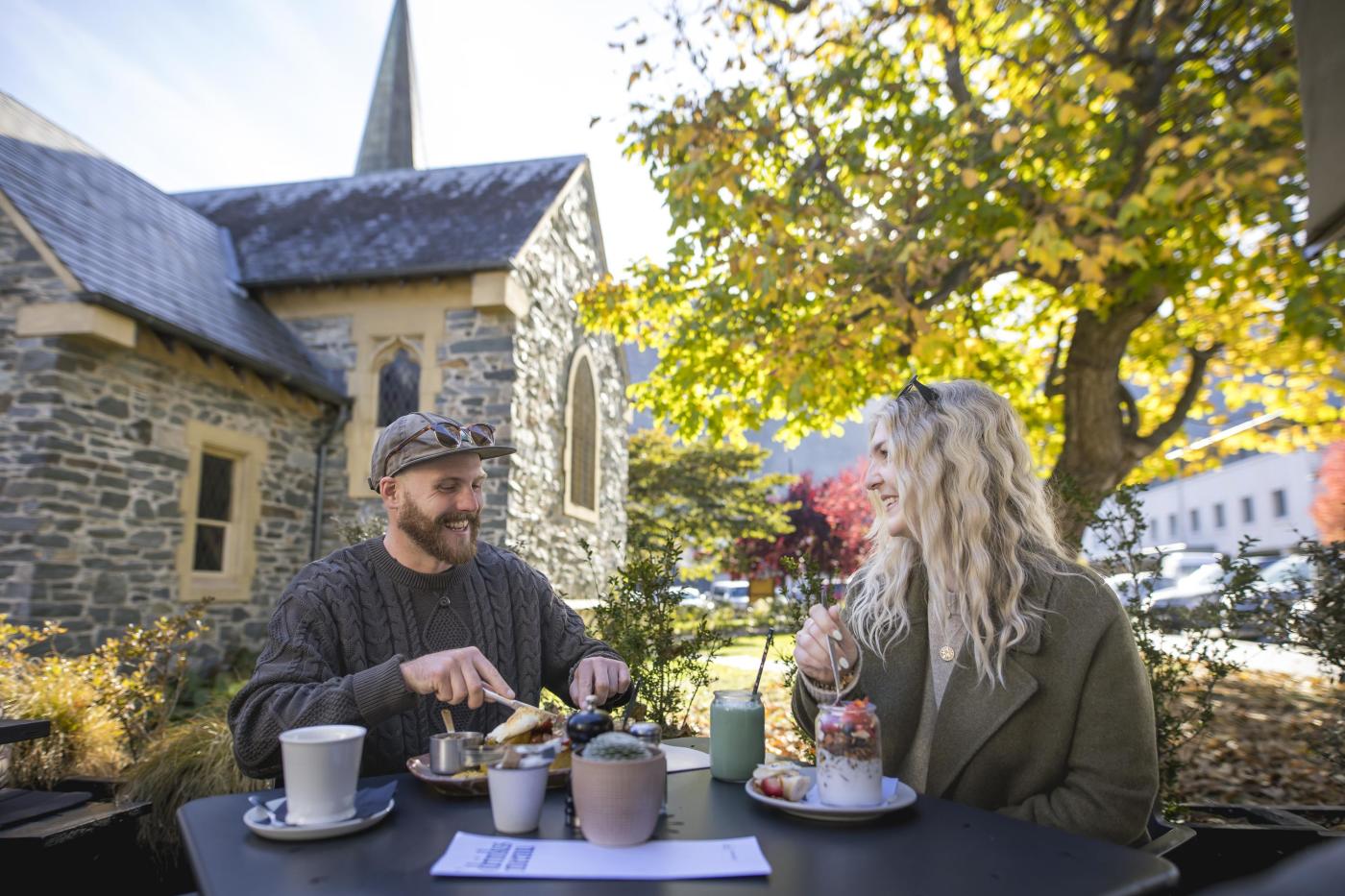 Autumn dining at odd saint
Arrowtown Autumn Events 
The Arrowtown Autumn Festival (20-25 April, 2023) provides the perfect opportunity to enjoy the vibrant colours and relaxed atmosphere of the season. The six-day festival celebrates the former goldmining town's heritage with gold panning, a market day and street parade, guided historical walks and live music and theatre. Make time to explore the quaint tree-lined streets, old miners' cottages, restored Chinese Village and Lakes District Museum as well as the award-winning restaurants and cafes, gourmet food and wine purveyors and diverse retail stores and galleries.
Discover what's on in Queenstown this autumn, view our Autumn Events Guide.