The Central Otago region is nestled in the heart of the South Island of New Zealand home to historic townships, astounding natural landscapes and world-renowned wine.
Just a stone's throw from Queenstown, a visit to the bordering Central Otago region and its quaint gold mining towns is an adventure that should not be missed. The region offers a diverse range of activities for everyone, from history enthusiasts to active adventurers to wine lovers. 
Central Otago history
The Central Otago gold rush peaked in the mid-1860s – that's when most townships in the region sprung to life. Each place has developed its own character and personality and towns like Clyde, Alexandra and Roxburgh are now filled with quaint shops, cafes, and museums and offer a fascinating glimpse into New Zealand's history.
The first grape vines were planted in the region to supply the gold rush population, and by the mid-1990s, a wine rush was well underway. Central Otago is New Zealand's southernmost wine region, home to over 100 vineyards and wineries, each with its unique flavour and ambience. Be sure to enjoy a glass of the region's world-famous pinot noir during your visit.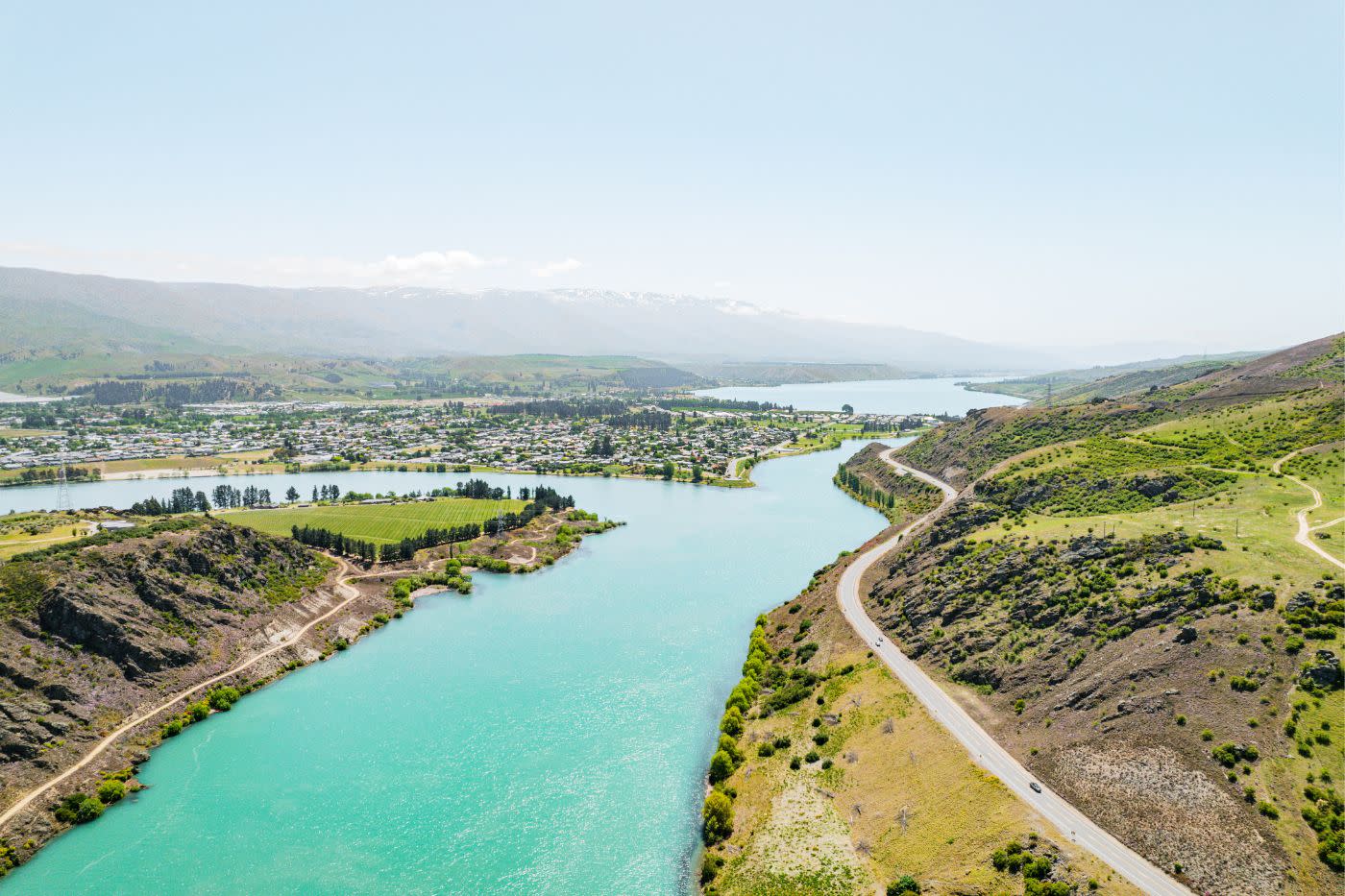 Cromwell, Central Otago
How to get to Central Otago
The nearest township to Queenstown, Cromwell, is just 60km or a 50-minute drive along State Highway 6. Located on the shores of Lake Dunstan, Cromwell is the largest town in Central Otago and is a great stepping-off point for exploring the region.
Break up the drive between Queenstown and Cromwell with a pit stop in Gibbston Valley. Dine at one of the many award-winning restaurants, sample a variety of top-quality wines, or view the historic Kawarau Suspension Bridge on the way – the perfect starter to your Central adventures.
Central Otago is also readily accessible by coach services from Queenstown. Many Queenstown-based transport and biking operators provide shuttles to/from the region. Chargenet has Electic Vehicle (EV) stations in the towns of Alexandra, Cromwell, Ranfurly and Roxburgh.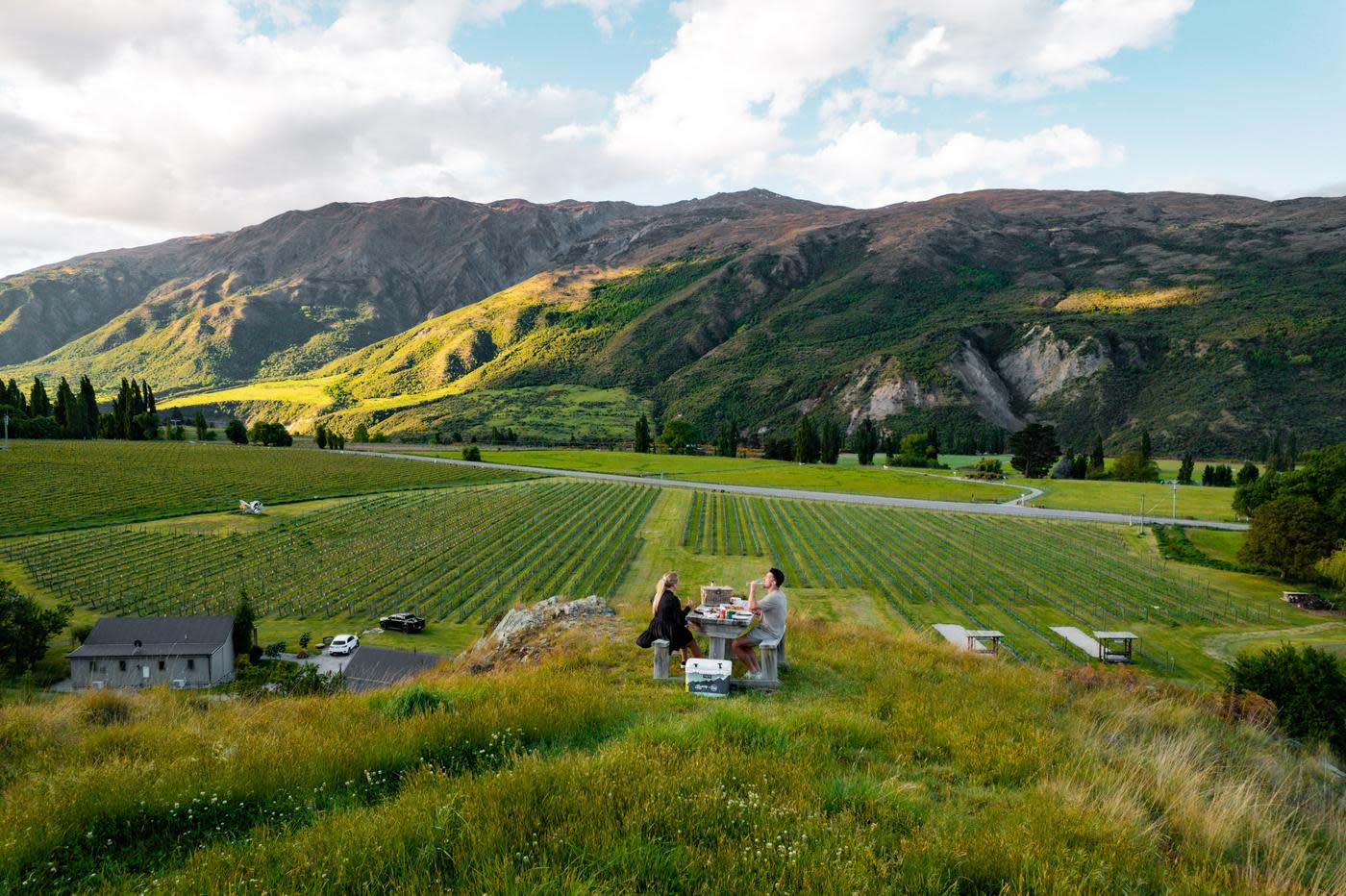 Kinross Winery, Gibbston Valley
Best ways to explore Central Otago
However you choose to spend your time in the region, plan to stay for a while to explore all that Central Otago and its quaint towns have to offer.
Tour the wineries
The Central Otago region is known for its pinot noir, and there are several wineries where you can sample some of the best wines in the country. Many of them offer tours and tastings, giving you a chance to learn about the winemaking process as you sip and savour.
Explore the trails
The region is home to over 300km of off-road cycling and walking tracks, including four of New Zealand's Great Rides – the Lake Dunstan, Otago Central Rail, Clutha Gold and Roxburgh Gorge trails. Whether you're a seasoned multi-day cyclist or prefer an easy ambling ride or walk, taking to the trails is a fantastic way to immerse yourself in the stunning Central landscape.
Take the touring route
The Central Otago Touring Route is a 341-kilometre journey from Queenstown to Dunedin. After leaving Queenstown, you'll wind through the heart of Central Otago passing through the charming towns of Arrowtown, Cromwell, Clyde, Alexandra, Oturehua, Ranfurly and Middlemarch. Stop at roadside fruit stands, chat with locals and discover historic gold-mining relics as you indulge in the idyllic Central pace of life. Take at least 4 days, longer if you can to really soak up the beauty of one of New Zealand's finest road trips.