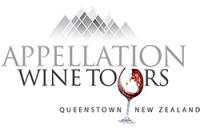 Appellation Wine Tours
Jet Boat and Boutique Wine Tour Combo (6.5 hours)
A fabulous day out combining the famous KJet with Appellation's signature wine tour - Boutique Wine tour.
The day begins with an adrenaline-fueled 45 mins racing along Lake Wakatipu, down the Kawarau river and back to Queenstown Bay. The jet boat ride is a mixture of scenic cruising but also packs in plenty of 360 degree spins for pure exhilaration.
Check in at the KJet kiosk located at the Main Town Pier at 9:45am, jetboat from 10am with a drop off at Frankton Marina and you will be collected by your Appellation guide from Frankton at 11.15am.
On the Boutique Wine Tour you will enjoy tastings at 4 vineyards in the Gibbston and Bannockburn/Cromwell wine regions and an amazing platter style lunch at the second vineyard. Your wine guide will provide a full commentary on the wine, sights and early history and there will be plenty of photo opportunity stops along the way. 
Your guide will drop you off to your accommodation at approximately 4.30pm. 
Contact Us
Company:
Appellation Wine Tours
Physical Address
3 Brookes Road
Frankton
Queenstown, 9300
Price:

$360
Children (6 years to 17 years): $190.00 Adults: $360.00


Make own way to the KJet located on the Main Town Pier. Appellation Wine Tours will drop off to accommodation at the end of the wine tour.


Monday:

08:00 AM - 08:00 PM

Tuesday:

08:00 AM - 08:00 PM

Wednesday:

08:00 AM - 08:00 PM

Thursday:

08:00 AM - 08:00 PM

Friday:

08:00 AM - 08:00 PM

Saturday:

08:00 AM - 08:00 PM

Sunday:

08:00 AM - 08:00 PM



Months of Operation:

Jan - Dec


Group Info:

Please contact the office on 03 442 6920 for details.



Group Reservation Email:

bookings@appellationwinetours.nz



Group Capacity:

12