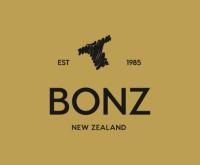 BONZ
Established in 1985, BONZ manufactures and retails luxury New Zealand made apparel, accessories and home goods.
We are best known for creating elevated and opulent garments from rare and high-quality materials, most notably ethical baby lambskin and Possum. Our collections are inspired by the brand's Queenstown origins with uncomplicated yet refined and timeless designs that make the wearer look and feel fortunate.
BONZ designs are sold in our flagship Queenstown retail store, through selected global luxury retailers, and on our e-store, The company is headquartered in Queenstown and operates a design studio and factory in Invercargill.
We are offering free delivery nationwide on all purchases.
Knitted merino COVID masks available in-store.
Contact Us
Physical Address
7 Earl Street
Queenstown, 9300
Air Conditioning

Bar/Lounge

Coffee/Tea Facilities

Mini Bar

Wifi Internet
Monday:

10:00 AM - 6:00 PM

Tuesday:

10:00 AM - 6:00 PM

Wednesday:

10:00 AM - 6:00 PM

Thursday:

10:00 AM - 6:00 PM

Friday:

10:00 AM - 8:00 PM

Saturday:

10:00 AM - 8:00 PM

Sunday:

10:00 AM - 6:00 PM



Months of Operation:

Jan - Dec