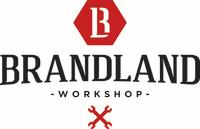 Brandland
Brandland - Business Branding
Brandland is your personal team of graphic designers. We're friendly, clever, and we get really excited about making your dreams come true.  You name it, we do it.
Graphic Design. Illustration. Print. Packaging. Web. Signage. Apparel. Shop Fit-Outs. Retail.
Established in April 2014, we are your one-stop creative shop with an open door policy. Promising you friendly service and guaranteeing creative solutions for all your business' print, web, apparel and signage needs.
Whether you are taking the first steps in starting a new business, or are fully fledged and looking for new ideas — we work hard to provide you with a strong, clear and dynamic brand to make your dream an ever-evolving reality.
We're not your granddaddy's design studio or your dad's for that matter.
We're different, we don't fit into any box, and we like it that way. We design, create, and style. Whether your looking for that wow piece for your shop fit-out or simply to refresh your brand. We got it and our graphic designers know exactly how to make it happen.
Have an idea? Get in touch. We are only too happy to make things happen for you. Our graphic design superstars are standing by.
Contact Us
Physical Address
1/32 Grant Road
Five Mile
Queenstown, 9304
Monday:

8:00am - 6:00pm

Tuesday:

8:00am - 6:00pm

Wednesday:

8:00am - 6:00pm

Thursday:

8:00am - 6:00pm

Friday:

8:00am - 6:00pm

Saturday:

10.30am - 4:00pm

Sunday:

10.30am - 4:00pm



Holiday hours:

Closed all public holidays