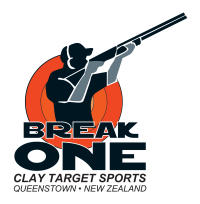 Break One Clay Target Sports
Laser Clay Shooting
Laser Clay Shooting with Break One is the perfect team activity for any event, function or party! 
What is Laser Clay Shooting?
Using a modified shotgun, particpiants fire an infrared beam at reflective Clays. The return path of the beam instructs the shooter when they have hit, and advises an electronic scoreboard. The sound effects created when a target is hit add to the excitment and realism.
Full instruction and equipment is provided, you just need to turn up!
Location - we come to you!
All we need is a small outdoor area. We can come to your venue or arrange a location to suit you and your event!
Why choose Laser Clay?
Laser Clay is the ideal activity for your corporate or team building event, Stag or Hen Do, Work/Staff party, Wedding or family get together. Laser Clay is fully portable and mobile - we can come to your place or event - Day or Night!
No Risk! Real guns, Realistic sound effects, and Real Fun!
No Gun Recoil from deactivated 12 gauge shotguns.
No Waiting - 5 people can be shooting at any time.
No Experience Required - Laser Clay Shooting is suitable for first time and seasoned clay target shooters.
No Limits - Luminous Clays mean that Laser Clay Shooting is a great night-time activity.
Contact Us
Company:
Break One Clay Target Sports
Physical Address
Queenstown Hill
Queenstown, 9302
Price:

$20
Pricing per person based on numbers


Monday:

8:30 AM - 6:00 PM

Tuesday:

8:30 AM - 6:00 PM

Wednesday:

8:30 AM - 6:00 PM

Thursday:

8:30 AM - 6:00 PM

Friday:

8:30 AM - 6:00 PM

Saturday:

8:30 AM - 6:00 PM

Sunday:

8:30 AM - 6:00 PM



Holiday hours:

Closed Christmas Day & New Year's Day



Months of Operation:

Jan - Dec


Group Reservation Email:

info@breakone.co.nz