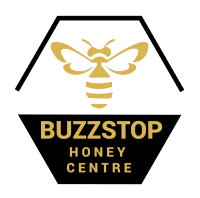 Buzz Stop Ltd.
Your home of all things Bees and Honey
THE BUZZSTOP
YOUR HOME FOR ALL THINGS BEES AND HONEY
Our mission is to ENGAGE, ENTERTAIN & EDUCATE every Visitor.
Buzzstop is a NZ owned and operated, with real Kiwi's guiding our Experiences.
We Offer :
Premium Active Manuka honey (5+ to 24+)
NZ's largest selection of Native Honey
Manuka Honey Skincare containing Manuka Honey -lip balm, day cream, hand cream, face cream, moisturizer etc.
Bee Pollen, Propolis and Royal Jelly.
Handmade-onsite Beeswax Wraps, Honey Soap & make-your-own cosmetics.
Children's Bee Books, Sweet Treats and Giftware.
Our Cafe has indoor and outdoor seating with amazing views of the Remarkables, a honey influenced menu, Barista-made ROAR Coffee, Kapiti Ice-Cream, and freshly cooked Liege Waffles drizzled in local honey.
Contact Us
Company: Buzz Stop Ltd.
Physical Address
26 Hansen Rd
Frankton
Frankton
Queenstown, 9371
Kids menu
Outdoor seating
Wifi Internet
MinPrice: $10
MaxPrice: $89
Our Tours are free to under 5's. Our 'Spin-your-own-Honey (1 hr) Be-a-Bee Keeper Tour (1 Hr), Craft Making - make candles, honey soap, skincare etc.


10 mins from downtown Queenstown, and only 2 mins from the International airport. Hansen Rd is opposite the entry to QT Events Centre.




Months of Operation: Open year round


Group Info: We can easily entertain, provide food, tours / experiences, coffee, beer / wine etc. for small gatherings to larger corporate / team building groups. Please contact Nick or Rosie on 021942808 to inquire.


Group Reservation Email: cafe@buzzstop.co.nz